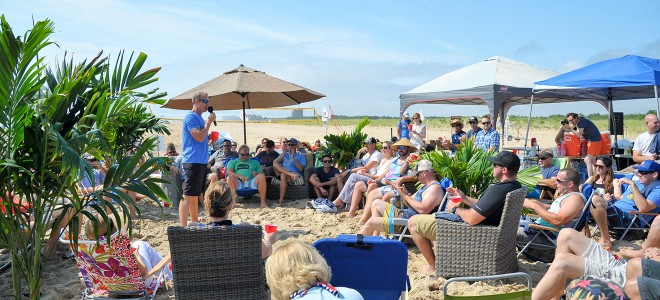 Work hard, play hard. You may have seen this written on the back of a shirt or posted online somewhere. It's something we take to heart here at Schell Brothers, which is why each summer we close up shop and head to the beach for a day of relaxing with friends, enjoying the ocean, eating delicious food, and a whole lot of dancing.
Company Beach Day is a big deal, and a lot of work goes into putting it all together. From the living room oasis to the bounce joust, this year's Beach Day delivered on all levels and surpassed the previous year's event. This year's activities were all about balancing the energy of the day,  "both the yin and the yang" according to Wes Fruehauf, half of the brain trust responsible for putting on the event.
Dan Matta, also part of the brain trust, wanted to not only make the day relaxing, but also bring the energy. "You begin to fist pump it up and the energy is going. All of a sudden you're bouncing. And then you can go night night in the oasis," Dan said.
Spending time together and cutting loose is just a part of our company culture, and that culture is on full display at Company Beach Day. This is just one of the many reasons we were named among the Top Places to Work in Delaware. Working for Schell is like being a part of a second family. Interviewed on how our culture is created, Chris Schell has said, "We are a significantly more social company than most, and we hire people we would enjoy being around."