Hot Coffee, Cool Vibes
Question: What do you get when you combine hand-crafted coffee and vogue cuisine with a laid-back beach vibe that, oh, by the way, also happens to include an Instagrammable showroom experience? Answer: The Coffee House in Rehoboth.
We're not just about coffee and great food; we're about building happiness too! The Coffee House is powered By Schell Brothers, a new home builder whose mission is happiness. Here at Schell Brothers, we care about the happiness of our customers, our employees, and the greater community, and that shows in everything we do. We decided we needed to take it a step further and start spreading our mission of happiness by serving up good brews and tasty eats. Thus, The Coffee House was born!
Happiness is in the details! Each time you stop in you'll get a fun sticker. Come see us daily to collect them all!

Take a moment to give kudos to the people and things that you love and help us spread the good vibes! Learn more about our positivity initiative, Project Kudos, at ProjectKudos.com.

While you decide what to order, peruse our cool swag and beach essentials - perfect for gifts or souvenirs!
New Yorker Bagels
All our bagels are fresh, never frozen, and use only the finest all-natural ingredients with no preservatives and no bromates. Every New Yorker Bagel has a crisp shell and a chewy center, just as the perfect bagel should. Our bakers are dedicated to sending you the most delicious, all-natural bagels in the world. Each bagel we send you is hand-rolled, one at a time.
Learn More About
New Yorker Bagels
Local Coffee Roasting Co.
We are proud to serve coffee from the Local Coffee Roasting Company. Owners Tyler & Jenni Valliant dreamt of providing our area with high-quality coffee sourced from the best beans. The duo sources the finest and freshest raw organic coffee beans. They then roast them to delicious perfection right here at the Delaware beaches.
Learn More About
Local Coffee Roasting Co.
Old World Breads
For over 25 years Keith Irwin has been committed to the Old World European style of bread that locals have grown to love - and we are proud to offer a selection of these breads at The Coffee House! Old World Breads focuses on handcrafted, all natural breads made without preservatives or enhancers, and they are dedicated to using the fruits and vegetables of our farmer's market neighbors in their products whenever possible.
Learn More About
Old World Breads
Frankie's Cake Pop
Do you have a sweet tooth? Don't miss our selection of incredible cake pop from Frankie's Cake Pop! Frankie is a young entrepreneur from Felton, DE that loves to bake and create cute treats for her customers. She is always experimenting with designs and creating all kinds of cake pop themes to fit every occasion. We're so thrilled to partner with her!
Learn More About
Frankie's Cake Pop
More Than Chocolate
Their philosophy is simple- make real, wholesome and delicious deserts. They use only clean, plant based ingredients filled with vitamins, minerals, protein, fiber and good fats. It means no more artificial preservatives, colors and flavors, no gluten, dairy and refined sugar. The goal is to bring good food habits to our community and raise healthy and happy generation.
Events to be announced.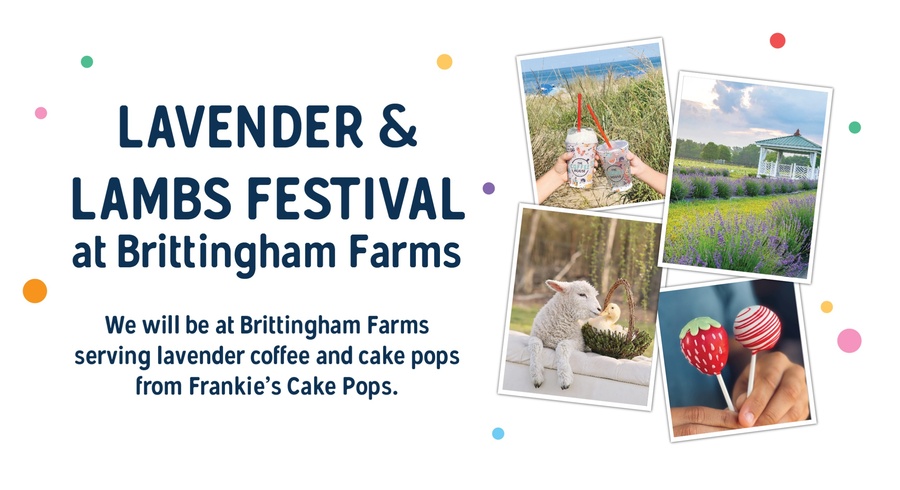 Saturday June 17th 10am-5pm
Colonial demonstrations with the sheep, wool dying and spinning, lavender demonstrations, vendors, food trucks & kids' activities. Tickets are $10 per person and can be purchased below. No tickets will be sold at the door.
Brittingham Farms 22518 Phillips Hill Road, Millsboro, DE 19966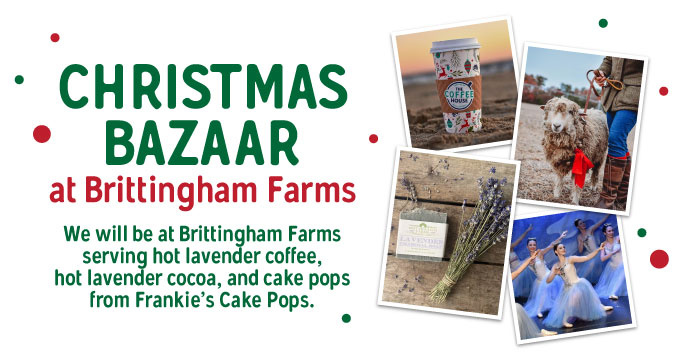 Thursday Dec 8th 4-8pm
TADA Dancers will be performing excerpts from The Nutcracker in the Pavilion at 6pm. Lots of amazing Vendors, Christmas trees for sale, get pictures of the kids in a beautiful 1915 Vintage Sleigh or Ford 8N Tractor, hot coffee, gifts & more!
Brittingham Farms 22518 Phillips Hill Road, Millsboro, DE 19966