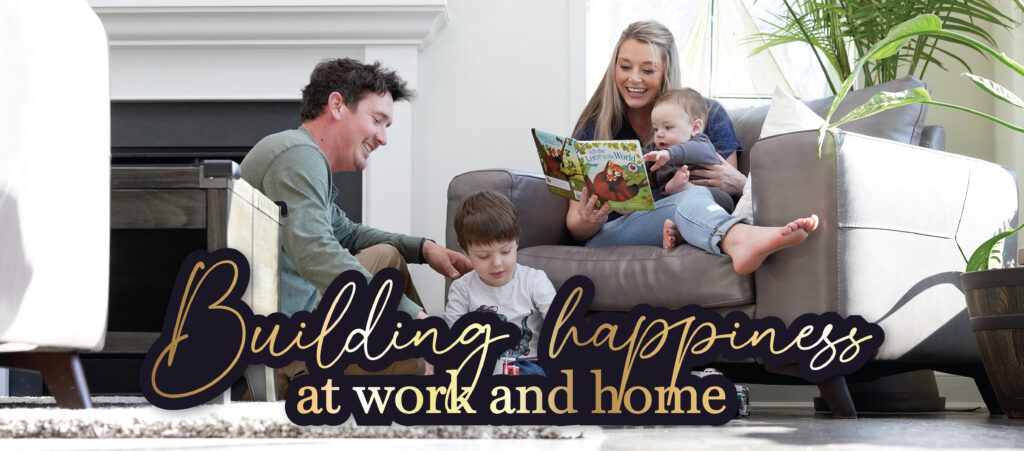 Schell Brothers has been proudly building homes for 20 years. Our employees wholeheartedly believe in our product and our company's mission of creating happiness. 1 out of 4 Schell employees proudly lives in a Schell Brothers home. Read on to hear all about Alli Perry's experience building happiness at work and home.
What made you choose to work for Schell?
For me, whom you work for says a lot about your character. I wanted always to be a part of a company that gives back to the community around them. I was born and raised here in Sussex County and love this community. Seeing how Schell has always given back is inspiring and a bit infectious; I wanted to be a part of that and see how I could help.
How many years have you been with the company?
It will be 7 years this coming August!
What is your favorite thing about working for Schell?
There's honestly so much I can say here… for starters, Schell Brothers knows and loves that I have a family and am a busy mom. They respect my work-life balance and encourage spending as much time as possible with my kids. This is HUGE for me as they are my priority. I love working for Schell because we truly embrace the work hard/ play hard mentality, and, again, as a busy mom, it's wonderful to have a company that creates opportunities for me to enjoy some time to myself! Like our awesome events! It forces me to get a sitter and head on out. I have been given opportunities to travel and experience things I would never have without this company. I know this question says favorite but there are just too many!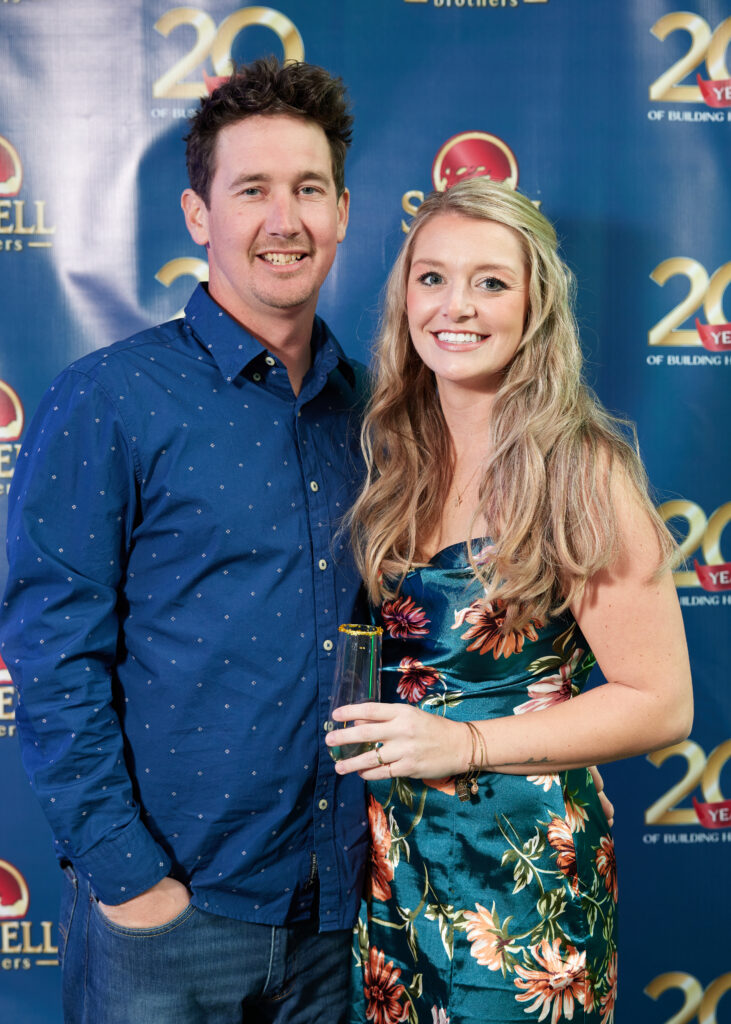 What has been your favorite volunteer opportunity?
Schellville! I've never experienced something more magical right here at the beach. To watch the kids' faces come through the entrance is everything.
Why did you pick a Schell community? What is your favorite thing about living in a Schell community?
We were extremely picky about where we wanted to be. My husband and I tried to get as much land as possible but also find a place that felt safe and comfortable for our kids to play, for me to go on runs, etc. I cannot believe we found MORE than what we were looking for. Our site is on a cul-de-sac, and we are the only ones there. It's surreal. My favorite thing about living in a Schell community is that all the homes are beautiful. When I'm on my runs/ walks, all I see are beautiful homes and perfect lawns! It's great!
How was your home-building experience?
Honestly, when we built our home, everything happened quickly. I had planned on building on my family's property, but that didn't pan out as expected. We signed very quickly and even purchased the site before seeing it! The building process was beautiful! We loved every moment of it. We used heartbeat to communicate with our CM and received photos every single week. It also held all of our documents which was great. It was a surreal experience, and I'm forever grateful. At 27 years old, I would never have been able to settle and live in such a wonderful home!
What is your favorite thing about your home and why?
Definitely our kitchen! And my screened porch. Or maybe my homesite! It depends on whom you ask in the family haha! But my kitchen is where the heart is in my home! My husband cooks amazing dinners, and the family hangs out in and around the kitchen while he cooks. It's just incredible to have space for the entire family to gather together and make these memories. We entertain a lot, so our kitchen is absolutely the most used and valued place in our home. I also love my screened-in porch, having my cup of tea, lighting my propane fire table, and sitting with my cats watching the thunderstorms. But then there's also our home site with woods surrounding us – they are incredible! It's so hard to pick just one favorite thing about my home! I haven't even started talking about my primary bathroom and how I feel like I'm at a resort vacation every single day I walk into it but I'll save that for next time! 😉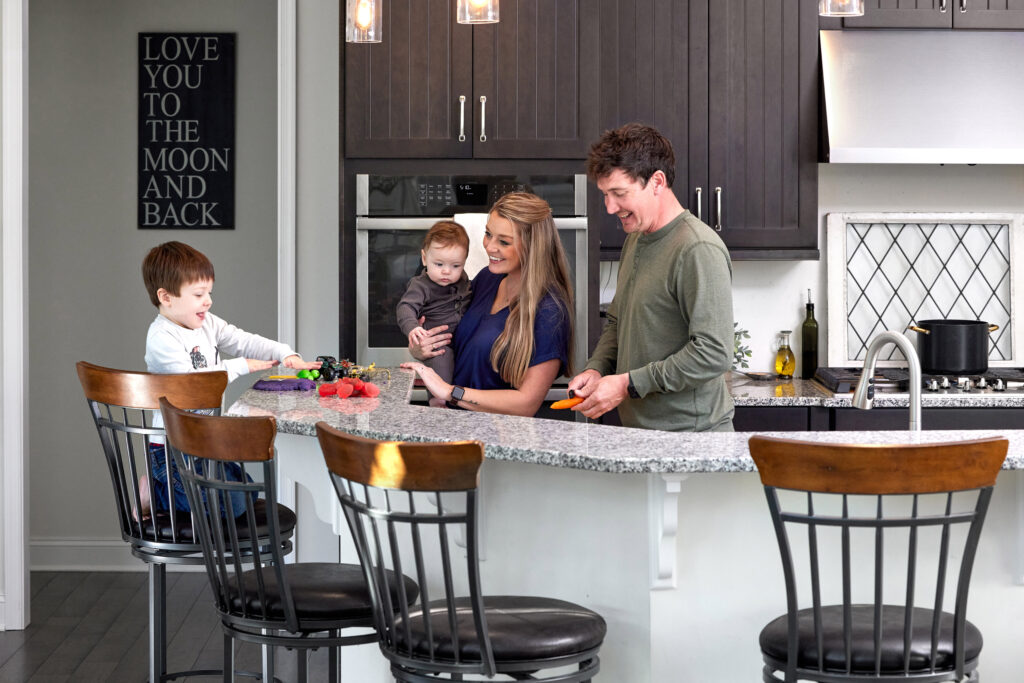 Favorite memory while working for Schell?
Of my absolute favorite memories of working with Schell Brothers was performing live at the Schellies! I've been able to do this twice now and enjoy it more than I can put into words. My other favorite memory would be going to Firefly with the group and experiencing the super VIP life. That was something I would never forget. Or BEACH DAY!! I love beach day!
What floor plan did you choose and why?
We built The Kingfisher because it gave us ample room for our kids to grow in that home and have friends over. We wanted our primary suite on the first floor with dedicated office space for me, and I also wanted my kids on a second floor with an open loft space. The storage area that I could finish in the future to be a guest room was a plus. The playroom for the boys is my favorite room, and we also added an unfinished basement which is my husband's man cave and where my son enjoys his bouncy house.
As a local who is in the know, where can we find you on a Friday night?
It's funny if you were to ask me this question four years ago, we would've been out at a bar enjoying everything the area has to offer, but now most Friday nights, you can typically find my husband and sons, and I at home cooking dinner in our kitchen and dancing around, cuddling on the couch in the boys' playroom watching movies, going through the bedtime routine, and then ending the night on the screened porch or at the fire pit behind our home. We couldn't ask for anything more.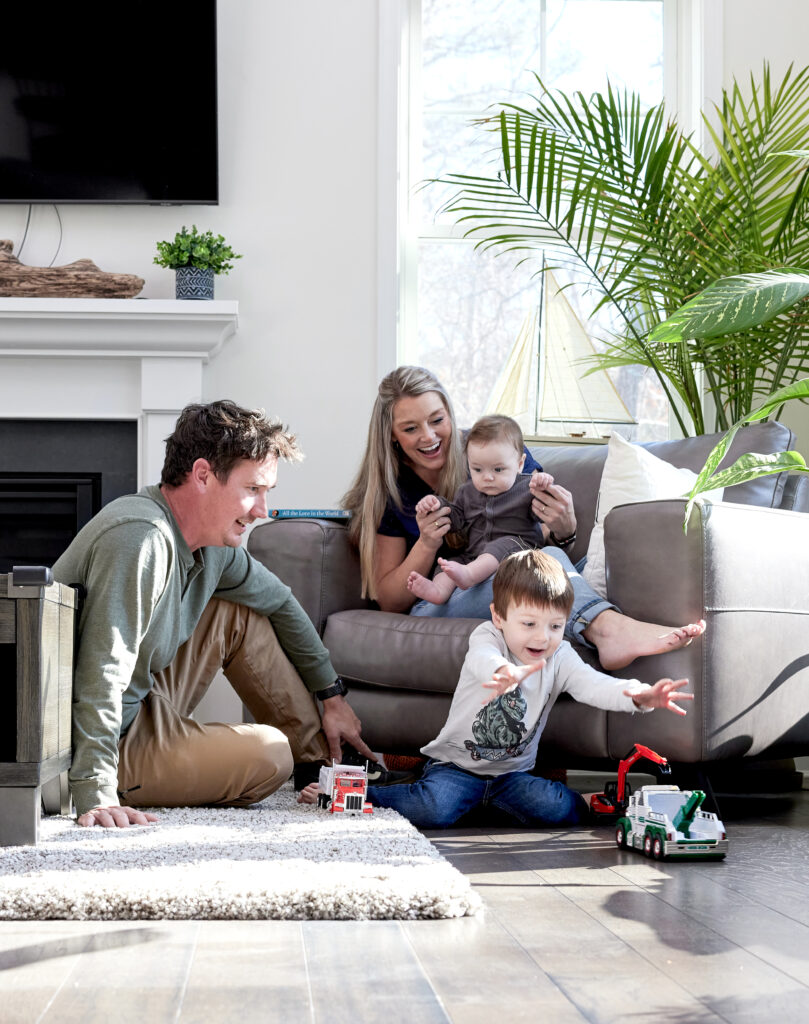 All in all, we are beyond grateful to be Schell Brothers homeowners, and I'm thankful that I can use this experience to help my homeowners on their home-building journey.