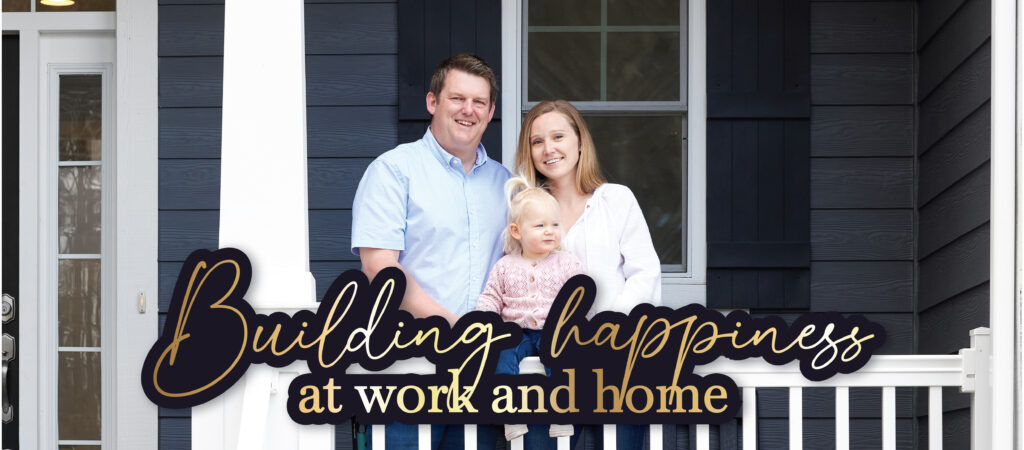 Schell Brothers has been proudly building homes for 20 years. Our employees wholeheartedly believe in our product and our company's mission of creating happiness. 1 out of 4 Schell employees proudly lives in a Schell Brothers home. Read on to hear all about Josh and Natalie's experience building happiness at work and home.
What made you choose to work for Schell?
Natalie: When I graduated from college in Worcester, MA I was working as a restaurant manager, but I had taken a licensing course to become a realtor. I didn't want to stay in the restaurant industry and wanted to move back to the beach/Eastern shore! A neighbor at the beach worked for a new home builder and mentioned new home sales positions. It sounded like a great fit because I had been interested in real estate, so I began searching online. From this search, I found Schell Brothers online and this quickly became the builder I wanted to work for. I applied online and followed up until I got an interview! I had to start as a sales assistant in the Coffee House, but was able to move into a community sales position after my first summer.
Josh: When I first interviewed with Schell Brothers it was very early on. A lot of what excited me about Schell Brothers is the vision Chris had for what he wanted this company to be. It wasn't as tangible as it is today but you could feel, even back then, this company was going to be different. Coming from a family that was in construction I also immediately noticed the quality of the homes was at a different level than what you typically see in a production home. Combine that with a mission of happiness and I was hooked.
How many years have you been with the company?
Natalie: Coming up on 7 years in June!
Josh: In 2 months it will be 15 years.
What is your favorite thing about working for Schell?
Natalie: The friendships and the great cultural events! I love getting together with everyone throughout the year for all of the fun events. I also love working for a company with a product that I love!
Josh: That is such an impossible question! There are just so many! If I had to choose one, I would have to say the people. The company provides an environment that really makes everyone feel like we are one big family that is all working toward the same goal. That family feeling makes you love coming to work every day. You know everyone has your back and when times get hard, professionally, or personally, this family is always there to support you without even asking. I've created some of my strongest friendships working at Schell and even met my wife here.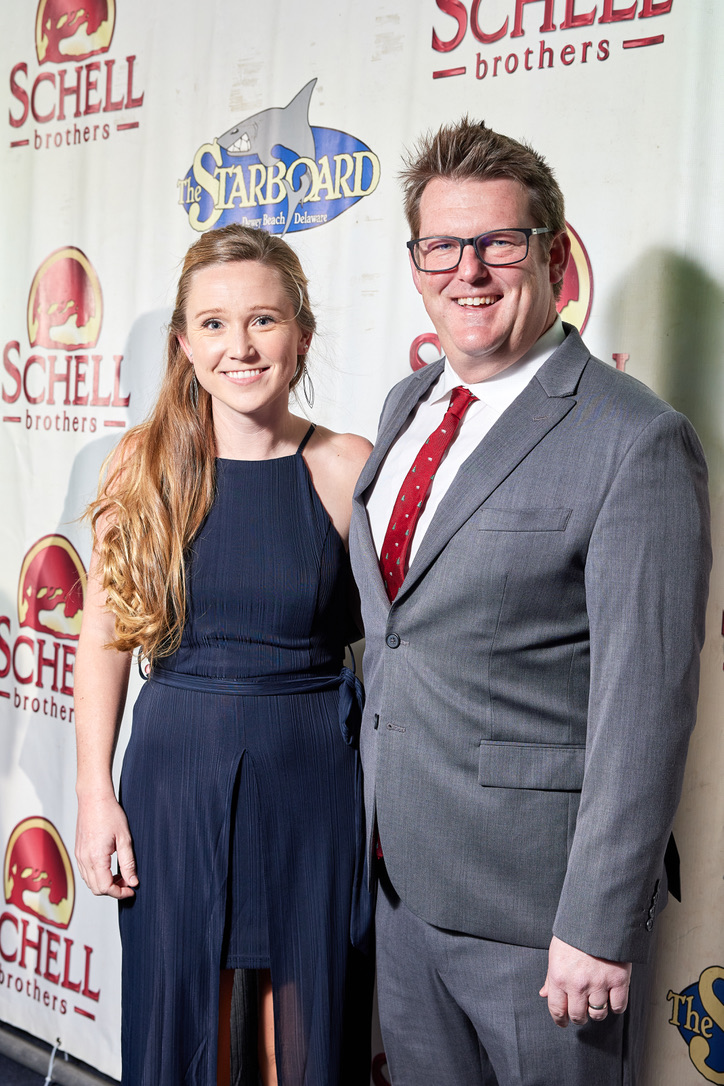 What has been your favorite volunteer opportunity?
Natalie: Schellville has to be my favorite volunteer opportunity. It's just such a festive vibe while you're there and it's so amazing to see how much fun the kids are having and all of the excitement. It was also cool volunteering at Schellville when we hosted the Sussex Consortium during a daytime field trip. It was awesome for these kids to be able to enjoy a special trip to Schellville, especially considering coming during our regular open hours with so many people might not be feasible for them.
Josh: Schellville has been amazing! Seeing all the kids with the biggest smiles on their faces when they walk into the villages and having the best time is priceless. But I would have to say, my favorite opportunity was helping with the Extreme Makeover Home Edition. It was such an amazing experience to see such a big project like that come together in a week and for someone so special in the community. The family was so deserving for all the work they had done in the community and knowing that this project would only expand their outreach just made it that much more special.
Why did you pick a Schell community? What is your favorite thing about living in a Schell community?
Natalie: The main reason we picked a Schell community is because we wanted a Schell Brothers home! But it's really nice driving into the community and having a beautiful streetscape and beautiful homes all around us. We love the amenities as well, especially with the kiddo. And love having the grass mowed for us 🙂
Josh: When you drive through a Schell community it just gives you a different feeling. They provide such beautiful curb appeal in their communities and homes that they really do stand out. You immediately can start picturing yourself living there. For us it then just came down to location and amenities. We love our neighborhood because it's 4 miles to the beach and offers a number of pools (including an indoor pool), gym, and a nice little beach bar on the bay.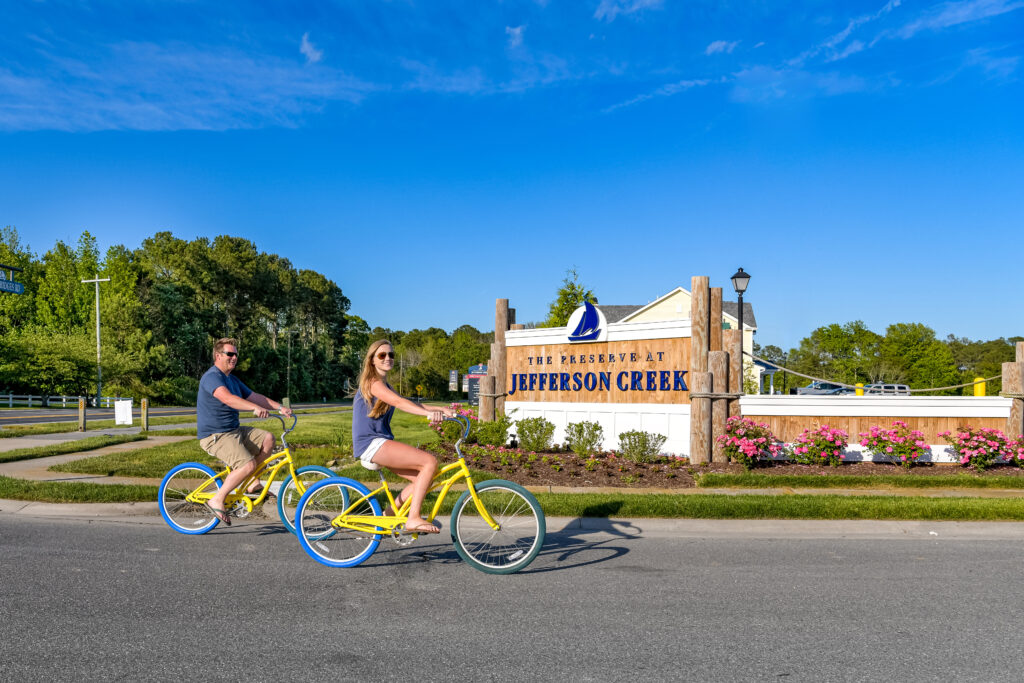 How was your home building experience?
Natalie: The selections process was pretty easy for us because we were both on the sales team and were very familiar with the floor plan and options. We decided on the structural options together pretty quickly and had a good idea of the color scheme we wanted to go with and "tiers" of design selections we wanted to stay in. Rhianna helped out a lot during our final selections appointment to pick out the things we weren't sure of. We ended up being done with final selections before lunch! During the build process, it was so much fun watching our house go up! It's amazing how quickly it progresses and every little change in the house was so fun and exciting to see! Especially because you are seeing all of the things you picked out turn into a reality.
Josh: We had a great building experience. The online design studio was such a great tool that allowed us to start narrowing down our design selections before our meeting. We could play with the exterior color of the home and create collages for each room so by the time we got to our final design meeting it was pretty much just confirming all our selections. Heartbeat is an amazing feature for Schell homeowners. It gives you easy access to your construction manager and provides real time updates as the home progresses. Super cool and innovative. It also made submitting any warranty items a breeze.
What is your favorite thing about your home and why?
Natalie: My favorite is the kitchen/living room space because it's kind of the hub of the home where we spend our everyday. We love the view of the trees behind our home and there are so many windows from this space looking at that view and making it so bright and airy. We also opted to do the vaulted ceilings which makes it feel even more open. The kitchen has so much storage with our giant walk-in pantry and "command center" island. And it's just so pretty!
Josh: The light! There are so many windows and it's such a bright home it's so refreshing. That combined with the open layout with the vaulted ceilings makes for the perfect living space.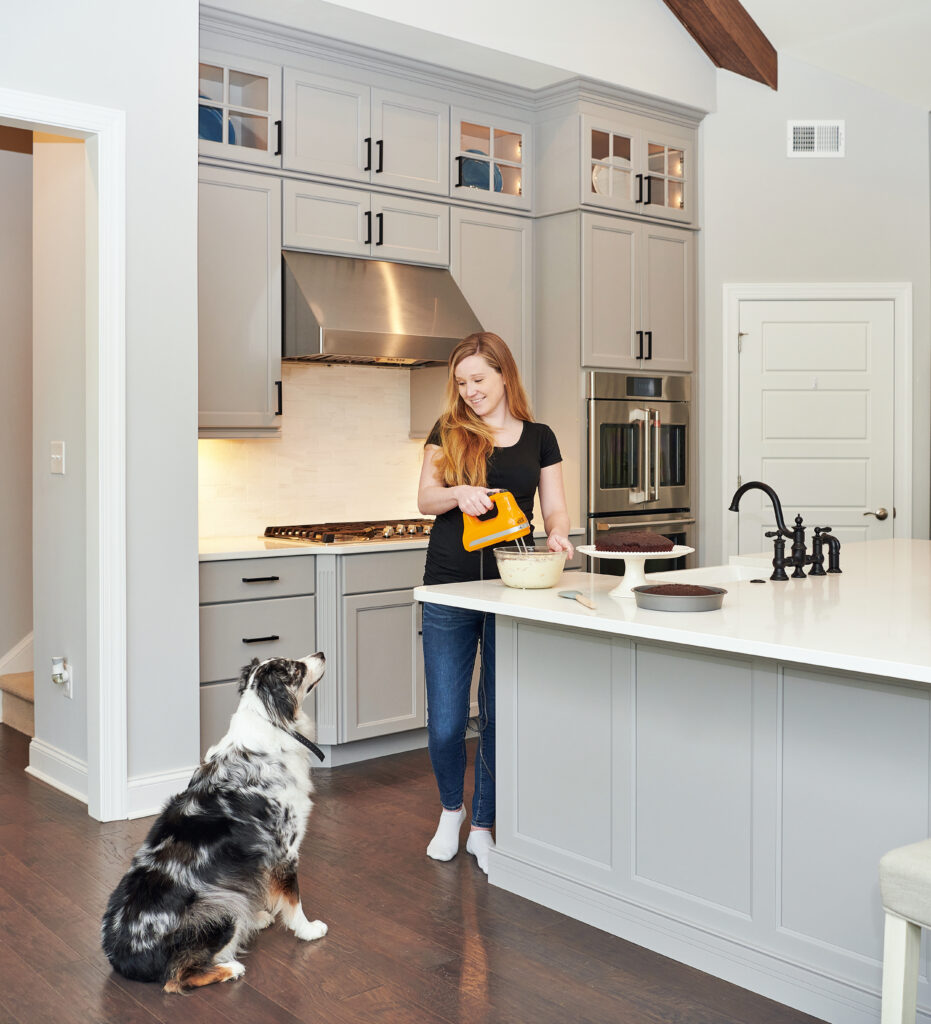 Favorite memory while working for Schell?
Natalie: Meeting my husband definitely has to be the best memory from my time at Schell. But I've also had so many great memories at all of the Schell events with my work friends!
Josh: There are so many memories that I can't even count them. Obviously, meeting my wife is #1 🙂 but if I had to pick a second I would have to say the first few years working at Schell was special. The country was in a recession and times were tough, to say the least. But we pulled together as a group and grinded it out to get through it. Looking back at it there was a lot of stress but we had some really amazing times together as well. There is a bond created when you're in the trenches together going through a tough time like that. It truly creates something special.
What floor plan did you choose and why?
Natalie: We chose the Cassidy floor plan. The main reason we chose this floor plan is we really wanted a home that has a separate mudroom and laundry room. We love the big mudroom option off the garage that we can dump all of our stuff in when we get home from work and day care or when we have beach bags and coolers. With a little one and a dog this space helps keep the rest of our house less cluttered. And we wanted our laundry to be in a separate space than this. Having a ranch floor plan wasn't ever really a "must" for us, but now that we are in a ranch floor plan we love it. When our almost-2-year-old was a baby it was great to have her bedroom on the same floor as us and keep her nearby. And now that she is a little older we love that she can get around the whole house without having to worry about the stairs. We do have the second floor bonus room upstairs, but we don't have the basement, so our upstairs is kind of like our basement! The second floor has a big unfinished storage room which has been amazing for Christmas decorations and other storage (such as the clothes Finley grows out of daily), and we also have the finished bonus room which is our rec room that has a pool table and movie watching space.
Josh: We chose the Cassidy. We loved the kitchen and open living space, plus the high ceilings and number of windows it offered. Having a mud room and large laundry room was a big perk. We also knew we were looking to have a baby in the near future and the amount of bedrooms it offered accommodate for that as well.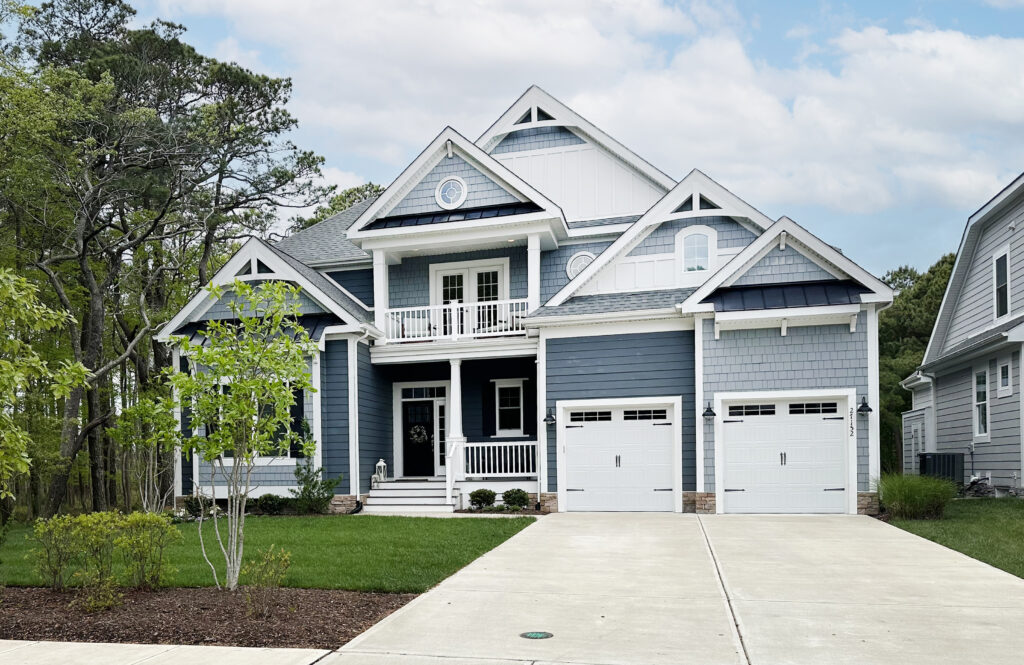 As a local who is in the know, where can we find you on a Friday night?
Natalie: We are ALWAYS at Liquid Assets and Our Harvest! These are definitely our go-to date night restaurants. In the summer you can find us on the boat any night of the week that we have good weather!
Josh: In the winter you can pretty much guarantee that you'll find us at Our Harvest or Liquid Assets. It's probably embarrassing how much we go there in the winter but you just can't beat their food and drinks. In the summer, we are typically out on the boat and odds are we'll pull up to Sunset Grill for dinner.