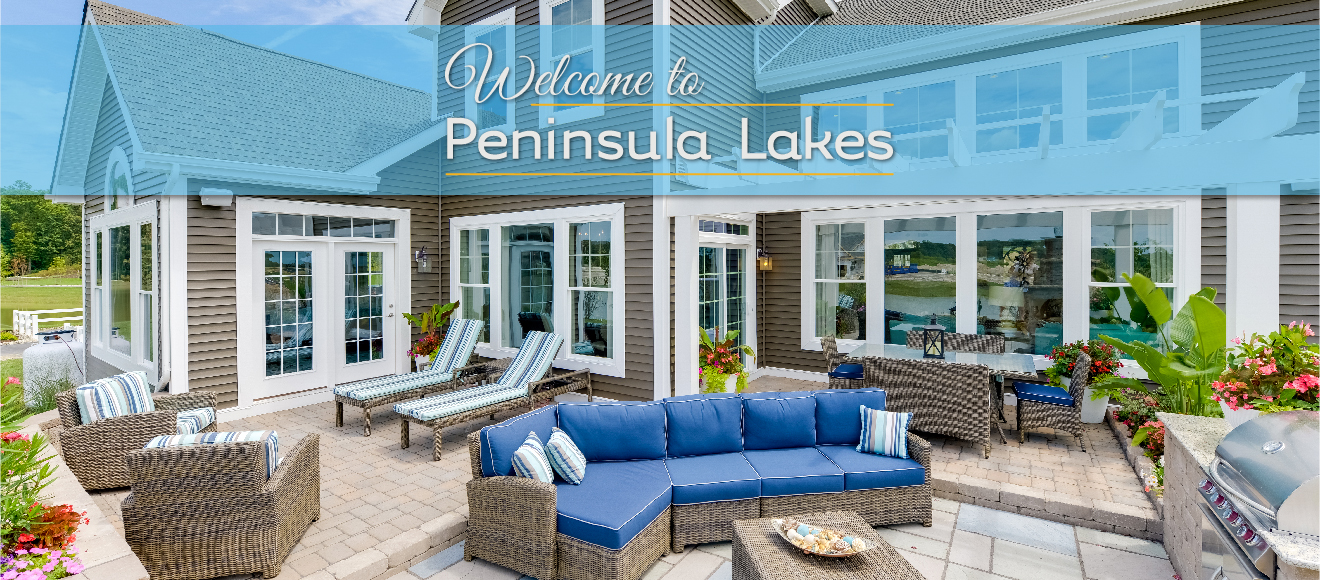 Peninsula Lakes consistently maintains that undeniable wow-factor, and whether it's the lake living or the stunning curb appeal of the winding streetscapes, we can't help but fall in love with this Coastal Delaware community over and over again. It could be line-up of incredible amenities, with a pool that is now complete, or it could be the active, resort-style setting where neighbors truly do become lifelong friends. Whatever the reason, Peninsula Lakes keeps people scrambling for the best homesites and eagerly awaiting the opening of the next phase. So what's the secret? We'll let Nikki tell you…
Marketing and sales talk aside, in your opinion, what makes Peninsula Lakes unique?
Everything! There isn't another community like it. I think the overall plan for the community is incredibly inspired. On day one I fell in love with the curves of the roads that hug the lakes. There are no straight lines, which means it's is not just your typical grid of homes. It has a LOT of character.
The homeowners at Peninsula Lakes seem to have already created this awesome, tight-knit sense of community, is there something in the water out there??
If by water, you mean the fridge full of beer, then yes;) Seriously though, it's pretty amazing how close this community is, and we are lucky to have such down-to-earth people living here. I think that most of our homeowners are coming from out of state, so they don't have family or friends here…yet. They all refer to their neighbors as their 'Pen Lakes family' and it is really great to see those bonds forming so quickly. 
Describe Peninsula Lakes in 3 adjectives.
Picturesque
Booming
Imaginative
Let's switch gears and talk trends, what are homeowners looking for in a new home right now?
One trend that isn't going away is investing in your kitchen. It is the gathering place in any home, so naturally people are looking for larger spaces that open into great rooms. Entertaining seems to be a big trend in our community, especially since we have such outgoing people here.
What are the must-have selections in new homes right now?
Our community is a little different, having so many water-view homesites, so must-have selections at Pen Lakes are geared more towards the outdoor spaces. With options from screened porches, to decks, to our beautiful courtyards, there is a lot to choose from, and homeowners are more often than not making the outdoor space a top priority.
In your opinion, what sets Schell Brothers apart from other home builders?
Our mission. Our main focus is happiness, and our building science, superb energy efficiency, and unmatched look and quality of our homes all stem from that desire to make our homeowners happy. A home is the biggest purchase most people make in their life and we work for a company that decided to help make that purchase as fun and as exciting as it should be.
For people who aren't familiar with Coastal Delaware, what do you love about living here?
Never being bored, but always being relaxed. It's "Slower Lower Delaware". You have everything you would want within a short distance, but people are taking their time and enjoying their lives. I would not want to be anywhere else.
Final thoughts?
Choose happiness!
For more on Peninsula Lakes, simply click here.
Or, to visit, stop by the model home at:
30965 Fowlers Path
Millsboro, DE 19966