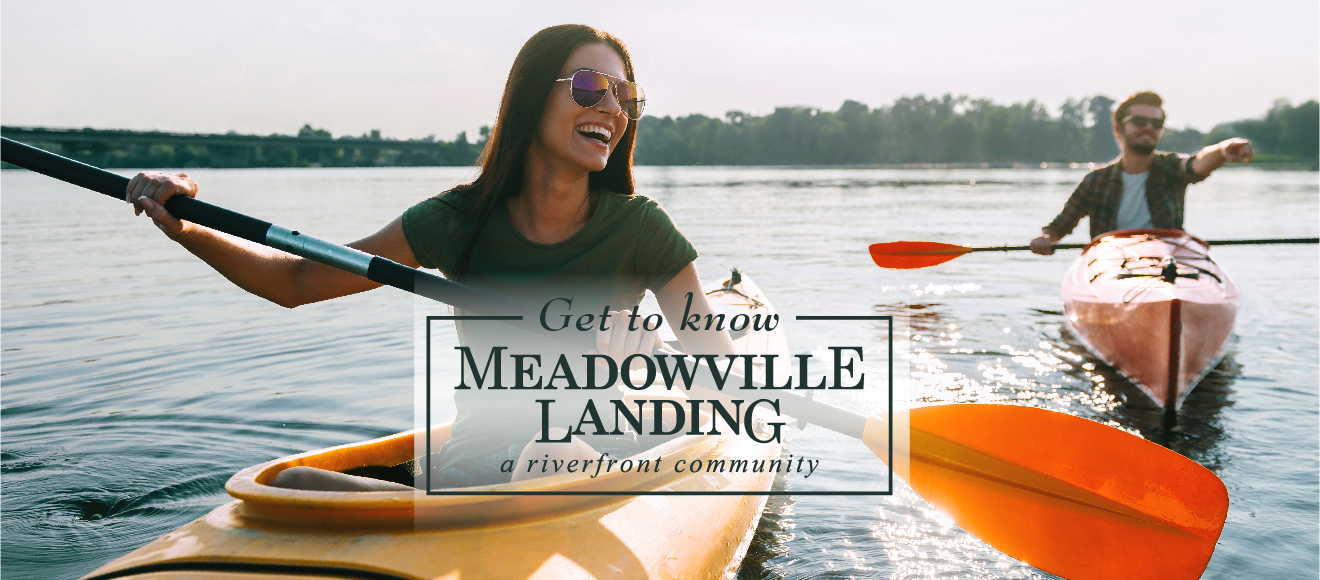 For many of us, summer is synonymous with being on the water, be it at the beach, camped out by the lake, or staying active on the river. In Richmond, one of our favorite spots year-round, but definitely in the summer months, is the James River; which is why we jumped at the chance to be apart of Meadowville Landing, a community built along the scenic James. But that's not all that's special about this community! Grace is here to fill us in on the best of the best from our newest community in Richmond:
Marketing and sales talk aside, what do you think makes Meadowville Landing so unique?
Where do I begin?! Truthfully, it takes your breath away. I find most people get caught up in their day-to-day lives and often forget to relax and enjoy nature. When you arrive in the community your eyes are immediately glued to the beautiful homes, natural scenery, the expansive sky, and the James River. Folks who already call Meadowville Landing home have named it Richmond's "hidden gem" and I couldn't agree more! It's a tucked away oasis, but with close proximity to the interstate, Downtown Richmond, and your everyday conveniences.
How about the vibe of the neighborhood, what should one expect when they decide to call Meadowville Landing 'home'?
Imagine the possibilities being steps away from the historic and gorgeous James River. The colonial style clubhouse has a stunning patio that overlooks the fishing ponds and the river walk. The pool and water park share those views as well. Something that I always notice is how big the sky looks as you peer out over the river. You feel relaxed and happy here, as you would if you were on vacation!
Let's talk location –  what's the best of the best near the community? Local schools? Favorite restaurants? Nearby things to do?
The local schools are a short distance away! Being a craft beer lover, one of my favorite spots is The Taphouse at River's Bend. It's a restaurant and craft beer bar, catering to all ages. The great news is it's less than 10 minutes away from the community. Some other close-by favorites are Cesare's Ristorante & Pizza, River's Bend Grill, Buffalo Wild Wings, Narita Japanese Sushi Restaurant, and Wings-Pizza-N-Things, to name a few. Chick-fil-a, Chipotle, IHOP, Starbucks, and Panera are also nearby for a quick bite! What I love is that both the Starbucks and Panera have a drive-thru! That really helps me in the mornings.
If you're looking for a good hike or bike ride, Pocahontas State Park is wonderful for nature lovers! You, of course, have the James River at your beck and call to canoe, kayak, paddle board, and swim. The interstate is less than 10 minutes away, giving you direct access to Downtown Richmond and all this wonderful city has to offer!
And the river! It must be amazing being that close to the James River. What can homeowners expect for an adventure along the James…
Oh, it is amazing! Being close to the water makes people feel more in-tune with the nature. Folks can expect adventure at every turn. The community has a dock where people can launch their kayaks, paddle boards, or just take a quick swim. There is a community boat launch as well. After a long day, you can wind down and look at the beauty all around you. Not bad, huh?
Describe Meadowville Landing in 3 words:
Tranquil, Natural, and Exquisite.
Talk us through the grand opening sales incentives:
I am so excited! We are offering an exclusive VIP incentive of $20K off the base price AND an unfinished basement to a limited number of buyers who purchase a home as part of our grand opening sales launch! That is AMAZING and it won't last long.
Let's switch gears and talk industry trends. What are people looking for right now in a new home in Richmond? 
Let there be light! People are searching for an open floor plan with lots of natural light and a great outdoor living environment for entertaining. The family can get together, with positive energy from the open, light, and airy environment and still have their own space. Our courtyards and outdoor living spaces give people the ability to live as comfortably outside as they do inside.
How about some fan favorites so far in our Richmond model homes?
When I am in our Richmond model homes, one of the first things I hear is something along the lines of "Oh my gosh, look at all the windows!"
People rave about how smart our space is and how nice and natural the flow is in our homes. With our ultra-energy efficient windows and open-concept floor plans, I hear people say "I just feel happy here" all the time.
In your opinion, what sets Schell Brothers apart from other builders in the area?
Our construction and our culture! We are incredibly transparent with the way we build our homes. Our Schellter™ Advanced Building Science speaks for itself, and I often "nerd out" with folks about it all the time. We build ultimate high performance homes and people are loving it!
That being said, we are not just building homes. As I always say, we are striving to discover what makes people genuinely happy. And that's where our company culture comes into play. Our mission is to maximize happiness rather than profit. We are all incredibly passionate about not only creating happiness, but also building relationships and creating those intangible moments of joy for our homeowners and colleagues.
If you had to pick a favorite floor plan, which one would it be and why?
The Mayberry!
I love, love, love it and I am thrilled that we are building a Mayberry as our model home in Meadowville Landing! It's not your typical ranch-style plan – it's cozy yet spacious, with its gorgeous windows and vaulted great room ceiling. There are many options, giving folks the ability to add that personal touch. The first home I grew up in was a ranch style plan and it brings back those happy early childhood memories.

Ready to learn more about Meadowville Landing?? Right this way: http://schellbrothers.com/find-new-homes/richmond-virginia/meadowville-landing/
Or give Grace a call (804) 243-8161.