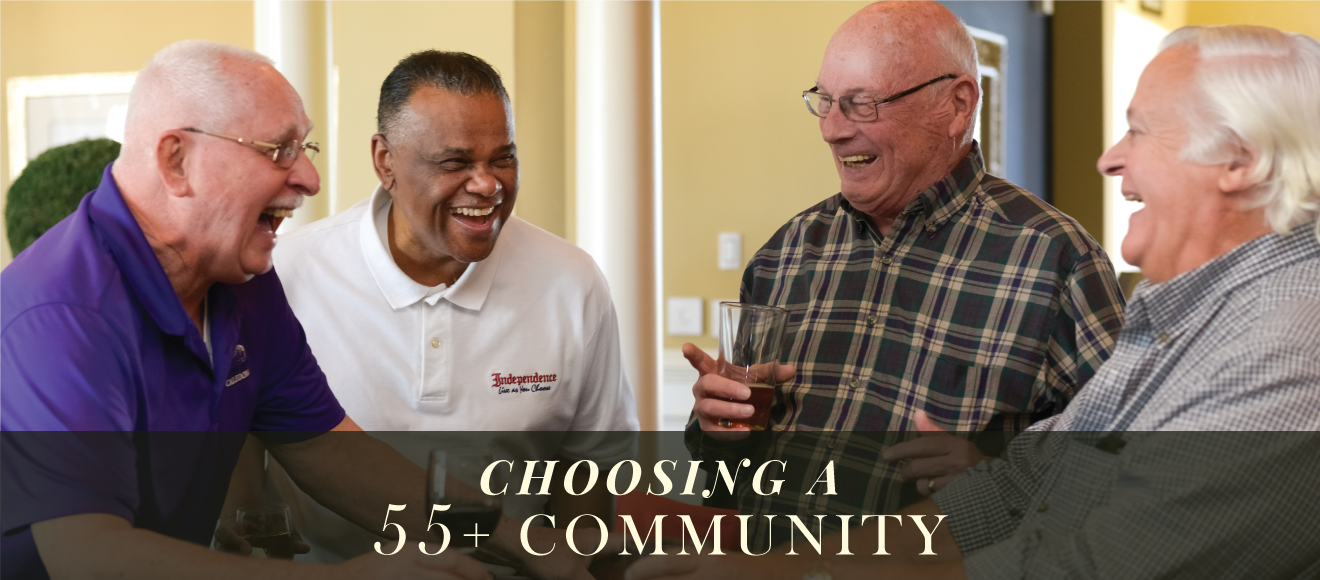 Here's the scenario: You know you are retiring soon (or even in the next few years) but you're not sure what that looks like. Moving out of state? Deciding between staying closer to family and friends in the northeast, or committing to being in Florida or Arizona? Downsizing to a town home, or maintaining enough space for family and friends to stay while visiting? Maintaining an active social life? There's a lot to consider. For those of you who already know that you want to be in an age-restricted 55+ community, the choices are still endless, as you navigate between which community is best suited for you. To make it a little easier, we've rounded up a few key considerations when choosing a 55+ community.
Location
For many of you, Delaware is the natural choice, with its tax benefits and proximity to the northeast, but once you've decided on Delaware, you still have a lot to consider. Are you someone who wants to be at the beach often, or is toes in the sand not a majority priority? Do you want to have an abundance of restaurants and shopping in close proximity, or are you looking for a community slightly removed from the hustle and bustle, with enough amenities on-site to keep you happily at home in your new community? Do you prefer a more rural feel or are you hoping to be in the heart of the action? Tour the community itself, but also be sure to get a feel for the local area and all that it has to offer.
Activities
This is a big one for you social butterflies who don't want to retire to a life of boredom. Not all 55+ communities offer a vibrant social calendar, so it's important to inquire about the activities and events at the communities you're considering. Better yet, talk to the homeowners! A visit to their Facebook page can also reveal some helpful information about what life is like for homeowners year-round.
Amenities
HOA fees may carry some sticker shock, but not when you consider how much you're getting in return. For example, at Independence, $312 per month includes your lawn care, trash removal, common ground maintenance, AND all of the amenities, like the clubhouse, indoor and outdoor pools, fitness center, pickleball courts, and billiards room, to name just a few. Amenities on-site mean less traveling for you, more chances to make new friends, and just another reason to love your new home. When researching communities, check out the full list of amenities, both current and planned, to find the ones that match the lifestyle that you have in mind.
Floor Plans
Of course the most important piece of the puzzle is the actual home itself, which is why you should carefully browse the floor plan options at each community. Make a list of what you're looking for, be it open floor plans, basement options, ranch-style homes, smaller or larger square footage, space for entertaining, or space for the grandkids. Talk to the sales team about your wish list and your 'gotta have' list, they'll be able to quickly steer you in the right direction and you'll soon find that there is a perfect community with an equally perfect floor plan waiting for you.
Where We Build
Sold on Schell and the idea of an age-restricted 55+ community? We're currently building in two 55+ communities at the Delaware beaches, along with one on the very near horizon in Richmond:
Independence: Priced from $284,900 in Millsboro, DE, Independence offers an incredible array of amenities, including the 24,000 sq.ft clubhouse and a full social calendar of year-round activities.
Truitt Homestead: Homes priced from $379,000, Truitt offers maintenance-free living just 1.5 miles from Downtown Rehoboth Beach with a wide array of amenities planned for on-site.
Lake Margaret at The Highlands: Coming soon! A 55+ maintenance-free section of The Highlands in Chesterfield, VA.