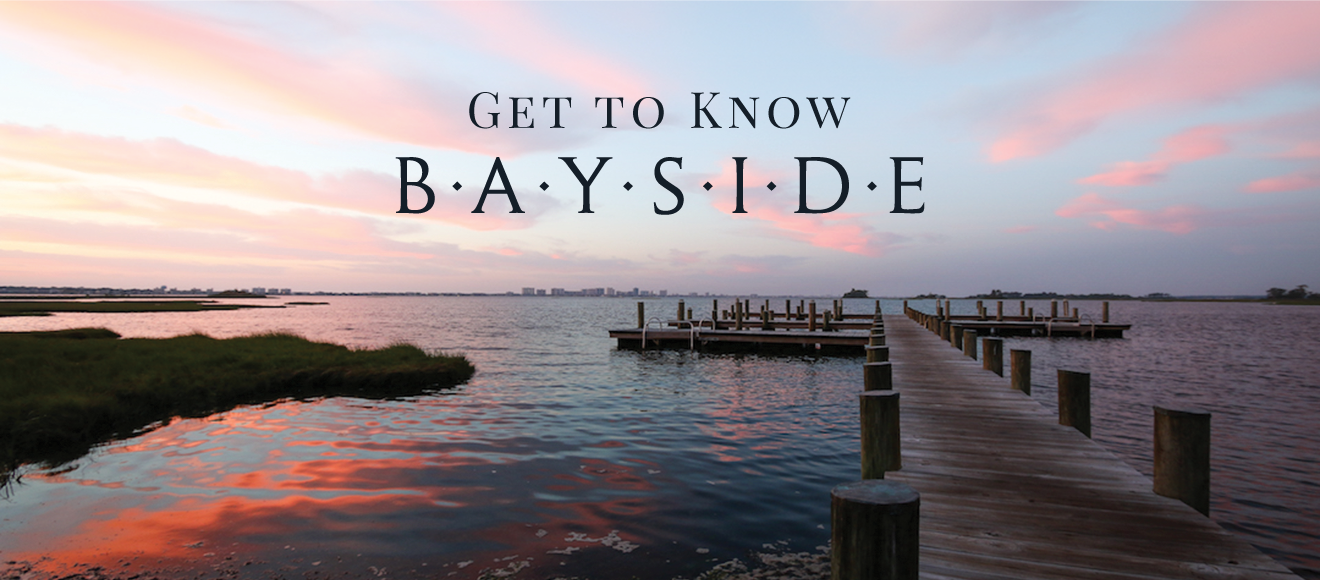 Between new homes crossing the finish line, lots of new sales, homeowner happy hours, and the grand opening of the new Health and Aquatic Club, it's been a busy few months at Bayside. Located just a few miles from Fenwick Island, Delaware and Ocean City, Maryland, the award winning, master-planned community is in a world of it's own, with an incredible lineup of amenities that truly are unlike anything else in the area. But that's not all! Natalie sat down with us this week to talk about the latest and greatest at Bayside:
Marketing and sales talk aside, what do you think makes Bayside so unique? 
The people and culture here at Bayside make it so unique. There is a really great sense of community. Aside from the community-sponsored events and happy hours we host at our model home, we see members of the community throwing block parties, walking the dogs together, meeting up for happy hour or a game of tennis, getting the kids together to play, etc. We have people move here from all over so it is really great to see everyone quickly become close friends.
There's certainly a lot of amenities out there to enjoy, which ones would you say are the most popular with the homeowners? 
The Point has always been a favorite spot in Bayside! The Point is located right on the Assawoman Bay so it has gorgeous views of the water and the Ocean City skyline. It is also the location of the kayak launch, fishing/crabbing pier, fire pits, horseshoes, and nature trails. Next summer there will be a brand new outdoor pool with a bar and grill at the Point as well!
That being said, the new Health and Aquatic Club is going to give The Point a run for its money. This facility just opened this fall, and is home to an AMAZING indoor pool and fitness center. It also has a classroom for Bayside Institute's adult enrichment classes, an aerobics room, locker rooms with saunas, and a JUICE BOX, which serves coffee, sandwiches, acai bowls, and fresh juices and smoothies.
How about the area, Bayside is conveniently located near Ocean City, Fenwick Island, and Bethany beach – what are some of your favorite spots? 
There are sooo many amazing restaurants and fun things to do in the area it's hard to pick favorites! The SoDel restaurant group has a bunch of great restaurants in Fenwick Island and Bethany, including Catch 54, Papa Grande's, Northeast Seafood Kitchen, and BlueCoast. I also love Liquid Assets in Ocean City and the new restaurant they opened in Fenwick Island, Our Harvest. My favorite place to eat right now is One Coastal in Fenwick Island, which focuses on sustainability and providing fresh and local ingredients.
For activities in the area, you can't beat just hitting the beach or kayaking on the bay. Driving on the beach on Assateague Island is a lot of fun, or just driving and walking around the park to see the wild ponies and other wildlife. The Ocean City boardwalk also has a lot of family fun and activities!
You're one of the few communities to be offering the new Coastal Cottage Series. Tell us a little about these new floor plans. 
The Coastal Cottage homes are perfect for those looking to downsize, just starting out, or looking for a second home. They have the same open and functional feel as our larger single family homes, and we are often told they are "just the right size."
Describe Bayside in 3 words. 
Fun 
Unique 
Coastal 
Let's switch gears and talk industry trends, what are people looking for in a new home right now? 
"Open Concept." People are ditching the formal dining rooms and wasted space, and instead opting for an open kitchen/dining/great room space. When entertaining or when the whole family gets together, everyone tends to gather in one space. So having the main living areas be open with a good natural flow is important to many of our homeowners.
In your opinion, what sets a Schell Brothers home apart from other builders? 
The quality construction and energy efficiency are very important aspects that set Schell Brothers apart, but I think it is really our company culture of happiness that makes us so unique: happiness for us as well as our homeowners.
If you had to pick a favorite floor plan at Bayside, which one would it be and why? 
Another unique aspect of Bayside is the ability to build one of our Echelon custom homes, which have a more extensive design process and are always stunning! The Grand Cayman floor plan has recently been revamped, and I love the dramatic high ceilings in the great room on the second level (to enjoy the views) and the rec room on the first level. We have one under construction now, so I am very excited to see it go up!
However if I were to build a home for myself, I love The Jasmine Coastal Cottage floor plan. The kitchen has a great layout and opens right up to the great room. The size of the home somehow feels cozy and open at the same time.
What's a must-have selection in new homes right now? 
People are loving the outdoor living options – courtyards with screened porches, grills, outdoor fireplaces, and water features. Especially when you live at the beach!
Final thoughts? 
Check out our Facebook page! It's a great way to see what's going on here at Bayside and get a feel for the community!