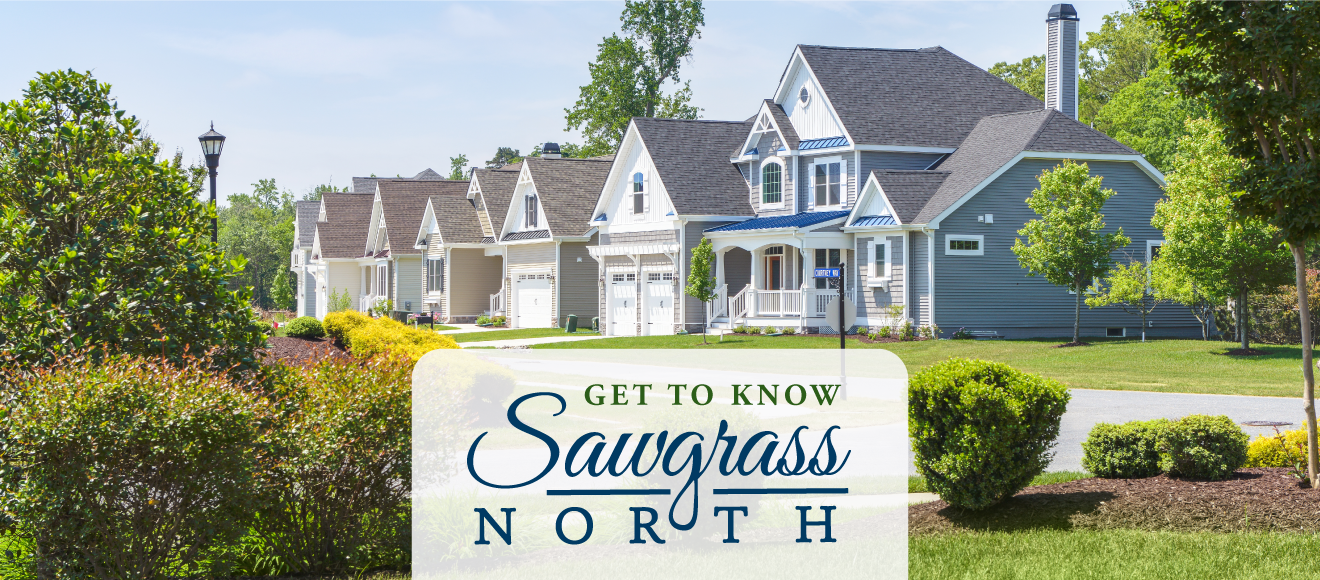 It may sound cliche, but we truly mean it when we say that each of our communities has it's own personality, which is why if you're looking to settle at the Delaware Beaches in a new home community, we're positive that we have one that is right for you. At Sawgrass North, the Rehoboth Beach address is a major appeal for home buyers, but that's not the only reason to fall head over heels in love with this luxury gated community. And who better to tell us all about it than Grace!
Marketing and sales talk aside, what do you think makes Sawgrass North so unique? 
My location of course. It is probably the best non age-restricted community location we offer. That is, if being close to the action and downtown beach areas is important to you. I think that that the term *close to the beach* is overused in this area entirely, and people don't really understand how important location is because sometimes a 20 minute ride to the beach can turn into a 40 minute ride to the beach, and at that point you might as well live in Bridgeville (sorry Mom and Dad). And it's not just being 5 miles away from being toes in the sand, it's being relative to things to do at the beach—and not just Rehoboth, Lewes and Bethany too. We are also in a location that is positioned off Route 1 as such so that you don't need to get on any major highways to get to every day conveniences. Everything you need is a mile away from you, away from the traffic.
Sawgrass North is touted for having 'double the amenities,' but what does that actually mean? Which ones would you say are the most popular with the homeowners?
Sawgrass as a whole, has two clubhouses and two pools, tennis courts, tiki bars, grills and basketball courts. It's really nice that being that we are on the smaller side in terms of community size, to have the amenities that we do. The favorite is definitely the North Clubhouse and especially the pool in the summer time!
Speaking of the Sawgrass North homeowners, tell us a little about the vibe of the community out there.
My homeowners are AMAZING. They are such a cool group of people that are all so very different and I see them out and about in Rehoboth ALL THE TIME—there is no hiding from them.  If I am at the beach, I'll probably see Steve heading to the inlet with his surfboard on his truck, or Doug and Pam at Bottle and Cork at Jam Session every Saturday in the summer, or catching Maggie and Carl for a bite and a fancy drink at Blue Coast. They just are real laid back people, and I think they chose this location because they love the nightlife, the culture, the restaurant's, the beaches, and I appreciate how they take full advantage of it. Most of the time, they are the ones telling me about the shows, happy hours and specials downtown – and I have lived here pretty much my whole life!
So the community itself is pretty awesome, but how about the local area? Having that Rehoboth Beach address must have it's perks right? What's the best of the best in Rehoboth?
What kind of question is that? A Rehoboth Beach Address has ALL THE PERKS. First of all the zip code ends in 71, which was a great year (so I am told), but Rehoboth Beach is where all the action is. Name one thing – other than Target – that you need to have accessible to you. Starbucks? Got it, in fact we have 3 of them. Fresh Market Food Stores – Rehoboth, name any clothing brand and it's probably in the Outlets, I mean the list goes on and on. Everything is here, and it's within roughly a 4-mile radius of your house!
But I will rapid fire the best of the best in Rehoboth: 1. Dogfish Head 2. Louie's Pizza, 3. Henlopen City Oyster House, 4 Jam 5. Shorebreak…want me to keep going??
 2018 predictions for Sawgrass North…GO!
AH, More Happy Hours, More Homesites, More Neighbors, More FUN!
Describe Sawgrass North in 3 words. 
BETTER
THAN
COASTALCLUB 
😉
Let's switch gears and talk industry trends, what are people looking for in a new home right now? 
The outdoor living space is always a favorite, but right now we have been seeing a huge demand for Command Centers in the kitchen. So if you haven't been to our new Shearwater model lately which is the first model to showcase it, you'll need to come see it for yourself. It is this HUGE island that is all one level, which allows for a ton of workability in the kitchen, provides a ton of storage, and also serves as an additional informal eating space as well. I don't know what it is, but these command centers are taking our kitchens to a whole new level, they just make a huge statement in the kitchens. It is something we just started doing and people are really digging them.
In your opinion, what sets a Schell Brothers home apart from other builders? 
Undoubtedly our people. There are so many wonderful people that work for Schell and when you make happiness a priority for yourself and those around you, the experience is just completely different from anything you will find anywhere else. We actually track happiness with our customers, how funny is that? In our performance reports there is actually a little graph that tracks happiness—that is how important it is! But I think we have put together a team that is truly dedicated to the customer experience. Our goal is to create ecstatic customers and provide extraordinary building experiences, and you need the right people to accomplish that!
If you had a pick a favorite floor plan at Sawgrass North, which one would it be and why? 
The new Montauk model! We just rolled the floor plan out, and I am obsessed with it. The best way to describe it would be if the Whimbrel and the Sanderling had a baby, it would be the Montauk. It is the perfect size home and has a ton of flexibility. The owners suite is huge, it has the open concept and the kitchen in it is going to rock! It basically has a command center/island hybrid included. It's a floor plan that was created from customer feedback, so it has a number of possibilities and a really great flow. Also, it has a name that is fun to say—Montauk.
What's a must-have selection in new homes right now?  
Probably a Bonus Room. Especially for all those Eagles fans out there, because if you guys go to the Super Bowl we are going to need you to keep all your excitement contained to a large, conditioned island above the Garage. We don't want to hear it.
Final thoughts?
Did you get a haircut?