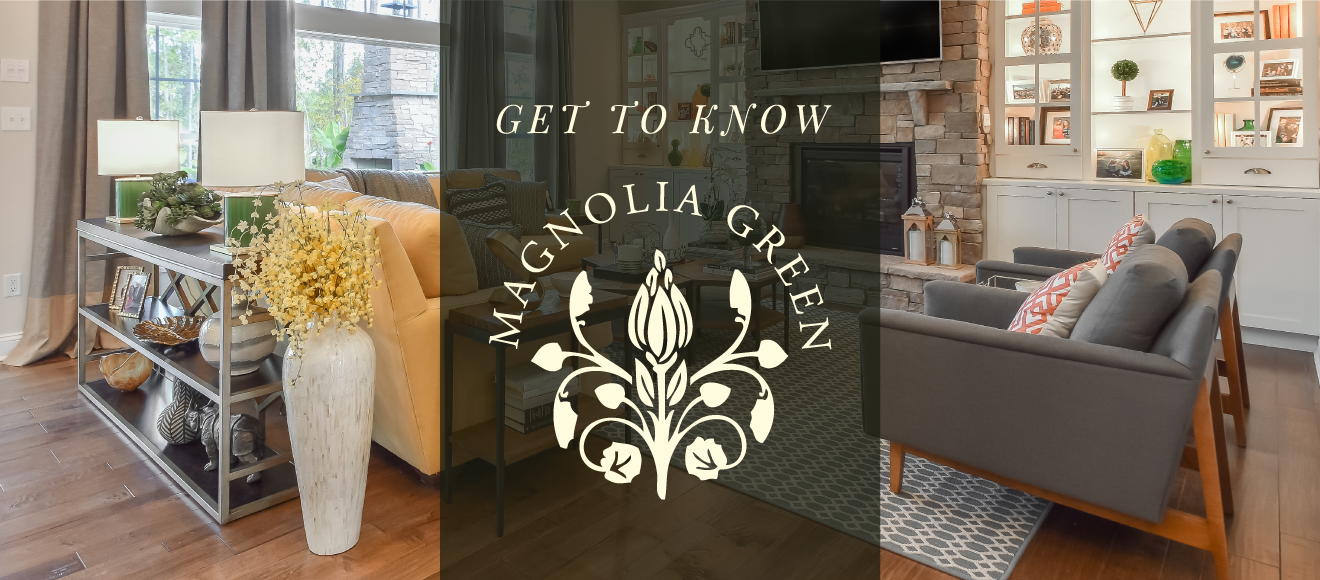 It's been a whirlwind year at Magnolia Green, particularly since launching sales in our first neighborhood within the community, Palmilla, this past spring. Two new model homes and a long list of excited homeowners later, we're headed into 2018 full steam ahead. There's lots on the horizon for this amazing, master-planned community, so we've tasked our Community Sales Manager, Kaylie, with giving us the rundown on what makes this community so special, including the latest trends she's seeing right now in new home selections.
Marketing and sales talk aside, what do you think makes Magnolia Green so unique? 
It genuinely feels like home. When you first drive into the community you see residents all around you. Whether they are walking their dog, riding their bike, or even just taking a stroll on the sidewalk, you get a real sense of community. The developer has done such an incredible job by making this neighborhood somewhere enticing for people to live. It's not just a "neighborhood" it truly is somewhere to plant roots and stay for a long time. It gives people the opportunity to purchase somewhere that they can grow while the community grows as well.   
This is a well-established, master planned community with a ton of awesome amenities; what are a few favorites that you think our future homeowners will love the most? 
The Aquatic Center was a huge hit when it first opened this past summer. It really expands on that "resort" style feel within the community. The pirate ship playground that sits directly out front of the pool was actually built in California and shipped to Magnolia Green. It looks like it belongs in a storybook and really brings character to the community. All of the kids in the neighborhood rave about it. My personal favorite is the Golf Clubhouse that just finished up in October. It is more beautiful than anyone ever expected. Not only on the outside, but the inside as well (and the food is amazing too!). It's nice for our homeowners to have so many amazing places they can hang out, get together, and relax.
Sales have been pretty incredible since launching at Magnolia Green, what are people loving about the community and/or our Schell Homes?
I've found that Palmilla has brought something incredibly unique to Magnolia Green…something that truly attracts just about everyone. From people wanting to down size and be in a one level home from people looking for a two-story with more space, we have the ability to offer all of these things. They are loving the style of our floor plans as well, the large windows and tall ceilings are something most builders have gone away from in recent years and we are really bringing it back. Our proximity to the golf clubhouse has been a huge hit too. It's nice to be able to go enjoy dinner within walking distance!
How about location – Magnolia Green seemingly offers everything you might need right in the community, but what else is nearby? Local schools? Favorite restaurants? Nearby things to do?
The schools for the community are just a short commute, Winterpock Elementary is just right across the street and Cosby High School is a short car ride along with Tomahawk Middle. The great news, is that there has been talk of an elementary school being built right here within the community at some point in the next few years! In terms of restaurants, a few favorites nearby are The Boathouse, Glory Days, and Longhorn. Chipotle, Panera, and Taziki's are awesome spots for a quick bite to eat as well. The Swift Creek Reservoir is right around the corner and is always a fun spot to go kayaking or canoeing. Pocahontas State Park is just a short drive if you're looking for somewhere to bike or hike. 
Describe Magnolia Green in 3 words:
Inviting, Lively, and Innovative.
Or in the words of Tom Page (Manager for iStar – Magnolia Green's developer)
"Coolest. Place. Ever."
Let's switch gears and talk industry trends. What are people looking for right now in a new home in Richmond? 
I find that most people are looking for an open floor plan that simply just functions well for their family. A home that has unique features and a bit of separation in certain spaces but still has that open area that everyone can get together and enjoy time together. The other thing people are looking for are outdoor spaces. People are wanting to spend just as much time outside as they are inside. Our courtyards, screen porches, and covered porches have really been a big hit.
How about some fan favorites so far in our Richmond model homes? 
The basement in our Whimbrel model has been a huge hit. Welled basements haven't been as popular in our area so we are really creating a new trend. People are realizing that it is more beneficial to build "down" rather than "up." 50% of our sales in Palmilla have had basements, whether welled or walk out! The other big favorite would have to be our large islands, hands down. Folks are absolutely loving how big our islands are in our kitchens. It gives people so much more space for seating along with room to really entertain. Not to mention it's always the perfect spot for the kids to post up and do homework!  
In your opinion, what sets Schell Brothers apart from other builders in the area?
The construction of our homes in general speaks for itself. People are recognizing that we are transparent in terms of how we build our homes and they are loving the building techniques. So many people have said that when they walk into our models they just "feel different" and it really has to do with the way we build. Not only are we setting ourselves apart by our homes, but by our culture as well. People are catching on that we aren't just here to build homes. We are building relationships with all of these future homeowners and it is turning out to be something very special. Our process is unlike any other builder's and in my opinion we really are proving we're here in RVA to make people happy.
If you had to pick a favorite floor plan, which one would it be and why? 
I would have to say personally my favorite would have to be The Bridgeport floor plan. I absolutely love the windows in the two-story great room and the secondary owner's suite on the first floor. The elevations are so unique and are proving to be real head turners as well. I'm a mud room lover, so when I saw The Bridgeport's gigantic mud room for the first time I knew it would be the next home I personally build!
Final thoughts?
Magnolia Green truly has created something here in our area that no one else ever has before. You truly could live here your entire life and never have to move.