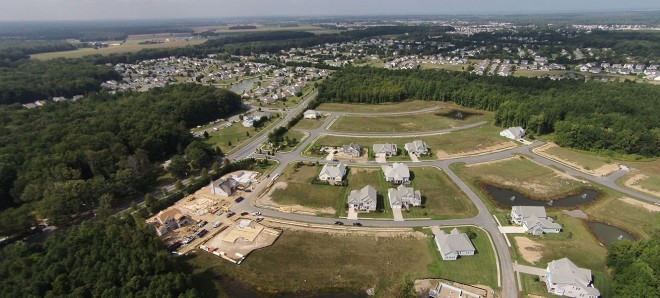 Now that we're into the new year, I wanted to reflect on the fantastic start we've had at Sawgrass North, Schell Brothers' only Rehoboth Beach community. So many things have happened in such a short period of time, and where do we even start to tell you about all the great events we have planned for the coming year?
Here's a quick glimpse into what happened at Sawgrass in 2014, and what we have planned this year:
Our first week of sales at Sawgrass North kicked off on May 10, and we've reached so many milestones since then. We sold 8 homes that first weekend alone, and after working out of the main office for a few months while our model home was being built, we grand opened the Kingfisher in style on October 18th. Among the flurry of grand opening activities that weekend, we added another happy homeowner to our family. By year's end, 33 families had chosen to make Sawgrass their home, and another 4 had committed to contingent contracts.
This year wasn't all about sales though. In November, we began building the new clubhouse which is scheduled to be completed by the Summer of 2015. I can't wait to enjoy a drink poolside with our homeowners. Last year, two families already moved in, and another 20 homes are currently under construction. That's a lot of activity.
When our model was completed, we couldn't wait to start a new series of Sawgrass events that we like to call Schell Locals Night. We opened our model in the evening for three nights last month, inviting local businesses to share trunk shows and wine and cheese tastings. We look forward to partnering with more Rehoboth businesses this year.
The future of Sawgrass North looks bright with Schell opening a new phase in 2015. This phase will lead us into the remaining homesites to the south of the current section. There will be both wooded and pond homesites, which all look amazing. If the current homes being built with wooded and pond views are any indication, these new homesites will be breathtaking.
With 2014 behind us and big plans for 2015, we're excited to continue our sales in Sawgrass North and welcome more homeowners into the Schell Brothers family.
Cheers, Adam