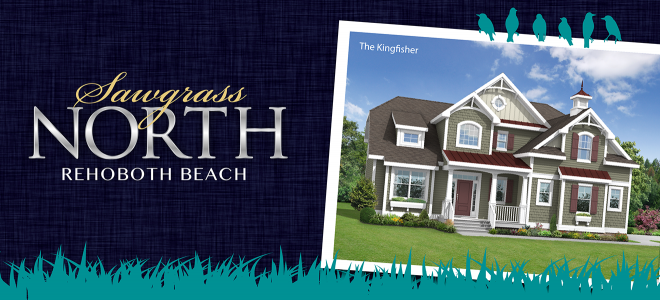 Big things are coming this month at Sawgrass North! New home construction is booming in the community, the brand new clubhouse will start construction in the next few weeks, and the Kingfisher model is now finished and ready for Jordan and me to officially move-in.
Echelon Interiors has worked it's magic, and the model is looking magnificent. Chris Yurisic, our construction manager at Sawgrass, has outdone himself and built us a palace. Let's be honest; Jordan and I wouldn't settle for anything less.
Have you heard the buzz on the Rehoboth streets? Are you updated on what's planned for the Kingfisher's Grand Opening? On Saturday, October 18th, Delmarva Broadcasting will be on site right in front of our brand new model. Tune in to 97.7 to hear Jordan and me broadcasting across the air waves.
We'll have a beautifully decorated model stocked with delicious local food and drink to celebrate throughout the day. Want to put a construction hat on and have a look at some of the models under construction? No problem; we will be giving tours of our homesites along Courtney and Bishop Bend, (Fun fact: these are the homesites that accommodate basements). If all of this excitement isn't enough for you, we'll also have some amazing local giveaways to top off the day!
We're super excited, and we really do hope you can join us as we celebrate the Kingfisher Model Grand Opening at Sawgrass North.
Cheers, Adam
 Saturday, Oct. 18th | 10:00AM – 3:00PM
35546 Betsy Ross Blvd., Rehoboth Beach, DE 19971