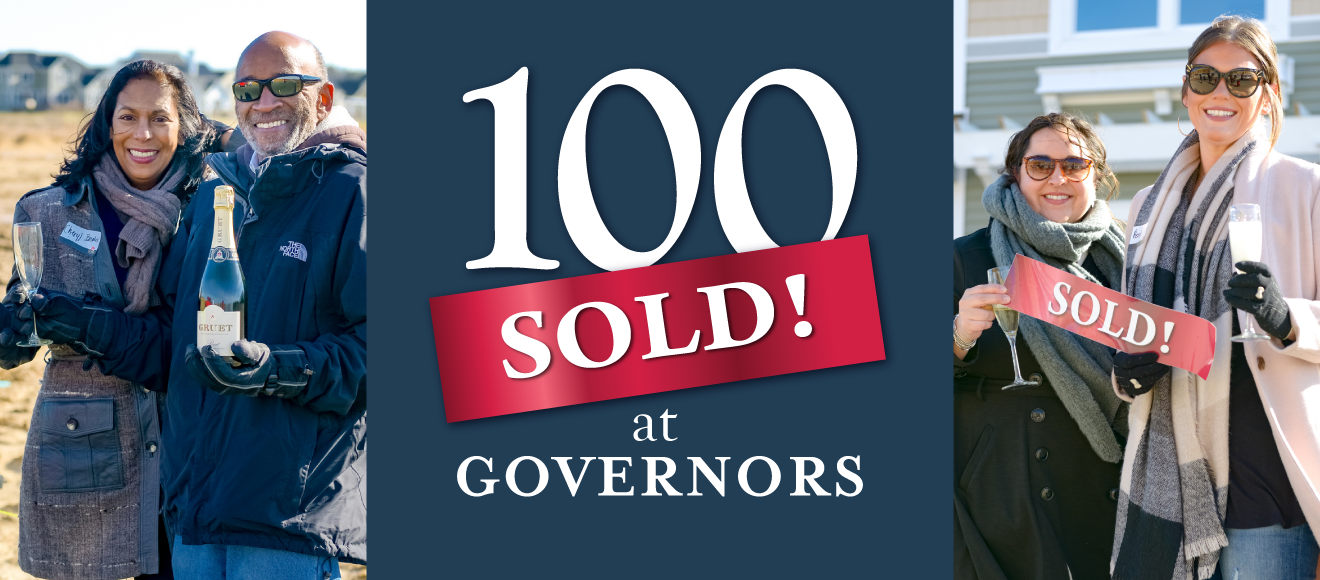 Amazing. Crazy. Pinch me. It is true, right? Yep. The newest community on Gills Neck Road, Governors, opened in June 2018 with a grand opening on the Lewes Canal. What has happened since is nearly as amazing as the sun setting from the upper deck at The Wheelhouse that evening we celebrated the beginning. We are into the New Year and 2019 has not stopped the momentum at Governors! Location truly is everything.
So why the blog? Well, we have hit a landmark quicker than any other new community in Sussex County. 100 new homes have already been chosen by their homeowners. We've added a sign on Kings Highway to highlight our sales, as I'm sure some people driving by think we're still just starting. As it stands, close to a quarter of the community is sold already!
The BIG message in this post is actually the biggest testimonial I could ever give you. We've even compiled a map to show you. The results are staggering on where our people are coming from to live on Gills Neck Road. If you've met me, you would have heard me talk about this already; but pictures are bigger than words!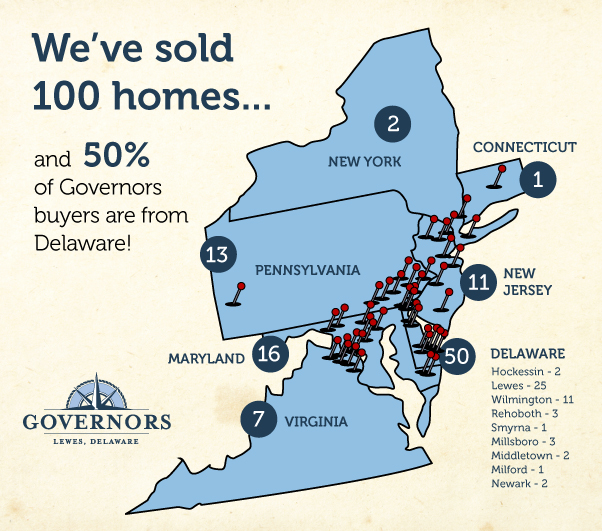 I've been in new home sales for 9 years now, and I've been lucky enough to work in a number of communities in the Lewes and Rehoboth areas for Schell Brothers. Many of those communities I've been extremely grateful to build from scratch. As is typical here at the beach, we get a lot of new homeowners from outside of Delaware. Due to low taxes, downsizing, a maintenance-free lifestyle and all that Lewes has to offer, this area is very attractive to buyers. We typically see a majority of peeps from New Jersey, New York, Maryland and Pennsylvania, to name just a few surrounding states that find their way to the beach.
However, the majority at Governors is very different, and I truly believe that it is the only community I'm aware of where this has happened. 50% of our new homeowners are from the state of Delaware and 25% of the first 100 homeowners are from Lewes itself!
Repeat: 50% from DE and 25% from LEWES! Staggering, right? It just doesn't happen that way in other new home communities and yet it's the biggest compliment to Governors. Local people in town and in the state who should know location the best are buying at Governors.
Want to know why? Call me (302.228.2719) or email me (adam@schellbrothers.com) and let me tell you why all these people believe in Governors and Gills Neck Road living!