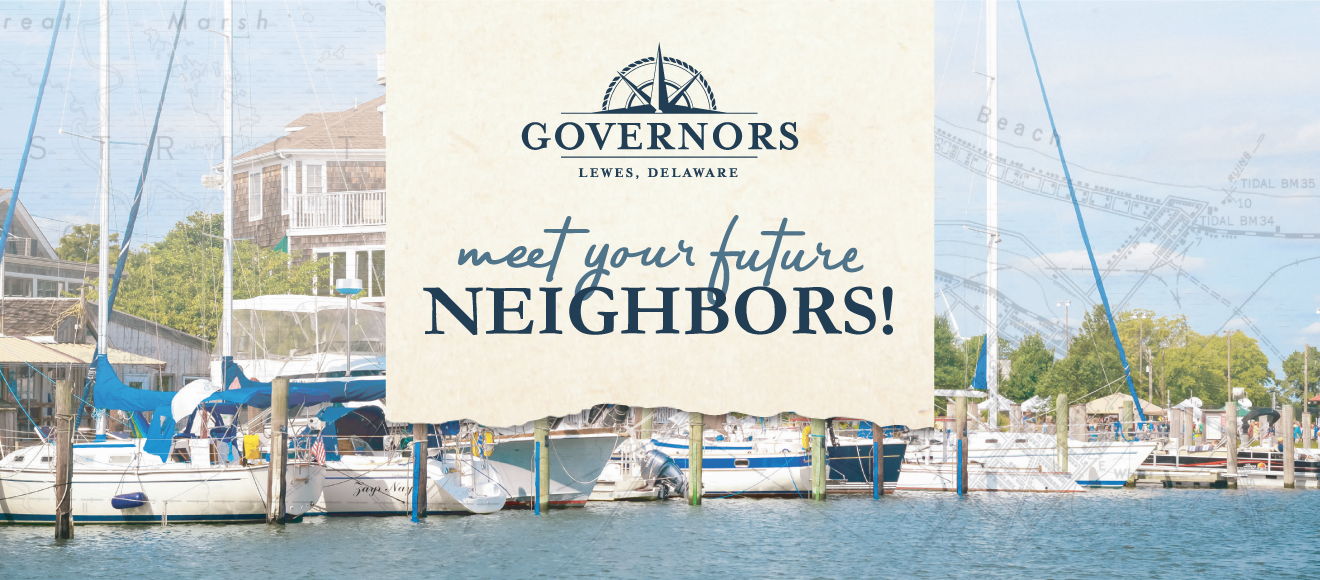 Meet Jim and Julie, our newest neighbors at Governors! They currently live in the scenic Philadelphia suburb of Spring House, PA, and fell in love with Lewes for its history and small town charm. Read on to learn more about their family, and why they chose Governors. We're so happy to welcome you to the community, Jim and Julie!
Tell us a bit about yourselves and your current situation.
We currently live in a five bedroom colonial style home in a very beautiful development in Spring House, PA, a northern suburb of Philadelphia. We have lived here for almost forty years and have many friends and relatives near us. We're in the middle of five suburban shopping malls, from King of Prussia over to Willow Grove. We can take the train from a nearby station into Philadelphia, for free, as part of being "elderly" in Pennsylvania.


Our family is grown and doing their own thing. We have three children and four grandchildren. Our oldest granddaughter finished her graduate program in Art History and is working in Hawaii to assist the Duke Museum there. Our oldest grandson is in the Navy, currently in Jacksonville. A second granddaughter is in the corporate world, a business graduate of Duquesne University. The youngest grandson is studying Finance and Business at the University of Delaware, a Junior on full scholarship.  Jim's hometown is Beaver Falls, Pennsylvania and Julie's is Abingdon, Pennsylvania. 
How did you hear/know about Lewes and the beach?
We originally discovered Lewes in 2001 while vacationing in Rehoboth Beach. We are impressed with Lewes' history and small town charm.
Why did you pick Governors as your new home community?
We chose Governors for its proximity to Lewes and the nature trail to Rehoboth, low real estate taxes, the great reputation of Schell Brothers, and the charm of our sales representative, Adam.
Why did you pick your floor plan at Governors?
We selected the Iris floor plan because we wanted to downsize, although we added a sunroom, (probably will add a patio), and we opted for a basement for a little extra space.
What do you look forward to the most once you live in your new home in Governors?
We look forward most to making new friends as we meet our neighbors and enjoying the beaches, Lewes and the nature trail. We also can't wait to relax by the pool and hot tub!

Want to learn more about building one of these homes at Governors? Schedule a visit with Natalie and Adam:
Natalie Sweeney                                                           Adam Pettengell
302.249.4726                                                               302.228.2719
natalie.sweeney@schellbrothers.com                    adam@schellbrothers.com