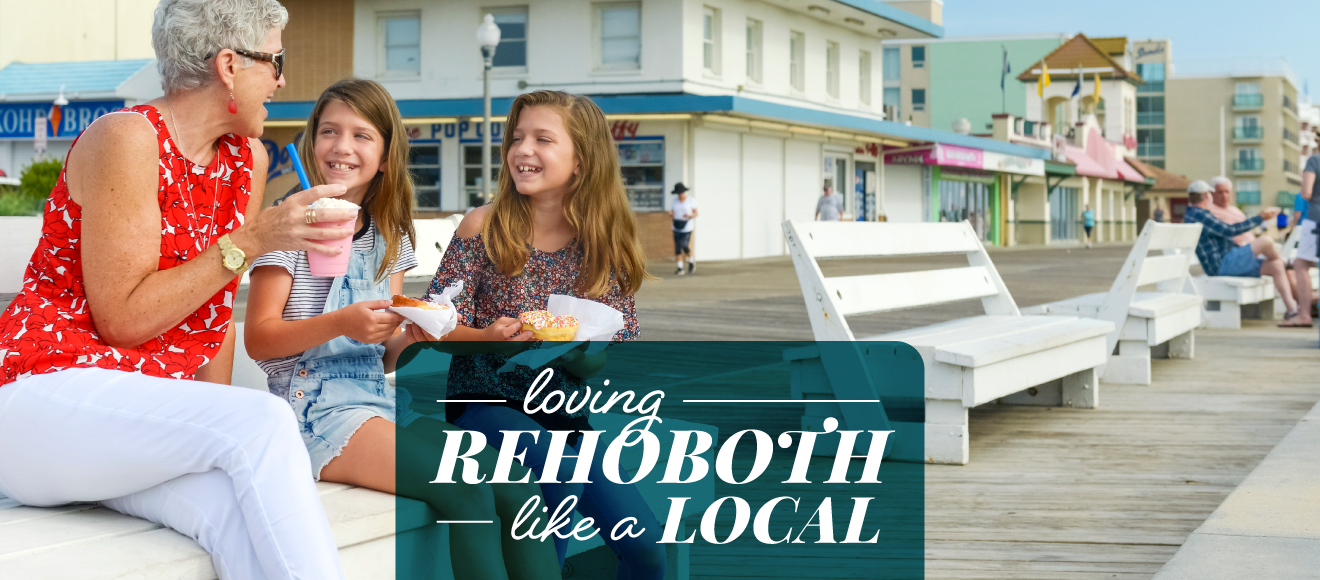 What goes best with sunshine and a day off? Rehoboth Beach, of course! Whether it's your first trip or your hundredth trip to the vibrant beach town, you're sure to uncover a new favorite spot. As a local, I'm constantly fielding questions about the best go-to spots in Rehoboth; and I have to tell you, it's tough to choose!
The beach speaks for itself, with the iconic boardwalk and host of classic eateries just steps from the sand. When I need to grab a bite but don't want to stray too far from my beach towel, I head to Louie's Pizza for a slice of their famous pizza or a cheesesteak. And for an afternoon treat that is a staple of Rehoboth, you simply can't go wrong with a bucket of Dolle's caramel corn or some finger-licking salt water taffy – both equally delicious for kids of all ages! Not only do I love the Schell Brothers new home gallery at Mug & Spoon; their rich coffee is locally sourced. They also just so happen to serve the coolest milkshakes around, and carry a selection of mugs and gifts with inspirational, beachy flair. For a fun-filled adventure, look no further than the aptly named Funland. Located right on the boardwalk, Funland is the best way to liven up a lazy beach day for your kids or grandkids.
One of the many reasons I love Rehoboth is because I can lie on the beach, shop 'til I drop, and have dinner and drinks – all without ever moving my car! Need something to wear for your summer evening out? Hula Sue never disappoints with effortlessly stylish outfits and unique accessories. Quiet Storm and The Edge are both beloved surf shops of mine with clothing for men and women. And locally owned Carlton's makes for a memorable shopping experience with more upscale clothing that has a resort feel (think Patagonia and Tommy Bahama). I never leave Rehoboth without visiting Browseabout Books. I am a self-proclaimed book lover, and there is certainly no shortage of bestsellers and beach reads here; but I often find myself browsing through the charming collection of home décor and delightful gifts too! Bella Luna and M Squared, also located on Rehoboth Avenue, are two more of my favorite stops that always seem to have that perfect new piece for my home or specialty gift for a friend.
Once I've rinsed all the sand off – the true sign of a memorable beach day – I head to Salt Air to start the evening off with happy hour. When your biggest decision of the day is choosing which refreshing craft cocktail to order, you know life is darn good. The PEI Mussels are a classic there, or order up the Oven Roasted Old Bay Chipotle Wings if you're feeling adventurous (just a tad spicy!). Want to try somewhere else in town for dinner? The intimate atmosphere of Eden, combined with their fresh take on fine dining and notable wine list, has made it a go-to on my list for date night or a small dinner party with friends. Blue Moon is another favorite, as they have mastered the art of dinner and Sunday brunch, plus offer late-night entertainment! The smoked salmon Eggs Benedict is served all around at our girls' brunches, and the entrée of choice for dinner is their Braised Lamb Bolognese or vegetarian dish created especially for each of our dietary preferences.
You will certainly need more than one day in this perfect little beach town to enjoy everything Rehoboth has to offer. And with its close proximity to several Schell Brothers communities, you too could enjoy the downtown buzz and breathtaking beach every day!
Want to learn more? Take a look at our new home communities by clicking the link below, or contact Sara at 302.745.9614 for all the beachy details.