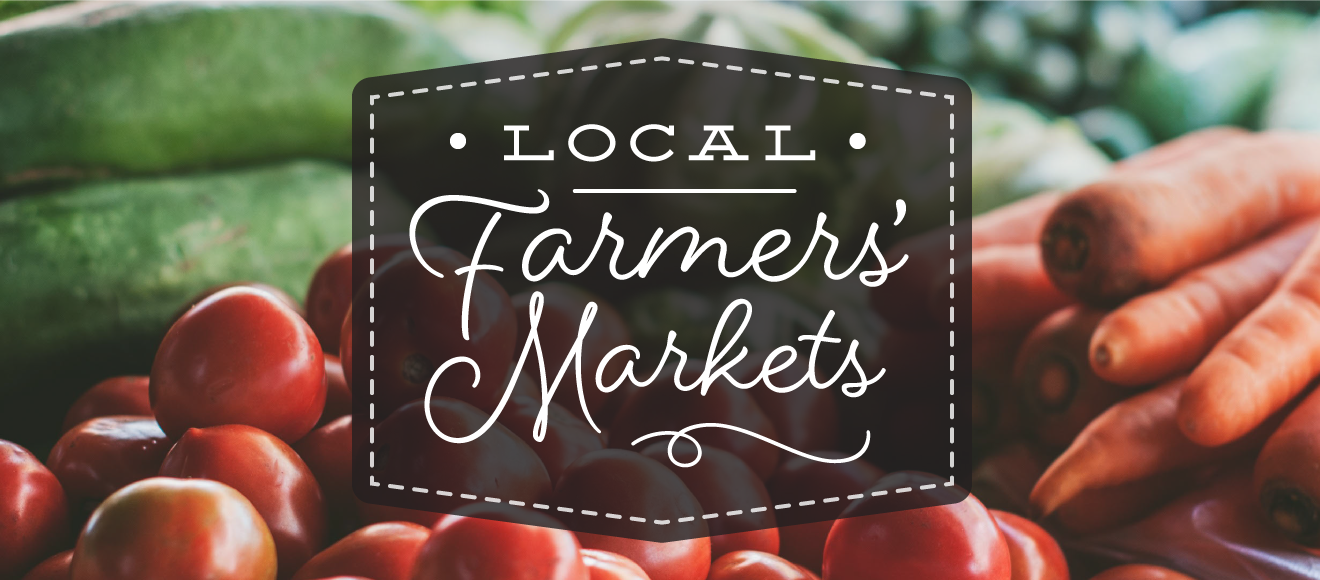 A sure, and very welcome, sign of summer is the familiar sight of a good old fashioned farmers' market. From the brightly-colored veggies and fresh-cut flowers to the artisanal accessories and homemade gifts…I just love it all!
Not only is a trip to the farmers' market the perfect summer outing; it's also a great way to truly shop local by way of our region's small farms and businesses. Take a look at some of our favorites and pop by this summer for your own taste of local flavor. And those of you in our Schell communities are in luck – these markets are just a quick trip from your front door!
The Rehoboth Beach Farmers' Market is a wonderful pick-me-up during the week, held on Tuesdays from 11am-3pm at Grove Park in downtown Rehoboth. There is certainly no shortage of delicious food to sample while shopping, or to take home for dinner! Take Anita's Guacamole, serving up a savory guac with a hint of lime and a mango salsa with just the right amount of kick. Bennett Orchards is the stand to visit for mouthwatering summer produce, especially those sweet, in-season blueberries and peaches we're all craving right now. They hand select fruit daily from their fields to bring straight to the market. And you can expect to find a unique collection of lavender-infused soaps and other body products, in addition to fresh and dried lavender from Lavender Fields. A different live performer each week will keep you entertained while you shop.
The Historic Lewes Farmers' Market caters to both weekend and weekday warriors. Their Summer Saturday Market is held 8am-12pm in George H.P. Smith Park, close to downtown Lewes; and the Wednesday Market at Crooked Hammock Brewery is from 8-11am. Expect a mini-version of the Saturday Market on Wednesdays at Crooked Hammock, with a smaller sampling of local goodies. The Saturday Market packs a bit more punch with over 30 vendors to peruse. Stop at Surf Bagel's stand to grab breakfast and a cup of coffee to fuel up for shopping. And be sure to check out all the local favorites, including Baywater Farms, Fifer Orchards, Backyard Jams and Jellies, and Hattie's Garden!
The Nassau Valley Vineyards Farmers' Market is my go-to for a lazy Sunday afternoon, with an atmosphere that's a bit more relaxed than the usual hustle and bustle of a farmers' market. Held from 12-3pm every Sunday with vendors set up on the vineyard grounds, I particularly enjoy browsing the stands before grabbing lunch from one of the many tasty options…paired with a glass of wine of course. The accessible seating among the trees and live music will keep you lingering long after you've made your last purchase.
Further south in Bethany, the Bethany Beach Farmers' Market is also held on Sundays from 8am-12pm in downtown Bethany, adjacent to Town Hall and PNC Bank. Stock up on local honey from Honey Bee Lake Apiary and decadent baked goods from Old World Breads. Davidson Exotic Mushrooms is another awesome vendor at this producers-only market. And when you're finished here, stop in the adorable shops along Garfield Parkway or head to the boardwalk for a morning stroll!
Enjoy sweet summertime with this season's local farmers' markets…happy shopping!