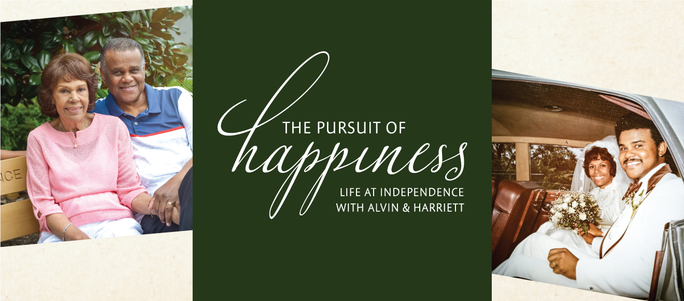 We are beyond excited about Schell's new magazine, At Home with Schell Brothers. Better yet, Independence is showcased in the premier issue through our very own Alvin and Harriett and their love story. How great is that? Check out a portion of the article below, and let us know what you think!
A true love story is one that inspires. It warms the soul, and can also travel far beyond two people. The love story of Alvin and Harriett not only encompasses their love for one another, but also their genuine love for the life they live, and where they live. For these two, it's also a story about friends and neighbors, life at Independence, and always choosing happiness.
Built-in Friendships
Take a drive into Independence on any given day and chances are you'll spy Alvin, waving exuberantly at every car that passes him by or giving a warm hello to anyone who walks through the door of the community clubhouse. "My goal is to meet everyone who comes here. I'm that person standing on the corner waving," he adds. It's fitting to consider him the unofficial mayor of Independence; after all he is tasked with taking the photo of every new homeowner and makes it a point of getting to know as many as he possibly can. Alvin even visits neighbors who are unable to make it to community gatherings, especially around the holidays to lift their spirits. "I try to let people know that we are here and that we care about them," says Alvin.
And the feeling is mutual. When Harriett required open heart surgery earlier this year, the outpouring of love from their Independence neighbors and friends was palpable, with cards, gifts and well wishes arriving at the hospital and their home daily. "We actually refer to the community as our Independence family, and they really step up," says Harriett. "The people here are just lovely people; I can't say it enough. Everyone is just so friendly." Which is exactly why Alvin and Harriett are so passionate about giving back.
After serving for over 6 years on the Activities Committee at Independence, the pair was awarded with a Certificate of Appreciation from the new committee. The couple is also active outside of Independence, volunteering whenever possible. Both are Lay Navigators at the Beebe Tunnell Cancer Center, dedicating their time to speaking with cancer patients. "We hope that our efforts serve as an inspiration to all who have to go through this experience," expresses Alvin.
Be Happy 
With over a decade at Independence under their belts, countless friendships, and both good times and bad felt in their personal lives, the pair has kept true to their life motto – Be Happy. "Periodically, each of us will go through something in our lives [positive or negative], and when you reach a point that things seem to be difficult – so difficult that it's hard to get past – then I encourage you, the answer is just be happy."
With strong roots now laid at Independence and so much to look forward to, the future is bright for Alvin and Harriett. "Our story continues to grow," says Alvin. And there is no doubt it will be full of love, friendships, happiness, and of course a few games of pool and Mahjong.
To read the full article, pick up your copy of At Home with Schell Brothers at any one of our model homes. And follow us on Instagram @athomewithschell.