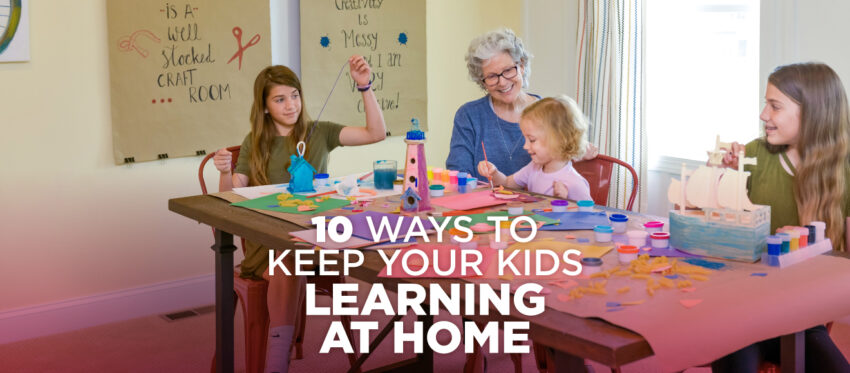 If we're being completely honest here, sending our children off to school on the bus can be one of the best moments of a day in the life of a parent. The house is finally quiet, toys are no longer strewn about the living room, and you have a second to wash the dishes before hearing "Moooooom" or "Daaaaaad" in the background. Don't worry, we understand, and so we've spent some time brainstorming ways to keep them occupied, but also more importantly, learning.
Not only has summer vacation arrived, the country is still in the midst of a nation-wide quarantine. With schools changing policies to promote health and safety, education might look a little bit different moving forward. Sometimes our kids can give us a hard time when we try to teach them lessons at home, so try out these sneaky tricks to get your kids to exercise their minds until things get back to normal.
Teach Your Kid to Play Chess
Game night can be a great way to get your child to start thinking critically. Chess is the perfect example of a game that requires attention, strategy, and higher-level thinking in order to be successful. It can train your mind to discover, do math, and even think like an engineer.
Watch a Movie
This is probably my favorite method of sneaky learning. Most people avoid electronics or 'screen time' when trying to occupy their kids, but I think it is a great tool to teach lessons, decipher metaphor and help kids understand subtlety and art. Documentaries are a great way to introduce film as a method of study, it can teach kids about any piece of the world they are interested in, from cars to politicians.
Calculate Distance and Mileage
Take your kids on a trip to the grocery store but make them calculate the distance between your house and the store. You can even take it a step further and ask them to figure out how long it will take based on how fast you drive. This is a good way to get them thinking about math and distance!
Virtual Museum Tours
Because of COVID-19, many museums are offering virtual tours of their exhibits. Sit your kids down and let them look at historical art or learn about the revolutionary war. Check out the Natural History Museum, The Met, The Dali Theater-Museum, The Art Institute of Chicago, and more!
Sneaky Reading
Reading is an important tool to keep your brain exercised. In order to trick your child into reading, make them read the restaurant menus, the instructions for the games on game night, or even the recipe for dinner. You can even couple it with writing and ask your children to write a short story to read that night before bed. There are words everywhere, use them to inspire your children.
Build Something
Kids love to get their hands dirty, so send them out back with some hot glue, bird seeds and your recycling bin to make homemade bird feeders. You can use old milk cartons, the cardboard part of a toilet paper roll, anything! This activity promotes the use of critical thinking, motor skills, creativity and problem solving.
Plant a Garden
Earth Day 2020 just passed, but truthfully, everyday should be earth day! Help your kids pick a small patch of the garden to call theirs and let them plant whatever they want. This is a great opportunity for you to teach them about any bugs they stumble upon, and how they are helping the earth grow and heal by planting a garden. There are so many sustainable lessons to be learned.
Count Money
Encourage your kids to save a penny here and there throughout the summer. At different points, ask them to sort and count their money. This encourages growth in math and understanding the value in money. After they count, have them put the change away to save, teaching them how to responsibly maintain their earnings.
Sidewalk Chalk and Art
Take your kids to the driveway for some sidewalk chalking. Not only does this encourage their creativity and get them outside, it can brighten up the days of your neighbors or the people walking by! Try making chalk paint so their beautiful drawings can withstand the rain, click here for instructions.
Go on a Treasure Hunt
When I was a kid, I wanted to be a pirate when I grew up, so I made any excuse to draw a map and embark on an epic treasure hunt. Try it out with your kids. Draw a map and bury something in the yard or hide it around the house. They will have to use their critical thinking skills, directional skills, and map reading skills to figure it out! A perfect way to get their minds moving while at home.
As you can see, there are so many ways to keep your kids learning and growing, even when they aren't in school. Although they might be reluctant to do math sheets or assigned reading, this list of activities will get their brains moving without them even realizing it!
Check our website for more information about our company and what we do. Check out the landing page for our brand campaign "Home is Where the Heart Is" to learn more about what teaching in your house can look like in a Schell home.