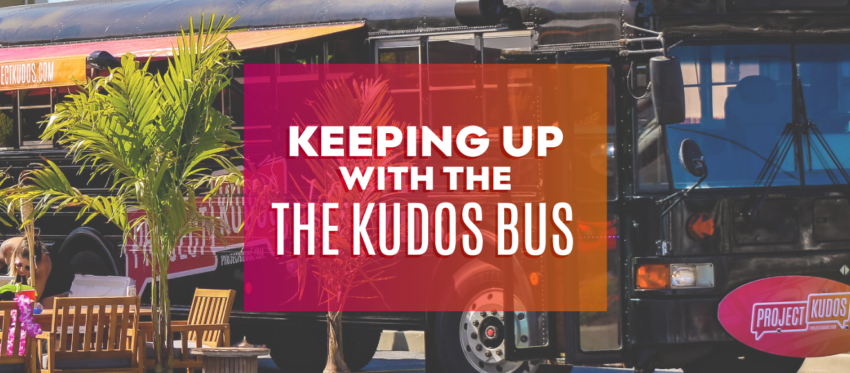 Hey there! It's been a while since I've updated you on how Project Kudos continues to impact the community and spread good vibes. The Kudos Bus is always on the move, and these past few months are no exception. Schell Brothers alongside Project Kudos, decided that the best thing to do for the community during the COVID-19 pandemic was to help alleviate stress and bring a smile to a few faces. The Kudos Bus mission this time around was to distribute much needed food and supplies to various communities in need across Coastal Delaware.
In case you need a refresher, Project Kudos is an initiative created by Schell Brothers to promote our company culture of happiness. We encourage the community to take the time and thank the people in their lives that need it the most. Sometimes that is a family member, and sometimes it's a stranger. Either way, giving kudos is a great example of how we send happiness and good vibes out into the world.
In the past few months, Project Kudos was able to take that philosophy and impact well over 2,500 families across the Cape Henlopen, Indian River, Woodbridge and Seaford school districts. They were even able to deliver groceries to as many as 600 families in just one week.
Project Kudos could not have been as successful without the help of a larger network of community members via the CCC4Covid Task Force. These community members helped determine the needs of Sussex County making it easier for Project Kudos to determine where to distribute. Ultimately, they were able to successfully make 47 individual deliveries across the county. And with the help of funding from Schell Brothers, the Harry K. Foundation and private donations, Project Kudos was able to deliver a total of 5,345 sets of groceries.
The Schell Brothers warehouse turned into a fully functioning food distribution operation with five to six shifts of Schell employees sorting, pre-packaging, and boxing food. Those boxes included 200,000 pounds of food and water, 42,760 potatoes, 21,380 apples, and 21,380 oranges just to paint you a picture of how grand this food distribution project really was!
Schell Brothers employees are so thankful for what the company has been able to do for the community, here are a few words from some major contributors to the project:
"This seemed like an important thing to do. We are lucky to work for a company who puts happiness first and because of this, we have been able to positively impact our community and help hundreds of families."

Alyssa Titus, Schell Brothers Marketing Director
"This has been an overall very emotional experience for me. Looking into people's eyes and realizing that maybe you are the only one giving them food to put on the table for their kids, it's an absolutely overwhelming feeling. I am filled with gratitude and happiness to be part of a company like Schell Brothers, that fully supports this initiative and chooses to stay connected to the human need. I always love to say 'In a world where you can be anything, be KIND,' and I think our mission and overall culture of happiness has shown that our local community can definitely count on us. I am beyond proud to work for Schell Brothers and represent the Project Kudos mission!"

Adelina Riddick, Schell Brothers Project Kudos & Special Events Marketing Specialist
Now that Delaware has entered into the next phases of re-opening, Project Kudos is handing off the food distribution project completely to the Harry K. Foundation. They will continue to deliver at two locations, King's Market on a weekly basis and Seaford School District on a bi-weekly basis. They will continue the efforts through August 8th.
The best way to get through something as scary as a global pandemic is to support one another, spread good vibes, and have each other's backs. We are in this together!
For more information about Project Kudos check out their webpage or Facebook. For more information about Schell Brothers check out their webpage or Facebook.