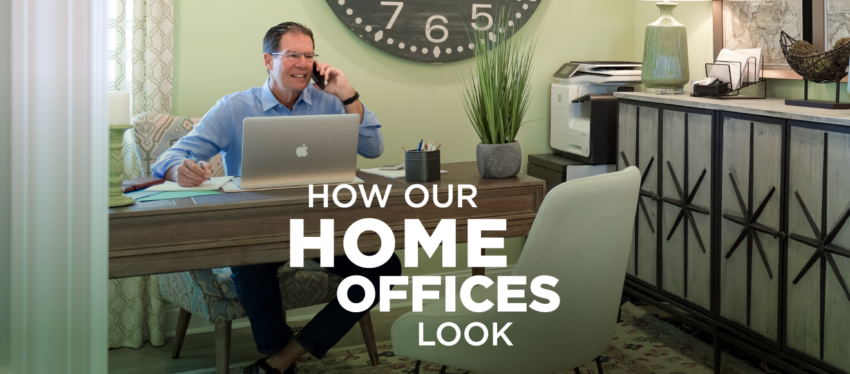 Many of you have been affected by the Coronavirus outbreak this year, and so daily routines and activities look a little different for you. In fact, many have discovered that they love working from the comfort of their own home. Setting up the laptop on your couch with your dog keeping you warm must be heaven, and some find joy in finally finishing that office space décor. We like to think of it as a wonderful reason to stay cozied up in our homes, after all, we are a new home builder. Home really is where the heart is, so why not make it where the office is too?  
We believe it is important to feel relaxed and comfortable in your at-home office space, so dazzle it up with some home renovations, keep your furry friends nearby, or maybe even add a few wall decorations above your computer screen.
The majority of our Schell Brothers office team has been working from home for the last several weeks, so I asked a few of them to share their experiences, how they feel comfortable in their space, and few photos of their office set up. Here is what our Schell team work-from-home looks like:
Mike McCoy, CAD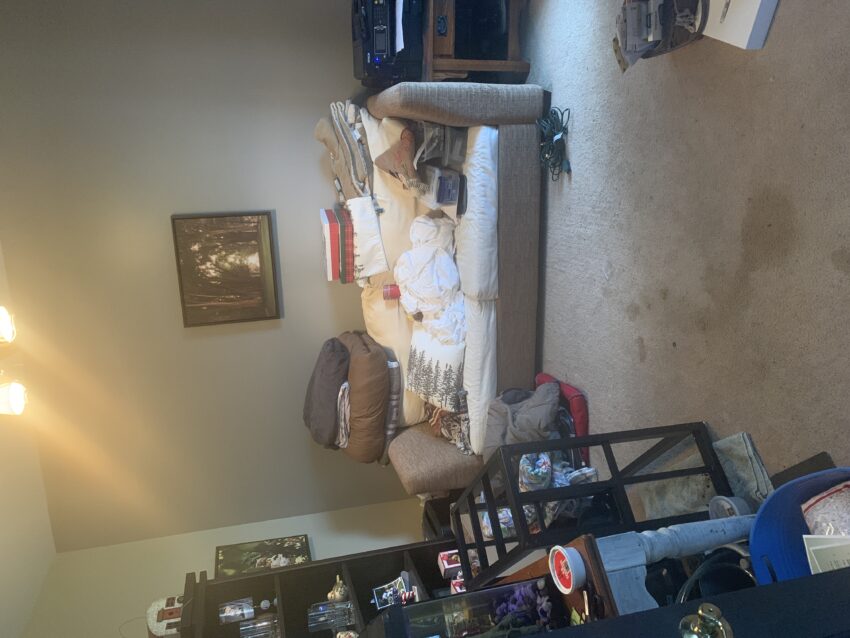 "So we started working from home on March 13 and at that time I thought we'd be home for a couple of weeks, so I set up an office space in our bedroom because my husband works from home too. I had a small desk with a Surface Tablet. It definitely was cramped and after two weeks it was becoming a problem, so I started a little renovation project to reclaim our home office. The project involved new paint on the walls, removal of the carpet, installation of a new floor and some new furniture to finish it off. Attached are the before and after pics. My favorite thing about the office now is the extra space and I get to spend some quality time with my Axolotls, Toothless and Drago, I like to call them my dragons. They watch me work and beg for worms."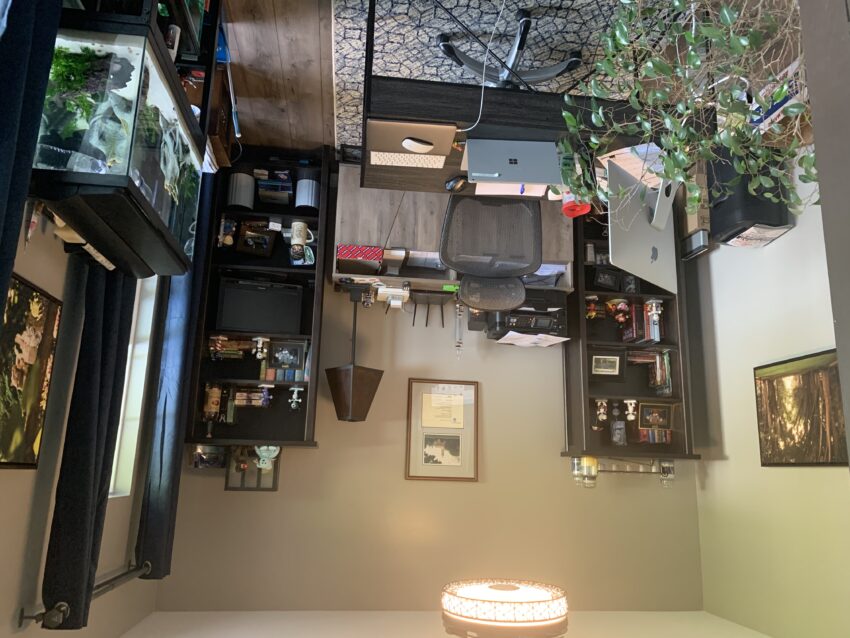 Jordan Fruehauf, Sales
"My favorite parts: Our Peloton is right in front of me and I can take quick breaks to work out, and our puppy Medalla hangs out with me all day. My least favorite part…our Peloton is right in front of me and our puppy Medalla hangs out with me all day… 😉"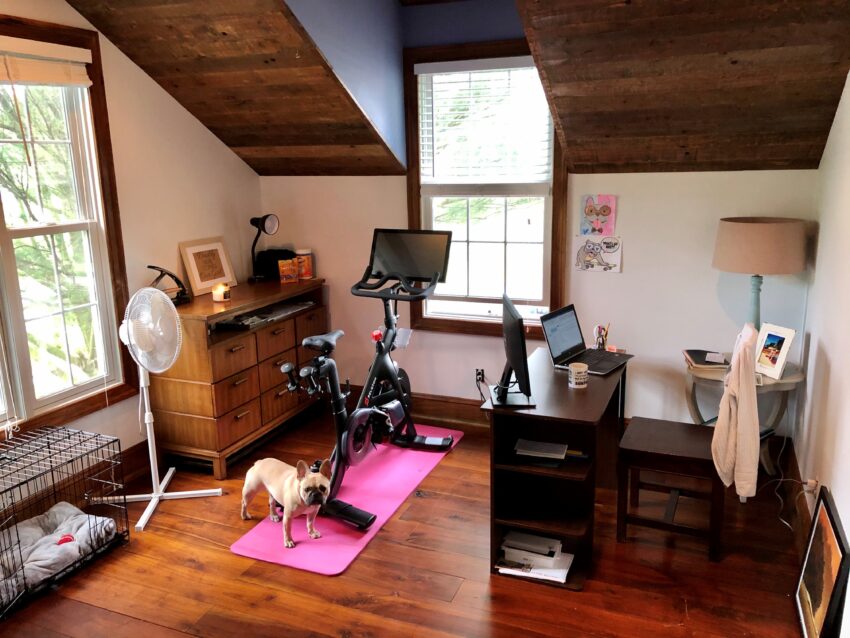 Tim Green, Land Development
"Although I've enjoyed working from my comfortable home office, I truly miss the daily interaction with my co-workers."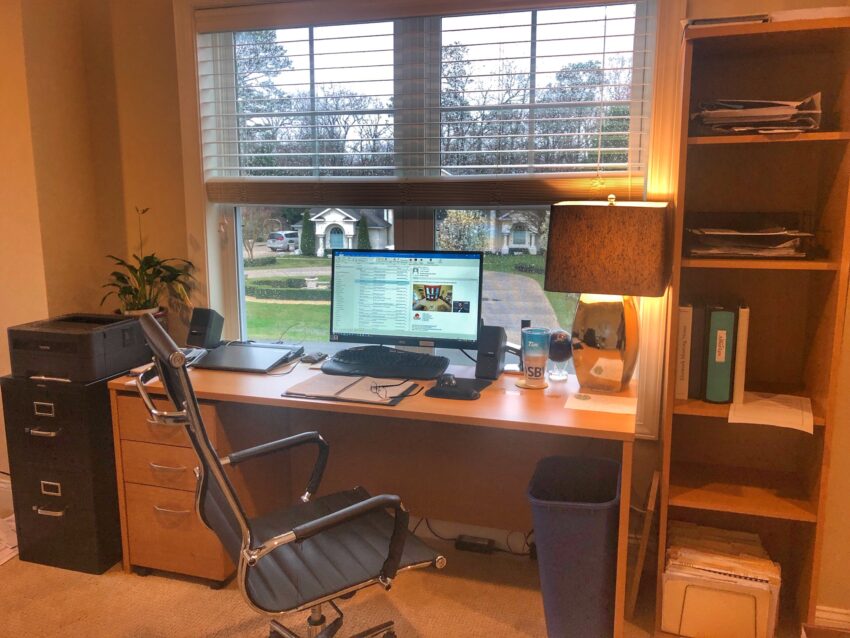 Here are a few more photos from our Schell employees:
As you can see, a home office can look and feel a lot different for a lot of people. Some are even set up on their dining room tables! Either way, we believe that if home is where the office is, for now, we should make the most of it!
For more information about our homes and to schedule an appointment visit our website.