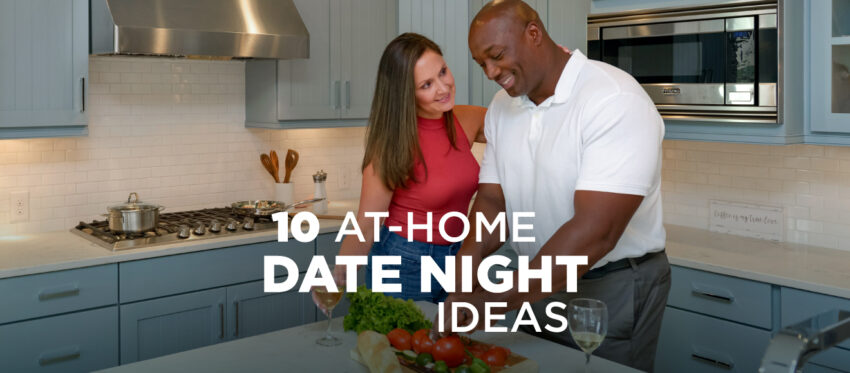 At Schell Brothers, we believe that home is where the heart is. So, what better way to celebrate your loved one then to dream up some must-try at-home date night ideas! Kick back in your great room, spend hours eating your favorite snacks in the kitchen, or maybe don't even leave your bed. No matter what you choose, there are so many ways to celebrate love from the comfort of your beautiful home.
Make Your Own Movie Theater
Although some of our Schell Homes allow for you to build your own in-house movie theater, it can be just as fun to set up a DIY version. Grab a pile of sheets and a few chip clips and attach them to coffee tables, chairs, and the TV to create a fort. Then pop some popcorn, cut out Regal movie tickets, and maybe even draw out the logo on a poster board. Make it as elaborate as you would like, and oh…don't forget to pick a movie!
International Food Night
Cooking a meal together in your kitchen can be fun any night, but why not put a spin on it and make it a night of world traveling. Travel to France with a cheese platter and wine, hop on over to Italy for a homemade pizza, roll your own sushi in Japan, and mix yourself a margarita in Mexico. This idea is a great way to curb your need to travel when travel is unavailable.
Camp in Your Backyard
We love the idea of setting up a tent and sitting by the fire in our favorite National or State Parks. If you can't get out somewhere like that, why not bring the campsite to you? Set up your tent in the backyard, throw up some fairy lights, turn on your fire pit and roast s'mores. Try to leave the electronics in the house to make it as authentic as possible!
Karaoke Night!
Disney sing-alongs, recorded versions of our favorite musicals, and live-streamed acoustic music sessions are becoming a normal part of TV entertainment. With all of that inspiration, wouldn't it be fun to set up a sing-along of your own? Set up a stage, add some mood lighting and pull up the lyrics to your favorite ABBA songs and have a karaoke night! It's just you and your spouse or partner, how embarrassing could it get?
Book Club Night
This idea you might need to plan for ahead of time. Pick a book that you both know you'll enjoy and set a day to finish it by. Once the night comes around, set up your bookshelves around a coffee table, brew some decaf and sit and discuss your thoughts. It is a little more intimate than a group book club and a fantastic way to unplug and spend some time with your partner.
Puzzles and Pizza
Who doesn't love some date night alliteration?! Support local businesses and order a pizza pie from your favorite local mom and pop shop and then pull out that puzzle you've been meaning to finish. If you're looking for a night away from stress and the hustle and bustle of life, a pizza and puzzle night is the way to go.
Scrapbook Year in Review
If you are anything like me, you have boxes filled with movie tickets, plane passes, and Polaroids from your favorite trips from the past year. For this date night idea, grab a blank sketch book or buy a scrapbook online and put together a year in review with your partner. There is no better time to reminisce about traveling than when you are stuck at home!
Spa Date
An at-home spa can be so relaxing, especially without the high price tag. Get on your favorite robes and slippers and draw the bath. You can look up DIY facemasks and lotions or prep by ordering some online ahead of time. Finally, make a pitcher of water and add lemons and cucumbers, light your favorite scented candles and voila! You have created the perfect at-home spa.
DIY Wine and Paint
I've always wanted to try one of those 'Wine and Design' nights, but it can be just as fun to recreate it right in your own craft room or living room. Get your art supplies ready, set up the easel at the back window, and don't forget the wine. If you aren't artistic, don't worry, pick a theme and have fun with it. Everybody loves a funny painting of your pet, or a modern self-portrait. Channel your inner Picasso and get creative!
Visit A Museum
With a global pandemic going on, it is a bit difficult to make it to your favorite museum for a date full of art and fossils. Lucky for us, many of the museums based in places like New York and DC are allowing you to virtually walk through their museum exhibits. This is a great way to get your history in for the night, while also having fun with your partner.
With some of these simple ideas, even with the inability to travel, date night can still be as fun and intimate as before. Afterall, home is where the heart is, so why not stay in and enjoy the company of those you love.
Check out our landing page for our Home is Where the Heart Is campaign, to check out other ways to make home a happy place.