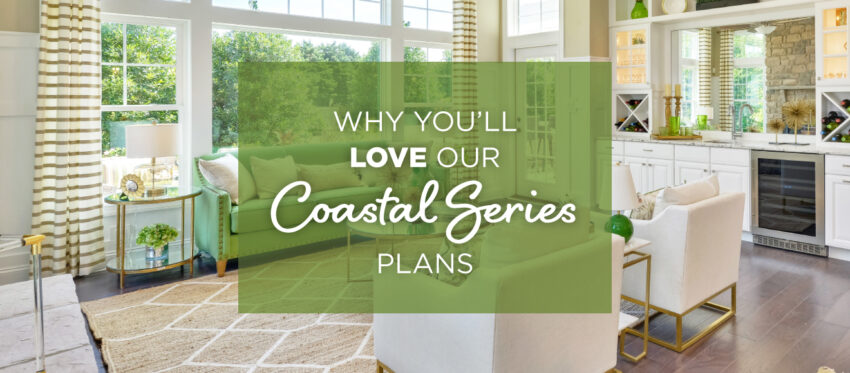 It has been three years since we launched our "Coastal Series" floor plans, and wow does time fly! These floor plans have quickly become some of our top sellers and have been requested in more and more communities.
The Coastal Series plans are specially designed to create an open and spacious feel in your new home, while still maintaining a smaller footprint than our typical single-family homes. They were born from customer feedback, incorporating features like more storage space, lots of natural light, and the ability to customize with more design options. The layouts are functional and flexible, allowing you to personalize the home to fit your needs.
It is no wonder that these floor plans have quickly become some of our favorites! Here are just a few of the reasons people have fallen in love with the Coastal Series plans…
OPEN CONCEPT
The Coastal Series all have the open kitchen, living, and dining areas that everyone loves – no more choppy layouts or unused formal spaces. Plus, many of the homes will have vaulted and high ceilings in the great room to give you a dramatic open look!
FIRST FLOOR MASTERS
Yes, that's right! Every Coastal Series floor plan will come with a master on the first floor. And if you want everything on the first floor, four of our coastal series plans (the Azalea, Heather, Orchid, and Bluebell) are ranch floor plans.
JUST THE RIGHT SIZE
Depending on your needs the Coastal Series has the right size home for you. Want to downsize? Just starting out and don't need anything too big? We have single family homes starting from 2-4 bedrooms and 1,331 to 2,431 square foot. Wanting a little extra space? The Coastal Series homes have options to expand to over 3000sqft and you can get up to 5 bedrooms on a first and second floor!
PERSONALIZATION
No two homes are the same, because no two people are the same! The Coastal Series plans have extensive options to personalize the home the way you like it. From sunrooms and screened porches outdoors to gourmet kitchens and stone fireplaces indoors, you'll be able to make the house feel like your home.
Want to see for yourself? You can check out virtual tours and photos of our floor plans online here.
Or schedule an appointment!