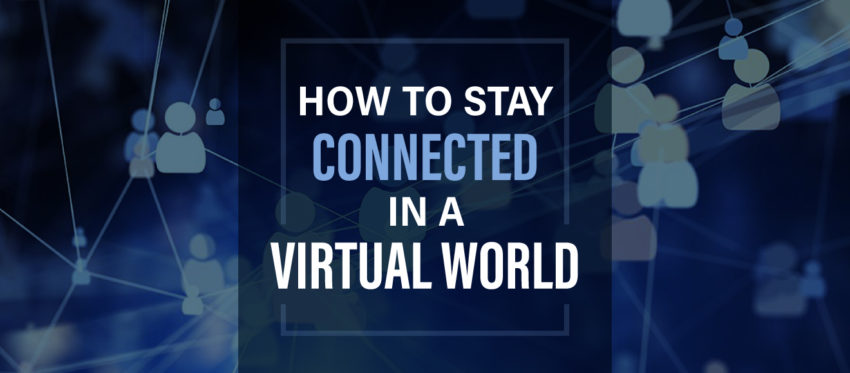 If you're anything like me, this time of solitude and quarantine is driving you crazy! Being confined between the walls of your house can seem daunting and unpredictable. At this point, you've probably run out of board games to play, the puzzles are all finished, you've re-watched your favorite season of Friends four times, and you're starting to get tired of those you've been quarantining with. I'm here to tell you that there is so much more out there! Many businesses, including ours, have had to adapt and remain in communication with one another in order to maintain productivity, as well as help boost morale.
Human connection is such an important aspect of maintaining happiness, which makes it crucial to learn how to stay connected, even in a virtual world. Here are a few tips and a few resources that you can use in order to maintain that connection as well as support the community, even in this time of stress and uncertainty.
Virtual Games
It's not out of the question to hold a virtual game night with your friends. In fact, there are so many apps and other digital tools available to make a virtual game night fun and easy for everyone! Ellen DeGeneres has an app called 'Psych' that lets participates play from across the room and across the country. Choose from a variety of games to keep things interesting. Check it out here. 'House Party' is another fun party game application. It allows participates to FaceTime with each other while they are inside the app, creating a fun space to entertain and laugh together as if you were in person. Download it here. Just the other day, my family and I were able to play a few board games over the phone. We just sent each other pictures of the cards or the board, and they were able to tell us how to move the pieces. Get creative! There are so many ways to stay in touch with family and friends through the fun of gaming.
Virtual Watch Parties
Netflix has changed the game for everyone by allowing users to view movies and TV shows together in real time. 'Netflix Party' is a Google Chrome extension that allows users to chat and get together and watch their favorite movies, all over the internet! I have personally taken advantage of this opportunity by viewing the new Netflix docuseries 'Tiger King' with some of my childhood friends. Netflix, as well as many other viewing platforms, are also releasing movies that were originally in theater early, so that you can still enjoy them from the safety of your home. Try it out yourself, grab the popcorn, and see if your family would be interested in a movie night, it's the next best thing to that movie theater experience we've all been missing. Here is the link to sign up.
Virtual Happy Hour
Virtual happy hours have become the norm hang out the past couple of weeks. Companies have implemented the social hour as a way of increasing happiness amongst employees, I know we have! But it doesn't have to just be for employees and companies, you and your friends can enjoy a drink on the back porch together. Just grab your phone or laptop, set up Zoom, FaceTime, Teams or whatever virtual chat platform you prefer, and head outside with your favorite drink. This is a great time to start some of those virtual party game apps as well. Virtual happy hours also give you a chance to catch up with old friends you wouldn't normally have had a chance to catch up with!
Virtual Athletic Competitions
A lot of organizations are throwing virtual 5Ks or virtual walkathons to help continue to raise money in support of the local communities and organizations it sponsors. I've been reading about a lot of companies who are implementing similar competitions in which they have their employees compete based on how many steps they walk each day, using a Fitbit or an Apple Watch. You can create a competition amongst you and your friends, to make sure people are staying active and keeping their energy level high. This is a great way for friends and family to stay connected, as well as possibly give back to the community. Check out this Disney virtual 5K coming up in June!
Virtual Hobbies
Although usually considered a solitary hobby, reading can become a fun activity for a large group of people to take part in. Many libraries and other literary groups are hosting virtual book clubs where people from all over can discuss books and meet other book lovers. Buzzfeed Bookclub is a great one you should check out, as well as Now Read This, hosted by PBS News Hour and The New York Times Book Review. If reading isn't your thing and you're more interested in ways you can help out your community or city, there are tons of opportunities to become a virtual volunteer. I've recently started helping out the Smithsonian transcribe documents and diaries. It is extremely fulfilling and something you can pick up or put down whenever you want. Check it out here. You can also check out The United Nations Volunteer Program, and the Crisis Text Line for other opportunities to help out.
Hopefully this list of virtual activities gives you a few ideas about how to stay connected. We here at Schell Brothers love that we support a culture of happiness, and we want to make sure you guys stay happy even during this stressful time. So, grab your phone or tablet and get on FaceTime, I'm sure your old college friends would love to have a game night or watch the latest trending TV show on Netflix! Maybe even try transcribing field notes from the 1920s or run a 5K, the possibilities for virtual human connection are endless!
Visit our website for more information about our homes and floorplans. Feel free to explore our models through our virtual tours and contact the community sales manager with any questions you may have.