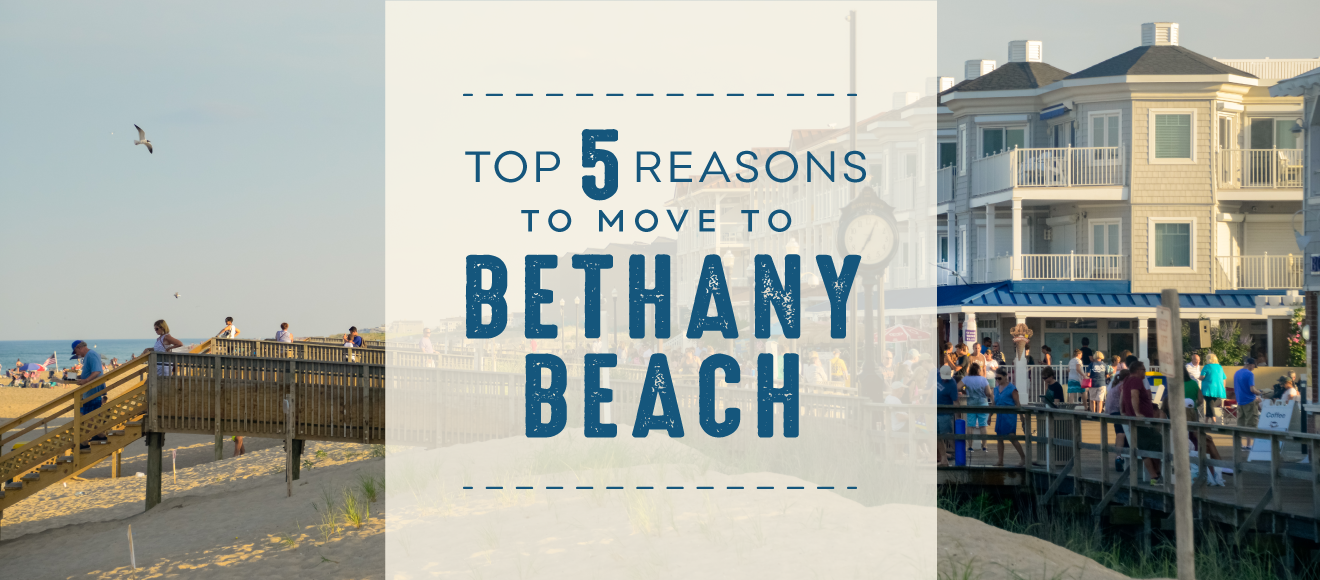 Lovingly known as 'The Quiet Resorts" Bethany Beach is the quintessential beach town that you can't help but fall in love with over and over again, and for good reason! The scenic coastal charm is infectious, the shopping and dining are superb, and the laid-back beach vibes make for the perfect place to live, whether it's seasonal or year-round. We could go on and on about the reasons to love Bethany Beach, but here are 5 of our top ones to get your started:
Endless Beach Vibes: Living in Coastal Delaware you'll get the residual benefits of beach life no matter what town you choose, but there's something undeniably special about those Bethany Beach vibes. The small beach town has a quieter, more laid back feel; however, that's not to say that there's not plenty of fun to be had. If you're looking to relocate to a quiet beach town, this is the place for you!
 Small Town Charm: Along with those perfect beach vibes comes the charm of small town life. Bethany is bustling in the summer and quieter in the off-season but all-year long you'll enjoy the small town life of Bethany Beach and it's surrounding towns. Neighbors become lifelong friends and everyone at your favorite local spots quickly learn your name. Enjoy the locals farmers market on Sundays, take in a live show on the boardwalk at the Bandstand, or shop local at the annual Arts Festival.
Shopping: There are no shortage of local shops to browse; in Downtown Bethany alone you could spend a whole day shopping your heart out. Bethany Books is ideal for the book lover in your family of course, but also for awesome gifts and cool finds. Bethany Beach Surf Shop has all the beach essentials, Pitter Patter is overflowing with adorable kids clothes, and Fish Tales has a little something for everyone. Of course for the larger brand name stores, just take a quick drive up Route 1 to the Tanger Outlets in Rehoboth!
Local Flavor: It all comes down to the food! And in Bethany Beach, you'll find plenty of fabulous dining options. The Parkway is perfect for a date night, Bethany Blues is a guaranteed crowd-pleaser for all your out-of-town-guests, and 99 Sea Level boasts the best views in town. And that's just the tip of the iceberg!
Outdoor Adventures: Ok, so of course the beach and ocean will keep you busy and active, but there's also plenty of other options for staying active. For starters there are the Rehoboth and Indian River Bays for more water adventures, along with plenty of canals and waterways for kayaking and paddleboarding. For hiking and nature, look no further than Holts Landing State Park.
Ready to visit Bethany? It's the perfect time of year to enjoy this scenic beach town and enjoy all that it has to offer.
To learn more about where we build, simply click here.