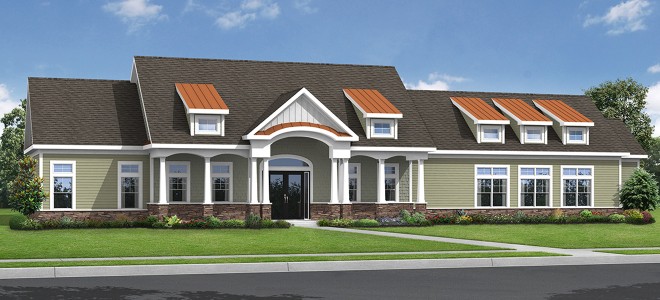 We're super excited to announce that the Sawgrass clubhouse and swimming pool will start construction this month and should be ready by next Summer. Looking at the floor plan and elevation renderings, I know it's going to be very special.
Clubhouses, from our research and from feedback from our homeowners, need to be functional spaces for all different occasions. The Sawgrass clubhouse is very much like our Schell Brothers floor plans.  Have a read and let me know if you agree.
Similarities between the clubhouse and our floor plans:
With an open plan, the space will be dictated by furniture, not walls, meaning the community can enjoy the clubhouse as a whole.
Just like my Kingfisher model, where we added a wet bar, Sawgrass will have a 'proper' bar! I foresee many Happy Hours where I'll be bartending for our homeowners.
Our Mayberry and Whimbrel floor plans, to name a few, ensure that every space goes un-wasted.  The same is true for the clubhouse.  No meeting rooms that will never get used.
The clubhouse also will feature an amazing courtyard with an outdoor  fireplace, seating areas, and a grill area.  The courtyard will connect both the indoors and the outdoors, very much like our own courtyards, which we have available in our Kingfisher and Henlopen floor plans. More importantly, it's right next to the swimming pool, and if you don't want to spend time in the water, you can still hang out and relax.
Differences between the clubhouse and our floor plans:
Tiki bar. Need I say more? Our courtyard area will have a space so I can bartend both indoors or outdoors. I'm thinking Hawaiian shirts, grass skirts, and coconuts. Although we don't have a tiki bar option available in our floor plans, maybe Chris Schell will read this blog post and decide to add them as an option.
Our lighted swimming pool is going to be the crowning jewel of the finished clubhouse, with plenty of space to relax or swim. Swimming is not your thing? Pull up a lounge chair and spend your day laying poolside with a cold drink.
For all you fitness enthusiasts, the clubhouse is going to have a fitness area with exercise machines and free weights.  Everything you need to stay in tip-top shape, and it's right on your door step.
Differences or similarities, one thing is for sure; the indoor and outdoor spaces being created for our homeowners at Sawgrass are going to be both awesome and fitting for the exclusiveness of this community.  How do we know this?  Bringing happiness to our homeowners is our mission, and the clubhouse is a true reflection of this.
I hope you can visit us soon to see the developments in our clubhouse and to experience the difference.
Cheers, Adam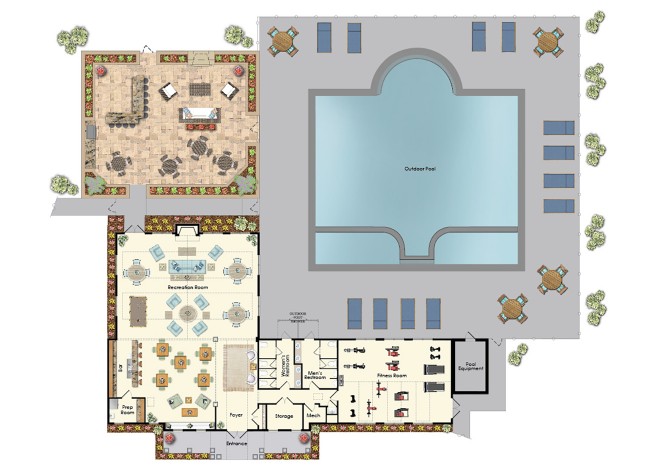 *Rendering and floor plan is artist conception and is subject to change without notice.