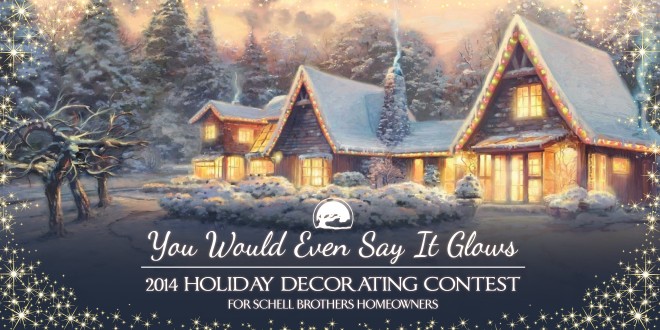 Thanksgiving is now behind us, which means it's no longer frowned upon to start decorating the outside of your home for the holidays. Lights, wreaths, candy canes, and electronic reindeer that move their head up and down, these are just a few decorations that you'll find on lawns and homes around the country. Why, with this many lit up ornaments you would even say these homes glow.
We love to see your homes decorated for the holidays, which is why we're announcing our 2014 Holiday Decorating Contest for Schell homeowners. Help us spread holiday cheer this year by sharing your decorated homes with us. The winning house will receive a $500 Visa gift card, perfect for buying those last minute gifts for your family. Please, double check your community's HOA rules before buying that ten foot inflatable snowman or renting a live nativity scene.
We're accepting submission from now until Sunday, December 14th. Send your submissions to griswold@schellbrothers.com and the winner will be announced on Facebook on December 15th. In your submission, along with photos of the exterior of your home, please provide which community you live in,  your house number, name and phone number. Every participating homeowner will receive a small holiday gift from us, to show our appreciation for your holiday spirit.
After we've announced the winner, all of the the photos will be posted to our Facebook page and the voting will begin for the People's Choice Award. Be sure to 'like' our page and share your photo with all of your friends! The homeowner with the most shares and likes by December 19th will win a Schell swag package. So, what are you waiting for? On your mark, get set, decorate!

*All submissions must be a Schell Brothers or Kincade home.