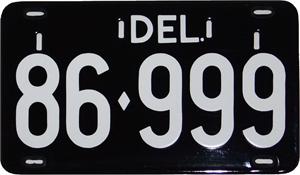 Chris Schell has always told the company the best investment for your money is in real estate.  At the moment with prices on the increase and rates rising lots of people are agreeing with him and trying to get a jump on the market.
HOWEVER, there is another item in Delaware which is is a pretty good bet when it comes to investing your cash.  It certainly doesn't give you a beach home, with an amazing courtyard BUT it's a quirky Delaware 'thing'.  I'm taking about license plates and the limited white and black tag number plates.
It is doubtful there is another U.S. state with a higher "license plate consciousness" than Delaware. Folks everywhere are aware that low digits bring high dollars.  I'm amazed by the craze and am constantly aware of the plates on the roads.  Delaware is quirky in many ways, which is why the State suits me, and one of the things that many don't notice until they have been here for a while is the "black tag" license plate. Whether they are a sign of elitism or just because they look cool, owners of cars in Delaware have the option of getting a "black" tag (as opposed to a "regular" tag) if their license plate number is low enough. The tag has to be below 87,000.
Tag 1 is for the governor, tag 2 is for the lieutenant governor, tag 3 is for the secretary of state, and the rest are available to the private sector.
There is even a website, http://www.thedelaware3000.org/ , where you can go to view pics of plates, NEW SIGHTINGS and a marketplace to sell them.
Ed Troise, recently purchased his new Delaware tag No. 67. Troice paid the winning bid of $170,000. That's correct 170k! Wowzer.  If the price of a two-digit license tag is any indication, Delaware's economy is improving.
Well, as great as an investment that white and black tags are, I'm not sure how much happiness you truly get from them.  A beach home certainly gives you more in terms of memories, stories, lifestyle and happiness. Chris is still right in my books, but please don't tell him I said that 🙂 The best place to invest your money is at the beach and in a beach home.
I bet next time you're at the beach though you'll be looking at the tags on the road a little closer than normal now! Have fun.