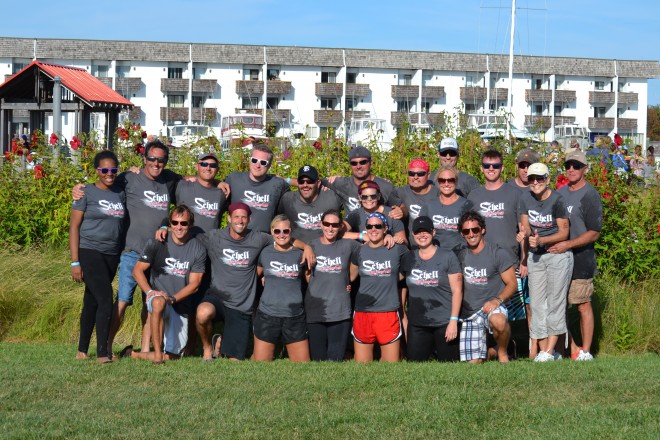 I have to admit when it was first put out to our employees at Schell Brothers that we were participating in a Dragon Boat Race at the first ever Lewes Dragon Boat Festival, I honestly had no idea what I was getting myself into when I signed up.  Really what I was looking forward to was just spending time with my friends and participating in something that I had never done before, but honestly, what I got out of it was much more.
21 boats registered to race on Sunday all to benefit the Sussex Academy school. Participants included businesses and organizations from all over Sussex County, and really, our competition was pretty steep. Everyone came showing their team spirit with matching t-shirts, bandanas, face paint, and high socks. For our Schell Brothers team, The Schell Fire Breathers, there was some highs and lows throughout our racing, but all in all we came out of it almost on top.
Being in the first heat of the day had its advantages and disadvantages for us. We jumped out in front early, which was great! …However we never slowed to the "race pace" that was taught to us earlier that week in our practice. We tired out in the last leg of the heat, and took second. We gathered back at our "camp" and immediately began to strategize and figure out how we could become more efficient as a team. We developed a plan and our second heat felt a lot better than the first. Unfortunately we weren't able to pull out a win in that heat either, but…this is where things really changed for us. During that second heat, we met Greg. Greg was a steersman that the race company, Dynamic, provided for us. He was a game changer. Through coaching and as much practice as possible down the canal before we lined up to start the next race, Greg helped our Schell team with technique, form, and synchronization.  This proved to be more than helpful during our third heat race. Going into that race we were in 13th place and only top 12 went on to compete in a finals against the clock for first, second and third place overall.  We needed to do big things if we wanted a chance to prove what we could do in the finals!
With much anticipation we took our mark to start that last heat. Everyone worked together, and fortunately we were able to get a first place finish, boosting both our confidence and motivation. Greg was much happier with our teamwork that round but knew we still had some refining to do if we were going to place in the finals. Our team waited patiently as a few other heats went before the officials posted the top 12 teams competing in the final race. Narrowly slipping in to that 12th place spot was our Schell Fire Breathers team!! To give you more of an idea of how close these races actually were, there was only 6 seconds separating the fastest time and the slowest time between the Top 12 teams…pretty amazing if you ask me!
We didn't have much time to be overly excited about making the finals since the races were commencing shortly thereafter. We worked again with Greg on some finishing touches, and when it came time to line up…we went for it, pouring everything we had into that final race!! Our team of 20 showed such strength, passion, desire, and pride during that race it's hard really to even recall what kind of things were going through our minds. The first heat of the day we posted a 1:40 time…the last one of our day…we posted a 1:15. We were able to knock off about 25 seconds in our race time, which was quite exciting for us in general. Patiently, we stood and watched 3 more races before the official times were posted and places for finishers were set.
After a long, active day, officials started announcing the finishing times of each team in the finals. Team Schell Fire Breathers hung together and were ecstatic to hear them announce us as the Second Place Finisher! We had fought our way from 13th place, to 2nd place all within 3 short races!
While much of the day was exactly what I had hoped for, spending time with friends, and trying something completely new that I had never done before…I found myself reflecting a lot about the events of the day. I can say without a doubt, that it was one of the most fun, and exciting days of Summer 2013. I don't think I've ever witnessed as much teamwork and support as I did that day. Not just from our Schell Fire Breathers, but from our entire community! Teams were cheering other teams on, high fiving, and congratulating the winners throughout the day after each race. It was really something special to see. Together, the event raised over $14,000 for the Sussex Academy school and truly created a camaraderie between everyone who not only participated in the race, but simply attended the event. I think I can speak for my teammates when I say we can't WAIT to do it again next year!

Please specify a Flickr ID for this gallery