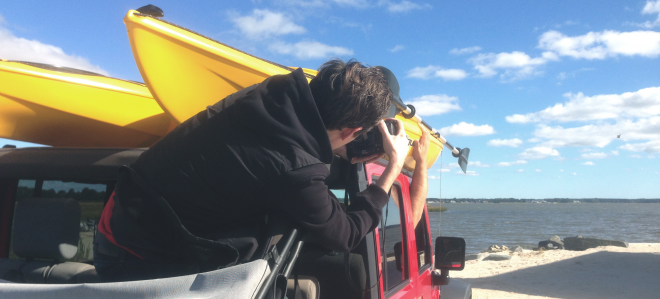 Not many companies throw you into the fray on your first day. My average first days have consisted of hours of paper work, seminars on corporate culture, and hand cramps, from the previously mentioned hours of paper work.
Although it's hard to avoid the necessary paperwork on your first day, it wasn't long into my first morning at Schell Brothers before Jeremy and Christina were knocking on the door asking me if I was ready for an adventure. First day on-the-job adventure? I'm in.
We gather up the video equipment and head out to Bayfront at Rehoboth. I'm more properly clued into the project as we travel to meet Adam and Frank, we are filming the exciting conclusion to Explore Life at Bayfront.
For those who haven't watched the Explore Life at Bayfront video series, it follows Adam Pettengall and Frank Ryan as two explorers observing the residents of Bayfront at Rehoboth in their natural habitat and amenities. And in this episode, our brave duo kayak to the "far" reaches of Marsh Island, seen off of the community's private beach.
Our filming adventure then took us to Marsh Island and across Rehoboth Bay to the docks of Dewey, where we anchored our pontoon boat and came upon shore for lunch. Although this episode has our explorers walking off into the sunset, my adventure with Schell Brothers is just beginning.
Share your favorite Schell Brothers adventure with us in the comments.