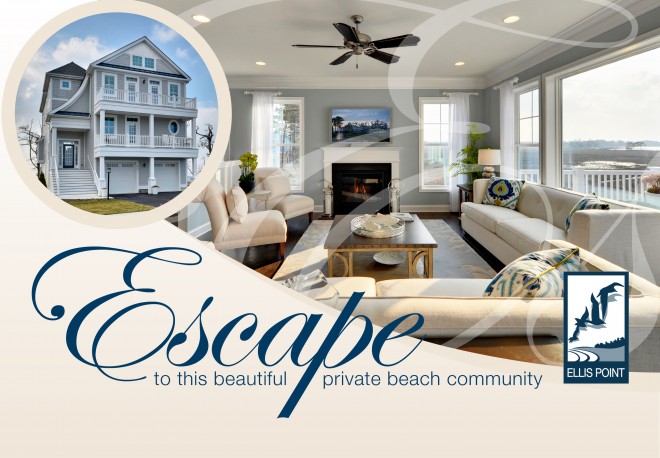 Join us at Ellis Point on Saturday June 15th for a wine mixer at our award winning Catalina model home.
Special pricing, refreshments and our friendly staff will welcome you to tour the Catalina and the community. We only have 15 more homesites available and are showcasing them during the event. The views in Ellis Point are just amazing! Check out the photo below.

Quiet and secluded, Ellis Point is one with its surroundings
Ellis Point is immersed in the peaceful setting of our coastal uplands and natural tidal wetlands offering a diverse environment for an amazing variety of wildlife.  Bordering on Holts Landing State park our open space blends with the wildlife sanctuary area of the park.  Wild Turkeys, Deer, Blue Herons, Great Egrets, waterfowl, shorebirds and others entertain the homeowners daily.
A walk along the shores of the Indian River on the private sandy beach reveals endless evidence of other water related wildlife.  The wildlife as well as the residents enjoy escaping into the quiet and seclusion of Ellis Point.  I'm not sure the wildlife appreciate the picturesque and expansive views of the Indian River Bay, but I know the residents do.
Little does the surrounding environment know how busy we are.  The proximity to Bethany Beach, the incredible setting and our award winning model, the Catalina, has attracted lots of activity since we opened it late last fall.  Seven future residents have already contracted for their dream home on the Indian River Bay.