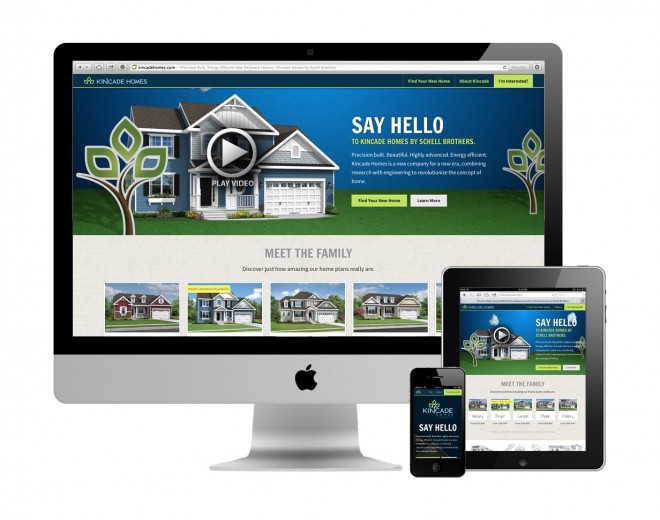 We launched Kincade Homes by Schell Brothers earlier this year. The Kincade Homes brand has a fresh look and it needed a website to match.
One of the freshest web design trends right now is Responsive Web Design. The approach basically gives websites superpowers so they can transform themselves to best fit whatever screen they happen to be viewed on. So if you are browsing from the small screen of a smart phone, everything is sized just right and you don't have to pinch and zoom, or if you have a bigger screen like a tablet or a big HD monitor the site expands to comfortably fill it.
For the Kincade Homes website, I started out with a responsive layout and added a few extra special touches like parallax scrolling, a fun and eye-catching trend where some background elements scroll slower than others on the page creating the illusion of depth. Everything works great even on small phone screens, but visitors with large monitors benefit from progressive enhancements like huge (near full-screen) images and interactive floor plans. We also created a fun papercraft stop motion video campaign that parents can relate to and everyone can enjoy.
Best website for a home builder.
It seems that I'm not the only one excited about the modern implementation of the Kincade Homes website. On May 17th it was awarded Best Website for a Builder at the Annual Regal Awards Ceremony presented by the Home Builders Association of Delaware. The annual awards highlight the best in both Sales and Marketing within the Delaware home building industry.
The value of responsive web design within the home building industry seems to be a winning notion. Earlier this year, another responsive website I built for Echelon Custom Homes was awarded Best Website for a Builder across the entire nation – I think that might include the US and Canada as there are always a lot of Canadian winners at the event. The website competitors at the Nationals all looked pretty good, but none used a responsive approach, so I think that was the winning feature that took the Echelon design over the top.
The goal of our websites has always been to provide exceptional experiences to our visitors, and not necessarily to win any awards, but it certainly is an honor. I hope I am helping to push my craft a little bit further, and possibly inspiring our contemporaries in the home building industry along the way.
What do you think of the new Kincade Homes website?