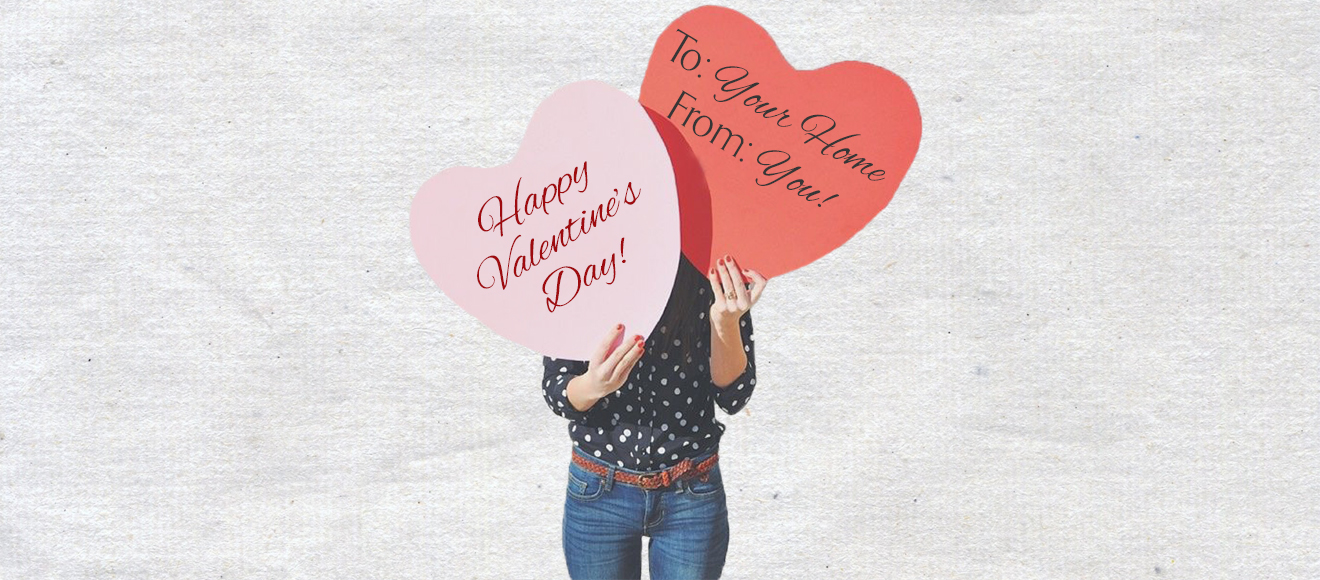 Each Valentine's Day we all try to show a little more love; love for family, love for friends, and love for the million-and-one little things that we take for granted. We ramp up the number of hugs we give. We double the amount of "love you!" texts. We even go out and buy those corny stuffed animals and mushy cards to help say the things we should be saying all year long. But people aren't the only ones who deserve a little love this Valentine's Day; I say we take the time this year to give some extra love and attention to our homes! Wait…did he just say love our homes? Yep, I sure did. Our homes are arguably one of the things we take for granted most of all! Boil it down to brass tacks, "home" is where memories are made, it's the central hub where families grow, and the place where lives are enriched day in and day out. A home – your home –  is a special place. So here are 5 ways to love your home a little more this Valentine's Day:
Happiness – Is there a special nook where you like to read? Maybe it's a particular smell it emanates. Maybe it's the feeling of a warm night outside on your back patio. Maybe it's working your magic in the kitchen. Wherever that "happy place" is, take a minute to enjoy and truly appreciate the little things that bring you pure joy at home.
Get Personal – No one actually lives in a home that's straight out of a magazine. Well, most of us anyway. Take the time to really make your home feel like a reflection of you instead of a stranger's Pinterest board. Buy the piece of art you've been eyeing. Order the couch you can't wait to nap on. Demo that boring powder room and put in something with pizzazz. The most beautiful homes are ones that are a true reflection of its occupants. It never goes out of style.
Calm Down – Everyone should have that one place at home where they are totally at peace. Breathe deep, put on some good music, and find that sanctuary. This will help to destress and boost that serotonin! Serenity should absolutely be found at home so seek it out and reap the endless benefits.
Organize – Anyone who says they function better in chaos and clutter is just fooling themselves. The research is there, the science has been proven, and organized spaces make for a happier home. I'm not saying there can't be one messy closet and a junk drawer, because to me that's the sign of a home well lived in, but as a good rule of thumb, declutter to destress. Your home – and your sanity – will thank you.
Appreciation – They say home is where the heart is. You won't hear any argument from me on that! In fact, I say it's gospel for how we should all live at home. It's where we should draw our inspiration and mourn our toughest losses. Really, when it comes to calling someplace home, there's an under-appreciated reliability that we all take for granted. This is the place that, no matter what kind of day we had, keeps us safe and warm and healthy. Be grateful for your home, it loves you more than you know.
Valentine's Day is a perfect yearly reminder to spread the love. It's an opportunity to appreciate the people and things we adore, and to acknowledge those we take for granted, including your home! My challenge for you this Valentine's Day is to find happiness at home –  get personal, calm down, organize, and appreciate. This year, LOVE your home a little more.