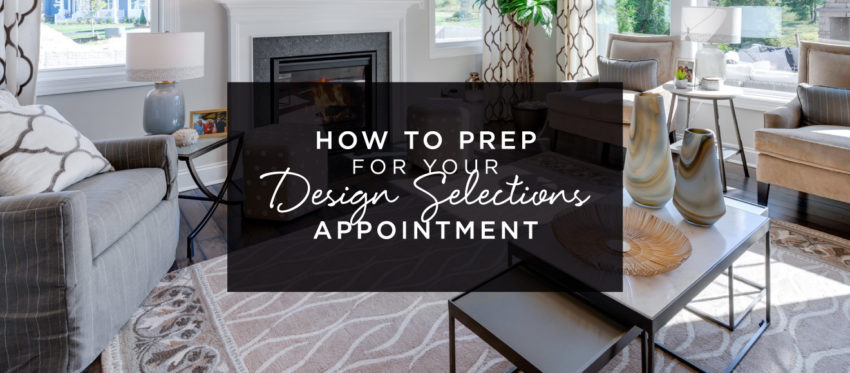 The big day is coming, you've decided to trust Schell Brothers to build your beautiful new home, and now you are prepping to make all of the decisions about what the interior and exterior will look like. It's Design Selections Day! At your Design Selections Appointment, you are paired with one of our talented designers who will assist you in making your dream home come together. Before you either hit the road or get comfy on the couch with your webcam and laptop, there are some things that you can and should do to prepare. Here are a few tips and tricks to make you feel 100% ready for your big day, and even a video from our designers themselves:
Do Your Research
The first and most important thing to remember is that homework pays off. You are about to build a brand-new home, and I'm sure you must have some ideas about how you want it to look. Cut out pictures from a magazine, scour the internet, or watch some HGTV shows. Pinterest is a great resource for inspiration. There are so many resources out there that provide great tips about interior design and exterior finishes.
Drive Through Our Communities
We have plenty of homes for you to see! Our communities are the perfect resource where you can find a large variety of exterior finishes and color choices. I encourage you to drive around the communities in the morning, afternoon, evening, and even during sunny days and rainy days. You want to love your home no matter what Mother Nature decides.
Use Our Online Design Studio
Our Online Design Studio may become your new best friend. This is available to you any time and is an invaluable tool. The Online Design Studio features many of our selections as well as examples of exteriors throughout many of our communities. The Studio will allow you to make your own style collages so you can get a sense of what your interior and exterior will look like, even before you build. Check out our Online Design Studio here.
Take (Virtual) Tours of the Models
Ideally, we would love for you to come visit us at our state-of-the-art and award winning models both here in Coastal Delaware and in our Richmond, Virginia locations; however, during this period that social distancing protocols are in place, we encourage you to utilize our virtual model tours located here on our website.
Talk to the Community Sales Managers
Always feel free to reach out to our Community Sales Managers with any questions you may have. They are available to talk and will even set up a virtual appointment with you if you want to talk 'face to face' (or at least as face to face as we can). Our sales team is full of lots of knowledge and can help guide you in creating your dream home.
Take a Look at Our Digital Content
Check out our latest video that features our Design Consultants explaining in detail what to expect during your Design Selections Appointment. Be sure to take notes, they offer a ton of great advice. Also check out homeowner testimonials and listen to their experiences. They have been through the Design Selections Appointment and can offer great advice.
Karen Ryan, one of our design consultants at our Delaware Design Studio, has some advice as well:
"Buying a new home is a big investment, usually the biggest you will make in your lifetime, so it deserves giving it the proper amount of time to make sure you love all your decisions. We want to make sure you get everything you want in your home while having fun throughout the process!  Most new homebuyers think about the kitchen, which I agree is the heart of the home and a great place to invest.  But I would highly recommend thinking about every room in your home as you start doing your homework. I always say to take your floor plan including the elevation and think about what you would like in each space starting with the exterior and working your way inside.  Think about the kitchen, the great room, your secondary bathrooms, the laundry room, where you might like additional recessed lights or interior trim options.  The more you think through each decision, the more fun we can have pulling all your ideas together during your design day!"
Bottom line, be sure to do your homework and be prepared for the big day. There are lots of decisions to make and the day will be a lot more fun and run a lot more smoothly if you know a little bit about what options you want to select. I hope you're as excited as we are, and we can't wait to hear from you and help you design your dream home!
Check out our website for more information.