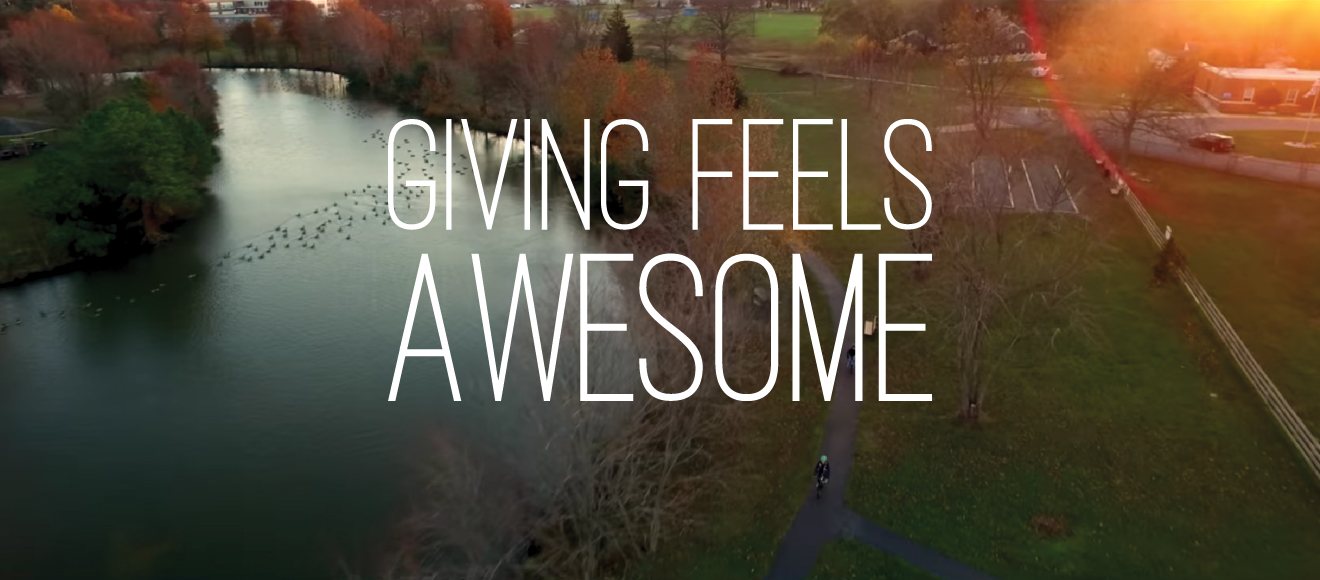 By now, most of you probably realize that Christmas is our favorite time of year. From our holiday billboards, to decorating our model homes, to our Christmas ads, we start thinking Christmas as soon as the sun sets on the summer season. What many of you might not realize, however, is that all of our holiday ads – including our beloved Christmas commercials – are produced entirely in-house. From idea to execution, this year's Christmas story was a labor of love.
According to the mastermind behind our latest Christmas commercial, Pat Gallagher, the video was born from a desire to tell the true story of the holiday season…the story of giving. "I knew I wanted to tell a story about selflessness and giving. I narrowed in on bikes because they're more than just a new toy for a kid, they symbolize independence, freedom, mobility…it's a status symbol for kids before they can drive. It also tied in nicely with our holiday incentive that encouraged homeowners to bring in new bikes to be donated to Toys for Tots." We ended up with hundreds of brand new bikes for this year's toy drive. "We actually ended up donating the bike we used for the commercial to the drive, it was a no-brainer," Pat noted.
After dedicating a few hours to research and brainstorming, Pat came up with the idea for what would later become the focal point of our holiday season and what we've come to know as, 'Giving Feels Awesome.' "The goal was to mislead the viewer at first so that they would think that this is just a typical kid that wants a shiny new bike for Christmas. I wanted the viewer to think he was motivated by his own selfish desire; then later you realize that it's actually for his friend that doesn't have a bike. Now they can ride around together."
Story fully in-tact, the next step was finding the props, location, and the actors, and like all aspects of our marketing, we wanted to keep everything entirely local. Enter, Clear Space Theatre Company. "We always try to reach out to our theatre contacts to cast roles. I knew this story required some serious talent, so we knew where to turn." Interestingly enough, Pat credits his passion for video and storytelling to Clear Space, where he used to do shows as a kid. "It was my first dive into the realm of storytelling. I began to realize I wasn't cut out for being on the stage; but still had a creative urge, and a passion for stories. Later, I found my place behind the camera."
All of the actors in the video are local, including a few cameos from some Schell employees. "The kids were great," said Pat. "They were more than capable of carrying out the actions and emotions we wanted them to."
In addition to the actors, all of the locations and props were locally based, including the coveted bike, which we purchased from our friend George at All Wheels and shot in the window of Christmas Spirit in Rehoboth. As for the shots of the boys riding their bikes, what better place than Lewes! With its colonial houses, classic-looking sidewalks, and heavily tree-lined streets, it was perfect. Having lived in Lewes since he was born, it's easy to see where Pat's vision and inspiration came from.
Of course, once filming has wrapped, the magic has only just begun. Selecting the perfect music, bringing the story to life, and taking the original 1:28 version and condensing it to television-friendly 30-second and 60-second formats was a labor of love, but well worth the labor when the final product hit television and social media. "We decided to not let the time limit dictate the story; instead we started with the full version, then worked it back into the TV versions. The full one is obviously our favorite," Pat explained.
328 shares and 75,931 views on Facebook later, a celebration was in order, so we invited the kids from the shoot to the Schell office to meet Chris, take a tour of the office, and watch the video over pizza and sodas. "We got to have a conversation with the kids and their families about the process of turning this story into a reality," says Pat. All the actors walked away with some Schell swag and their monetary compensation, which one of the girls generously decided to donate while serving her volunteer shift as a bell-ringer for the Salvation Army! Just another testament to the true spirit of Christmas…
GIVING. FEELS. AWESOME.


We hope you enjoyed our Christmas Story, but more importantly we hope it inspired you to remember the simple joy of giving.