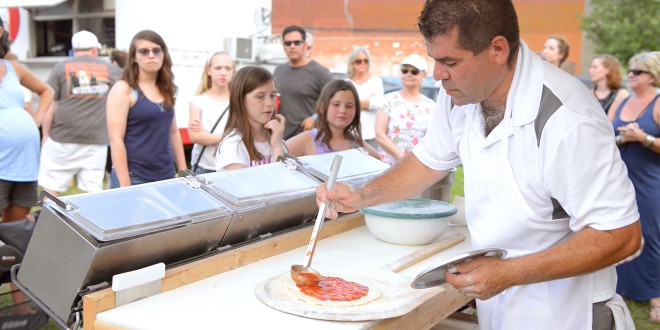 There has been a lot of food truck action in Sussex county over the last year. I've seen the occasional truck in Rehoboth or in Lewes and I know from watching the Food Network that they seem pretty popular in beach areas. Then I heard about Milton having a food truck night. What? With multiple food trucks…YES! I'll take two of everything!
Sadly, I missed the first Truckin' Tuesday. They held the event on the corner of Union and Magnolia street, where they  have the farmers market on Fridays. According to the Wagamons West Shore homeowners and the Milton chamber of commerce, all the trucks sold out of their food in the first hour! It was scheduled for two hours. And, not surprising, Dog Fish Head beer was also sold out within the hour. I needed to investigate for…umm, research?
The next Truckin' Tuesday was in two weeks. My "research" needed answers. I showed up early and downtown Milton was already buzzing with people. What a great spread of food! This wasn't just two trucks on a lawn. There were 7 food trucks with all types of choices – BBQ, tuna appetizers, lobster rolls, coffee and pastries, and snow cones. Feeling full yet? And that's not all. There were tables available to sit down, relax, talk to your neighbors, and listen to local artists play music. That's right, free live music!
It seems like Milton is steadily adding community events, helping to contribute to the town's recent growth spurt. Whether it's the awesome farmers market, new restaurants, catching a show at the theater, or Truckin' Tuesday, the amount of events in Milton "keep trucking". Sorry, I had to say it. Now if you'll excuse me, the next Truckin' Tuesday is two weeks from now and I need to check the line up. Maybe I'll see you there!