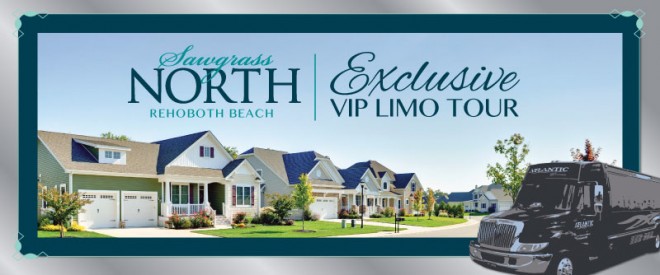 Since our Kingfisher model is currently under construction at Sawgrass, Adam and I decided to plan a day where we would give you an exclusive VIP limo tour of our model homes on Saturday, July 19th.
Be sure to RSVP, we have limited seats on the limo and they will be reserved on a first come first serve basis. You don't have to worry about making a wrong turn, filling up your gas tank or figuring out where you're going for lunch. We've got it all planned out for you!
Join us on Saturday, July 19th at 10am at the Schell Brothers Design Studio where a limo will pick you up for your VIP tour. We will visit The Peninsula to tour a Kingfisher model, Independence to tour the Whimbrel, Heritage Creek to tour the Heron, Senators to see the Henlopen, the Herring Point, and our currently under construction Cassidy.
Our final stop will be at Sawgrass North, so you can walk our model home, the Kingfisher, while it's under construction and tour available home sites. We plan to be back to the Dare to Dream Design Studio by 3pm, where you can tour our studio.
We will have snacks and beverages ready for you at each stop. We promise to make it a fun day! Call me if you have any questions about the tour. We can't wait to spend the day with you!