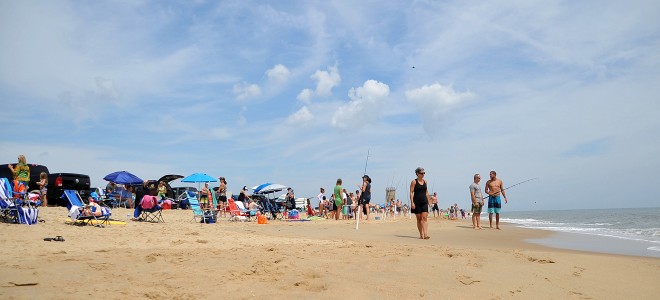 You're not really a local until you have driven on the beach.
That's my opinion, anyways. I'm always striving to prove myself as a local, albeit with a twang, coming from across the pond. My first step to living like a local was to get a Jeep, and the day I did, I inherited about 20,000 new friends, who wave to me each day in Sussex County.
Then the next step for the family and me was to drive on the beach.  But before you take your four-wheel drive vehicle on to the beach, you need to have a surf fishing permit. These are very easy to purchase online or at a park office. When you get your surf fishing tag and place it on the front of the car, that identifies you as a local!
"Because driving on the beach can cause serious damage to vegetation and wildlife and contributes to shore erosion, Delaware State Parks limits vehicles on the beach to designated surf fishing areas only, for the sole purpose of actively engaging in fishing. To use these areas, you must have a valid surf fishing vehicle permit and be actively engaged in surf fishing at all times while on the beach. To keep our beaches clean and safe for wildlife and park visitors, other recreational beach driving is not allowed."
When driving on the beach, there are essential tools and equipment you must have with you: a low pressure tire gauge for when you are releasing or adding air back to your tires, tow rope or chain, a board, a jack and lastly a shovel.
Most importantly you must have the necessary fishing equipment: bait, tackle, and a fishing rod. You must be actively engaged in surf fishing at all times.
With every luxury in life there are rules. Most of the drive-on beach rules are common sense, but for a more in-depth read of surf fishing rules, visit the Delaware State Parks website.
In addition to giving access to designated beach areas, the surf fishing permit also allows free entry into Delaware State Parks during the "in" season.
In addition to what you need to have, pack what you want to have for the day, as well. We load up tables, beach grills, flagpole and flag (so you can be identified), coolers, chairs, towels and corn hole when we head to the beach. When you've finally made it to the water, you have to reverse your car so the trunk is facing the ocean. This allows rangers to identify your permit. Once you're set up and you've cast your line into the water, you're ready for the day.
Life is good being a local. See you at Gordon's Pond or Herring Point real soon, and look for the British flag.
Cheers, Adam