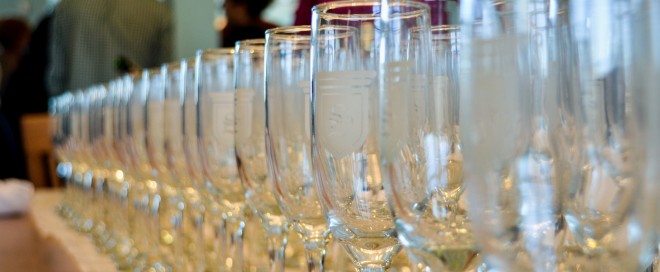 You've heard it time and time again from us, "at Schell Brothers, Happiness is our mission." You can see it on our billboards, it's in our ads, it's in our models, and it's in our mission statement.
Happiness, for us, is achieved in all sorts of ways, but the most important way is by giving our homeowners an unbelievable home buying experience, and it doesn't end once we hand over the keys to your new home. We want our relationship to be long standing and fun! Yes, that's right, we like to have FUN with our homeowners!
Recently, we had the privilege of hosting some happy hour fun in our Henlopen model home at Senators on Gills Neck Road in Lewes. Over 100 people turned out, from the very first buyers to the recent 100th, and there was no shortage of fun and happiness! The food and wine catered by local Rehoboth Beach restaurant, Big Fish Grill, was delicious as always and the champagne toast that Dan gave to the group was definitely memorable. But, the camaraderie and friendships this community has already established, in such a short amount of time, is incomparable.
Being an employee for Schell at the event and watching our homeowners and other employees interact, I was constantly reminded of just how unique what we have really is.
I enjoyed hearing stories from our homeowners about the first time they visited the community, to stories of, from what I heard was a pretty rockin' New Years Eve party at a neighbor's house. Everyone had a story to share with their neighbor. Smiles filled the room as new friends were made and current friendships continued to blossom.
Everyone was truly happy, and it was definitely a fun time, which brings our mission at Schell Brothers full circle. Thank you to all of the Senators homeowners who came out to enjoy the company of neighbors and friends.

Please specify a Flickr ID for this gallery