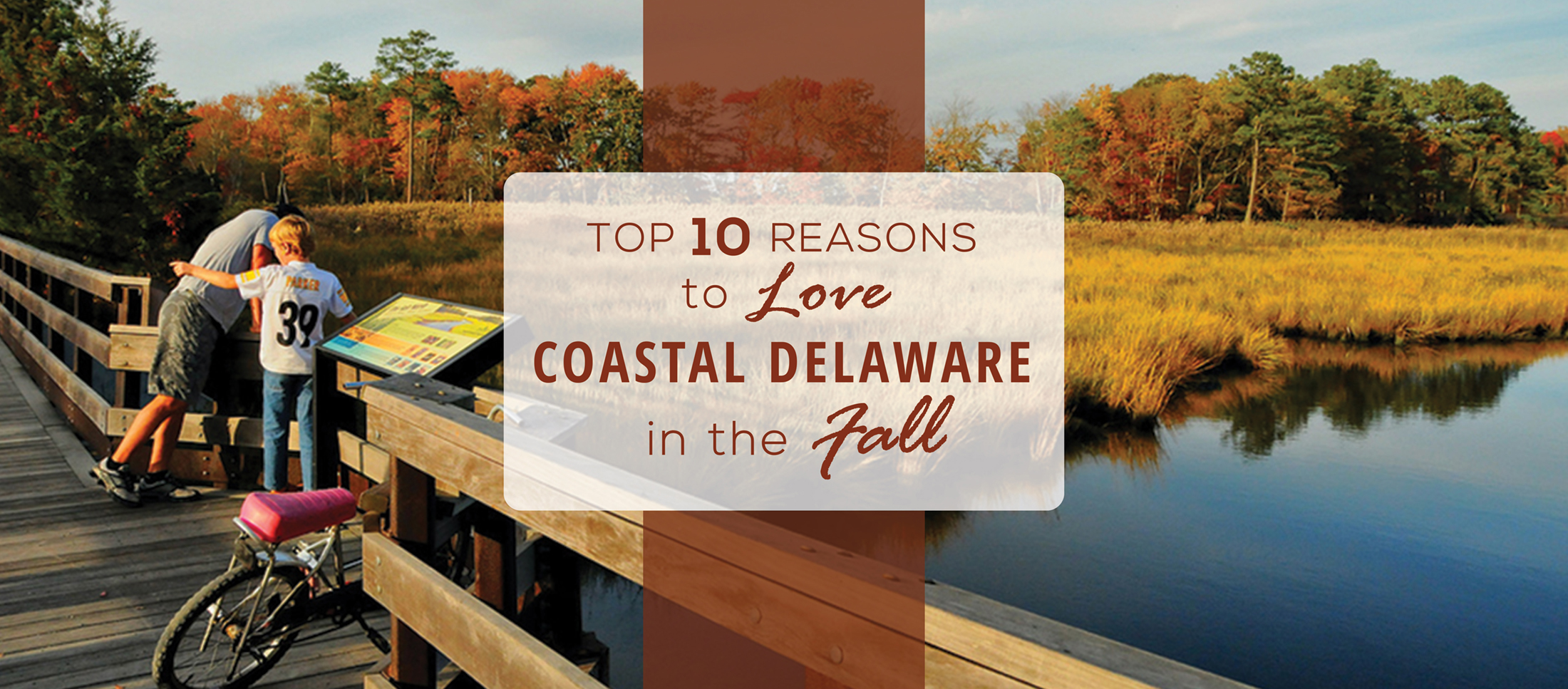 It's the last day of summer, and while the weekend forecast is lending itself towards summer attire rather than fall fashions, the first day of autumn means fall is officially upon us. It's a bittersweet moment when we bid farewell to the summer season, but there's an undeniable excitement in the air as we transition into autumn, especially at the Delaware Beaches where there's so much to look forward to and so many reason to love Delaware in the fall.
Off-Season Specials 
While most of the local bars and restaurants have a generous helping of summer specials to choose from, the off-season brings unbeatable deals at some of your favorite local hot spots. The Rehoboth Foodie is a reliable, go-to source for weekly specials, along with the newest restaurant openings and preferred local dishes.
Freedom to Roam
We love the summer visitors that enjoy Coastal Delaware each year from May through September, but there's no denying that the traffic can be a bit maddening at times. By September, the boardwalk has cleared, parking along Rehoboth Avenue and Garfield Parkway has opened up, and the general hustle and bustle around town has eased significantly. That's not to say that Lewes, Bethany and Fenwick are ghost towns, but taking a peaceful stroll along the beach or getting a bar seat at your favorite restaurant is a breeze.
Picture-Perfect Beach Weather 
And because the beaches are wide open, it's the perfect time to enjoy a beach day! Fortunately for those of us who reside here in the Mid-Atlantic region the weather stays warm during the first part of fall, with plenty of chances for beach days during September and October. Once the chill hits the region, it's still worth hitting the beach with a hoodie and a blanket to enjoy an afternoon by the ocean.
Local Hiking Trails
One of the best parts about fall of course is watching the leaves in all their glory, and what better place to observe all that beautiful fall foliage than along one of our local hiking trails. Grab the dog and enjoy a stroll around Trap Pond State Park, hop on your bike for an adventure along the Junction & Breakwater Trail, or spend the afternoon with the grandkids exploring Gordon's Pond.
Football, Football, and more Football
Whether you're a diehard football fan, or mostly in it for the pitchers of beer and heaping piles of nachos, football season brings even more specials to the area, with drink and food specials abounding during game time. Better yet, it's the perfect excuse to hit your favorite local watering hole to catch a game with friends. 
Fall Festivals 
There is no shortage of fall festivals here at the Delaware beaches, so much so that it's next to impossible to pick a favorite, but the Sea Witch Festival, Southern Delaware Beer Wine, Food & Music Festival, and Apple-Scrapple Festival are high on our list.
Day Trip Adventures
Summer has a way of flying by before you get a chance to enjoy any weekend trips to nearby towns, but lucky for you there's plenty of amazing day trips nearby for fun fall adventures. Shoot down to Assateague Island National Seashore for a visit with the ponies, spend an afternoon shopping in 'America's Coolest Small Town' of Berlin, Maryland, tour the Dogfish Head Brewery, or head to the northern end of Delaware for outings at the Winterthur Museum & Garden, Fort Delaware, or the Hagley Museum.
Apple and Pumpkin Picking
Because it just isn't fall until you've picked some fresh, local apples or plopped a fat pumpkin by your doorstep. The options for u-pick are plentiful around here, but Fifer's Fall Fest Saturdays takes it to the next level with a large selection of u-pick apples and pumpkins, plus a massive corn maze, petting zoo, children's games, tractor train, and more.
Tax-Free Shopping
With tax-free shopping, shopping is always a good idea no matter what time of year it is, but shopping with less crowds and beautiful weather is hard to beat. Browse the shops in Bethany, Lewes, and Rehoboth, or spend the day scoring deals on your favorite brand names at the Tanger Outlets in Rehoboth.
Arts & Entertainment
Each fall, both the Rehoboth Jazz Festival and the Rehoboth Beach Independent Film Festival bring an extra splash of culture to our area, with an impressive lineup of live music and independent film screenings to enjoy. Held in October and November, respectively, the two events are definitely worth a save-the-date in your calendar and will quickly become annual traditions for you and your friends.
Ready to enjoy Delaware in the fall?? Schedule a visit to tour our communities here at the Delaware beaches