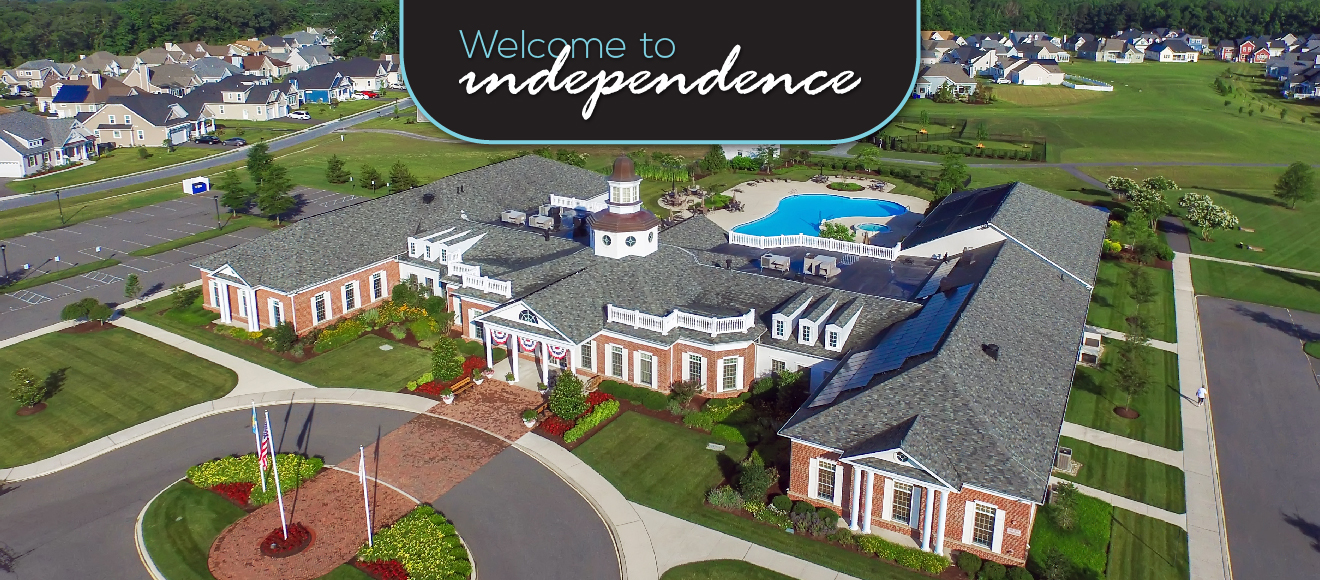 Year-round activities that include yoga, water aerobics, game nights, happy hours, and billiard tournaments; an on-site Activities Director with a full social calendar; indoor and outdoor pools; and a 24,000 sq.ft. clubhouse with a ballroom, bar, and lounge…what's not to love about life at Independence?!
The 55+ active adult community, located in Millsboro, Delaware, features a full array of amenities that are ready for you to enjoy immediately, which makes it a no-brainer for retirees flocking to Delaware for the tax benefits. But what makes Independence so special? We'll let Josh Stone from our Community Sales Team tell you himself!
Marketing and sales talk aside, what do you think makes Independence so unique? 
It's the people who have made Independence home. They are all so vested in the success of the community and in providing a friendly welcoming environment. They also take having a good time very seriously;)
This is a 55+ community, so obviously it's not for everyone, but for the active adult, why choose Independence? 
I think it is just right. One customer said it's like Goldie Locks and the Three Bears. Some are too small, some are too big, and Indy is just right. Just the right amount of amenities for what so many of our buyers are looking for. 
There's certainly a lot of amenities out there to enjoy, which ones would you say are the most popular with the homeowners?
I think there are two. The bar/lounge is very popular and is a focal point for community gatherings every Friday night. It provides a warm, fun, and welcoming environment where they can meet new neighbors and socialize. The other is the indoor pool. As they age, so many people prefer exercising in the pool because it is easier on their joints. Having this amazing indoor pool available year round is a huge plus.
Speaking of the homeowners, tell us a little bit about the sense of community out there.  Do neighbors really become friends? 
Lifelong friends. So many of them are from the Northeast and have so much in common. They come into our model home and see pictures on the wall of each other and they say, "Look! There's Alvin," or "Look! There's Sharon." There is something for everyone here which creates so many opportunities to meet new friends who share similar interests.
Describe Independence in 3 adjectives. 
FUN
Active
Beautiful 
Let's switch gears and talk industry trends, what are people looking for in a new home right now? 
One level living with wider doorways, huge showers, and large open concept living spaces.
In your opinion, what sets a Schell Brothers home apart from other builders?
Everything. Our culture, our commitment to our customers, our building science, our happy customers who refer people to us constantly, and our people.
If you had to pick a favorite floor plan at Independence, which one would it be and why? 
For me it might be different than what the homeowners out here prefer, because I still have children living at home, but definitely The Kingfisher. I LOVE The Kingfisher. But for our customers, The Whimbrel is the rockstar of this community! It is such a perfect size, the owner's suite is separated from the guest rooms, it is versatile so you can add space where you need it, and it has elegant lines. This floor plan allows our customers to downsize without downgrading.
What's a must-have selection in new homes right now? 
For the majority of our customers, the big tub is a thing of the past and has been replaced with the sexy shower! The bigger the better. Add multiple shower heads, throw in a bench and a frameless glass door and you've got it!
Final thoughts?
Downsizing is hard. It is a mix between getting rid of things they loved, admitting that their children have lives of their own, and leaving the place you've called home for many, many years. Finding Independence is refreshing for our customers because:
They aren't that far from where home used to be (and where the majority  of family and friends still are).
They are surrounded by people just like themselves (who are also fleeing high taxes).
Independence is gorgeous! It feels very luxurious (yet is surprisingly affordable).
(Retirement is scary). Seeing how active and vibrant the homeowner's at Independence are makes people less worried about the dreaded retirement, and more excited about having fun in the next chapter of their lives!
Want to learn more about life at Independence?
Stop by for a visit: 30174 Ethan Allen Court Millsboro, Delaware 19966. Josh and/or Mollie would love to take you on a tour!
Want to view our floor plans and pricing? Well then, right this way: http://schellbrothers.com/find-new-homes/delaware-beaches/independence/