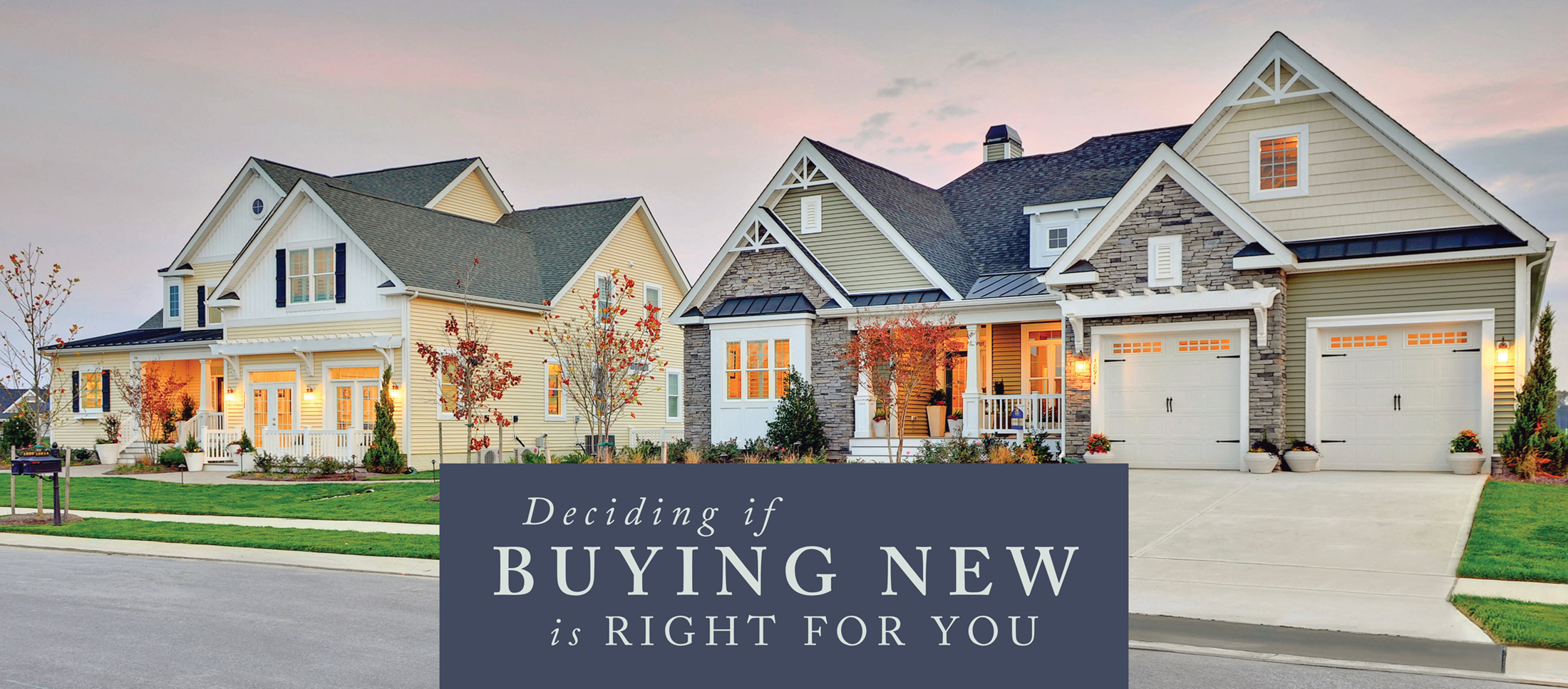 To buy new or not to buy new…that is often the question. Some buyers enter the fray knowing that they want a new home that can be tailored to their specific needs and tastes, while others relish the idea of rolling up their sleeves for a full renovation. But if you're like many buyers, you might be on the fence as to whether you fall into the former or latter camp, which means it's time to ask yourself – is buying new right for you?
Sure you're an avid Fixer Upper fan, and you've spent more hours than you might want to admit scrolling through Pinterest saving house projects that you'll probably never execute on, but at the end of the day, it's worth seriously asking yourself if you are up for some of the challenges that come along with buying resale, particularly one that you'll need to put a good amount of effort into.
Ask yourself, do you want a home in which you've picked all of the selections and that is catered to your unique lifestyle? Is energy efficiency one of your top priorities? How about an open floor plan with an abundance of natural light? Here are just a few of the benefits of buying new:
The Perfect Fit
For many, looking at houses can be an arduous process filled with "I like this, but hate that," or "I could maybe live without this, but certainly not that." When you build new, you build for you! From the upgraded kitchen, to the decision to add a finished basement, to the need for dual first floor master suites, there's a floor plan that's perfectly suited for you.
You're the Boss
Sure you can paint over that hideous Pepto-pink master bathroom or tear out the kitchen cabinets that are a hideously obvious homage to 1970's style, but when you build new, you start from scratch, selecting your favorites from flooring to cabinetry to paint colors and everything in between. It's your dream home after all, design it to your liking!
It's Not Always About Spending Money
With a purchase as big as a home, the idea of simultaneously saving money can be pretty intoxicating, which is why so many people love the idea of securing a new, energy efficient home that will save them money for years to come.
All New…Everything!
That's right, new means new, including the roof, appliances, doors, windows, and more, meaning you won't have to shell out $5000 for a new roof or heating/air system anytime soon. Plus, you'll enjoy the perks of modern conveniences, like built-in appliances, media rooms, or networked wiring systems that are conveniently built behind your walls.
Those New Home Feels
Whether you like knowing that you're the first inhabitant of your new home or simply love that new home smell, there's no denying that wonderful new home feel. With a flexible floor plan that you've thoughtfully chosen with all of your favorite selections in place, it's home sweet home indeed!
Interested in exploring our innovative floor plans? How about a list of our new home communities? Explore our website, OR give Sara, our Online Community Consultant, a call: 302-745-9614. She is an amazing source of information for our homes, our communities, and the local areas where we build.