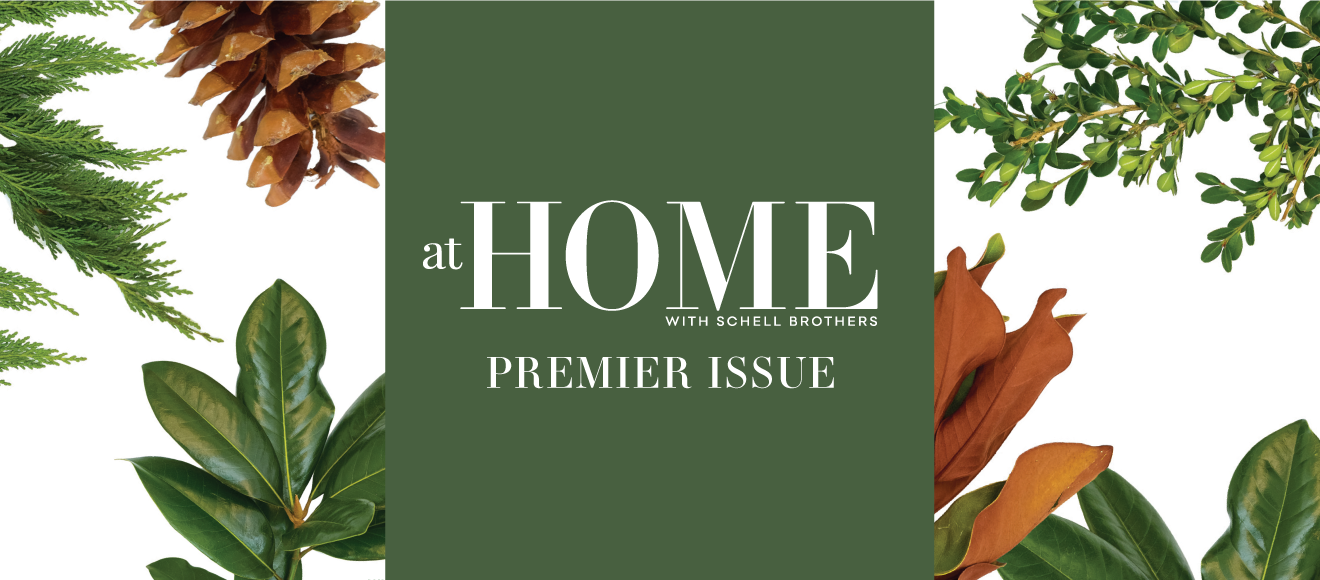 Our team is bursting with excitement over the premier issue of At Home with Schell Brothers. What a way to start off the New Year! And we can't wait to share this beautiful magazine with you if you haven't seen it yet. At Home will be published twice a year to include an inside look at some of our communities and model homes, words from homeowners and employees, design and decorating tips, unique features in each issue, and SO much more! You can also expect to see a sampling of local restaurants, shops and experts from coastal Delaware.
For our premier issue cover, we teamed up with designer and owner of Floral Inspirations in Lewes, Ken Norman. He adorned the front door of the Whimbrel model at Saddle Ridge with all things green and wintry, pine cones and metallics, plus offered some holiday décor pointers. We were also lucky enough to work with Lion and Meg Gardner from Blue Moon in Rehoboth. Their savory recipes for both food and cocktails in our "Let's Get Fizzy" feature show you how to get festive at home this New Year's Eve. But don't worry; they also dished on all the best local spots to celebrate if you'd rather head out to ring in 2019!
Take a look at what else you can find on the pages of the Winter 2018/2019 issue:
Dos & Don'ts of Decorating with one of our resident designers, Matty Adler. He explains just how to incorporate your most-loved pieces into the design of your home by creating balance and a space that fits your unique lifestyle.
Neighbors, featuring the first homeowners to ever settle in our Independence community. Alvin and Harriett Smith choose happiness every single day, and sure do love one another and their life at Indy!
Community Minded for a day-in-the-life at Coastal Club. Homeowners share in their own words what they love most about living in Delaware's Community of the Year.
This Is Us for a closer look into the family life of a Schell employee. (Or in this case, two!) Meet Schell power couple Frank and Karen Ryan, plus their handsome sons and adorable pup.
Weekender for a fun road-trip idea when you want to head out of town. Lititz, Pennsylvania is the perfect winter getaway for its Fire & Ice Festival, delicious restaurants and charming history.
These staples, plus a few more, will be in every issue of At Home. And we're already hard at work to bring you compelling features and local highlights in the Spring/Summer 2019 issue! Pick up your copy of At Home with Schell Brothers at any one of our model homes. Follow us on Instagram @athomewithschell and send your thoughts to AtHome@schellbrothers.com.