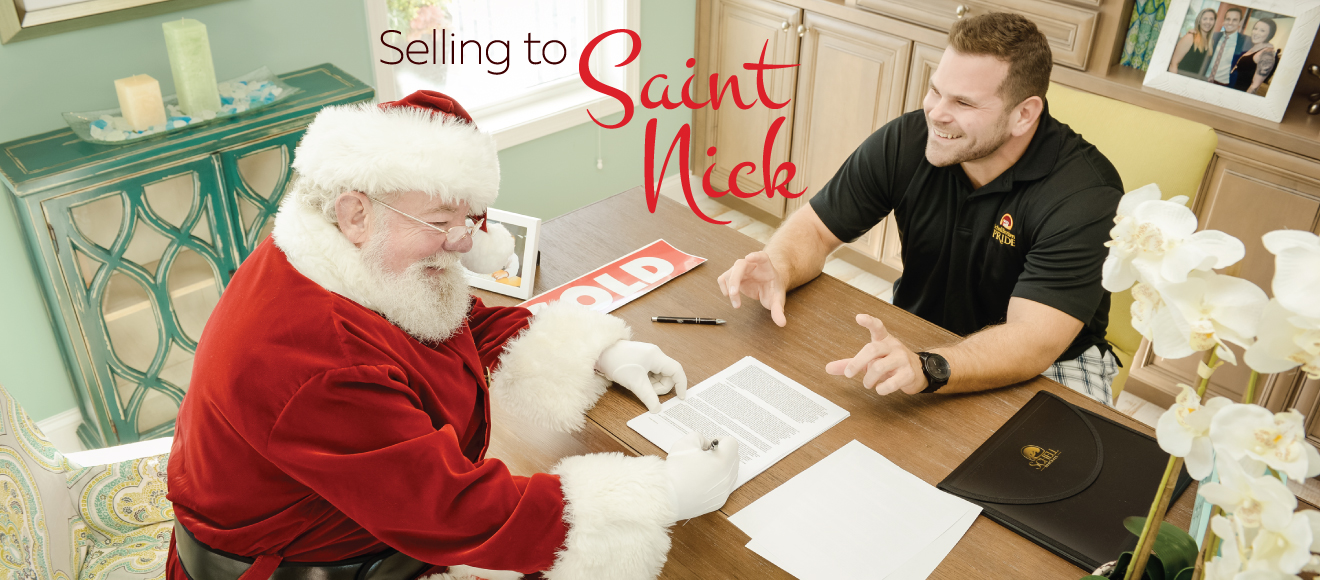 It's safe to say that I love my job. When you think of how we get to help people to not just pick a home, but to select a home that will be their dream home, it really becomes quite amazing. I get to help good people pick their homesite and choose a home that lives the way they like to live, whether it be a new home for a large family with kids, grand kids, and lots of family shenanigans, or a private getaway for a longtime couple that truly deserves their new sanctuary. This is an amazing job where we are fortunate enough to make some incredible friends and neighbors along the way. And just when I thought my job it couldn't get better…it got magical!
We all have heroes growing up, and let's be honest, we all secretly hope that we get the chance to come face to face with those heroes. Well, this week it happened for me! I got to sell a home to my boyhood hero who I always believed in but never really knew was real. I got to meet the man himself, Santa Clause! Folks, Santa is coming to Bayside!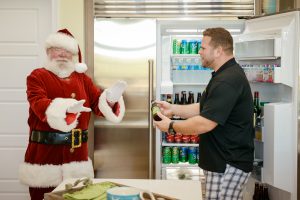 Yes that's right you heard me, we here at Bayside sold a home to good old Saint Nick and it was every bit as awesome as you would expect (candy canes and cookies galore!). Now it was admittedly a bit nerve-racking trying to stay on the 'nice' list while Santa was around; after all, we aren't always on our best behavior (sometimes we get a little silly in Bayside). Case in point: I offered him a beer with his cookies. He graciously declined the beer, but accepted the milk of course. Just as you would think he was jolly the whole time and couldn't be more cheerful. In true fashion, we never saw him coming or going, we only knew he was here when we heard the jingle of sleigh bells and the pitter-patter of hooves on the roof.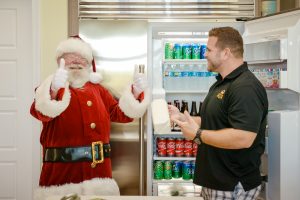 Of course we know why Bayside, but we still had to ask Santa why he choose Bayside when he can live anywhere in the world. We were met with a boisterous "HO HO HO!" Santa then explained that since he had traveled all over the world, he knew without a doubt that if was going to have a second home it would have to be in Bayside, and if he was going to have someone besides his trusty elves build a home, it would have to be Schell Brothers.

At this point I said, "That is awesome Santa, I knew it! Is it the quality? Maybe the energy efficiency? The floor plans?? What is it Santa???" (as you can see, the suspense was killing me) He laughed again with a "HO HO HO!" and said "yes, that is all true and played a big part in my decision, but the truth is that it was all those damn billboards!" He let out a big, belly laugh and winked with a smile. There truly is magic in everything he does!
This will be a hard day at work to beat, but there are always new people to meet and new stories to be told. And for those of you naysayers out there that still don't believe, then you better watch out because Santa is coming to Bayside!!