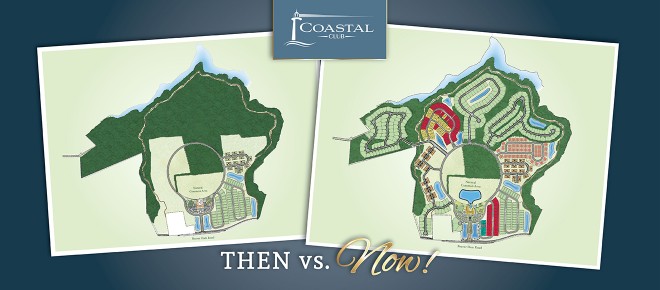 Now that we're into the New Year, I wanted to reflect on the fantastic start we've had here at Coastal Club, Schell Brothers' newest resort community in Lewes. So much has happened in such a short period of time, and we have even more planned for this year!
A Big First Year for Coastal Club
We SOLD out of Phase 1, our Provincetown neighborhood, as well as our amazing Whimbrel model. In fact, the model sold before we could even hold our Grand Opening! By the end of 2015, Phase 1 had settled all but three homes (which are currently under construction) with all of the homeowners moved in to their brand new Schell homes.
Phase 5, which is our North Tisbury neighborhood, opened in July and simply exploded with activity. With the addition of wooded and pond homesites, we ended the month of July with 17 sales, which is amazing! We have continued to release home sites and they are quickly turning from available to sold.
Site work has been progressing in this phase and we're starting home construction very soon. This is going to be a stand out phase for the community with homesites that include basements, courtyards and some truly awesome homes.  With the easy access to the trail and the ponds, homeowners are very much looking forward to enjoying the trail and catching the amazing Lewes sunsets.
In total, we finished the year with 52 sales, and remember we only started selling in February! This puts Coastal Club as the BEST SELLING COMMUNITY AT THE BEACH, COUNTY AND STATE! This is truly remarkable and very humbling.
Coastal Club Going Forward
This year wasn't all about sales though. In October, we began construction of the new clubhouse and amenities, which are scheduled to be completed by the Summer of 2016 for the outdoor pools and Fall/Winter 2016 for the Clubhouse. I can't wait to enjoy a drink at our poolside bar or a game of billiards in the game room with our awesome homeowners.
On top of all this, 2016 will bring a new Schell Brothers model to Coastal Club.  We are already planning parties and celebrations throughout the year, so we hope you can attend.
With 2015 behind us and big plans set for 2016, we're excited to continue our adventure at Coastal Club and welcome more homeowners into The Club and to our Schell Brothers family.
Cheers,
Adam, Jordan and Lucy