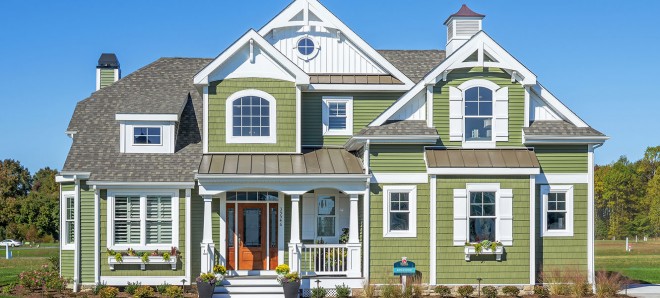 During the building process, a Schell Brothers home goes through an incredible transformation, from an empty homesite to a beautifully finished residence. Watching that remarkable change happen every day is especially satisfying for Chris Yurisic and me.
Chris is our construction manager, and when he started, we decided to place a time-lapse camera across the street from our new model home to capture the process as it was being built. Check out the transformation for yourself in our video below and be sure to count how many times you see my red jeep outside the model:

Chris and his team did a phenomenal job building this beautiful Kingfisher model, and now that we've officially moved in, you can visit us seven days a week, from 10am-5pm Monday through Saturday and 11am-6pm on Sunday.
Don't forget to be on the look out for upcoming Schell Locals Night events, when we open the model in the evenings and partner with local businesses for fun and festivities. Check out the schedule below and visit our model to enjoy Schell Local Night events ranging from wine tastings to trunk shows:
Sunday, February 1st from 2-5pm – Pre-Superbowl Party with chili cook-off and prizes!
Friday, February 20th from 5-8pm – Olive Orchard will host an olive tasting event with additional food. I'll be putting together the liquor menu.
Sunday, March 20th from 2-5pm  – The Spice and Tea Exchange will host a Sunday tea event. Sounds very proper, and I'll be providing the cucumber sandwiches to make it even more quintessentially English! Tea tasting at it's very best.
TBD Sunday, May 24th 2-5pm – The Spice and Tea Exchange will again be hosting a Summer Spice event.  They'll be showing us some new dishes to try out in  the Summer months.  New dips and spices to be used this season for all your events and parties.
Keep an eye out for even more events to come throughout the year at Sawgrass North.
By the way, just how many times did you see my jeep in that video?
Cheers, Adam