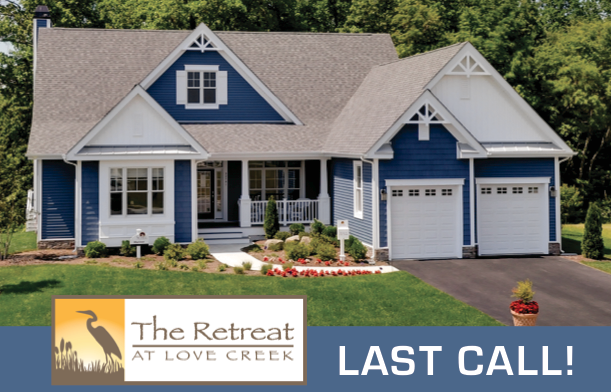 As I drive into this beautiful community I am happy to see so many homes being started for our newest Schell homeowners. What is really gratifying is seeing this community take shape. The streets are booming with new construction. So many people have decided to call The Retreat at Love Creek home. Now you can do the same… but here's the catch — we currently have only 5 homesites remaining so you better act quickly!
We have a lovely Mariner model that will soon be leaving our fleet of models this month as it will be handed over to the proud homeowners. If you haven't already had the opportunity to check out our award winning Mariner model you still have time. Come visit us on October 27th for our Last Call event.
Take a trip to The Retreat at Love Creek to say goodbye to the Mariner, tour our 5 remaining home sites, and take a look at our growing community!
I'm looking forward to seeing you soon! Let us know if you are planning to visit.