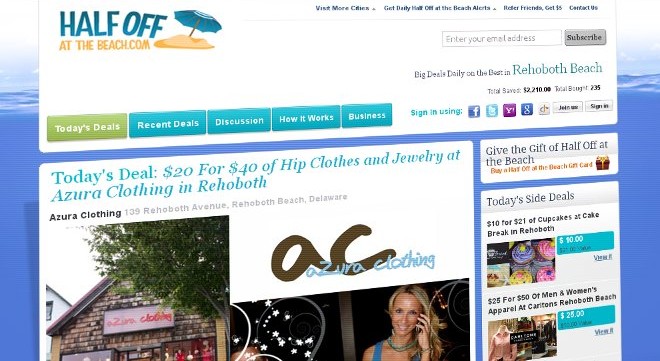 Okay, okay calm down! The title doesn't mean Schell Brothers is giving 50% off the prices of their homes – yet! Just kidding, Chris. No, this is a follow up to my last blog about great deals to be aware of when you visit, or make your home at the beach, or even have friends who live here.
My newest discovery is Half Off at the Beach. It is an exciting, very cool way to secure great gifts and deals while also supporting local businesses in the area. I love a deal as I'm sure my last blog highlighted. I guess I'm an advocate of this particular website since just this week I took advantage of these great deals and enjoyed some time with my family.

I took my lovely wife and four month old daughter Minnie to The Buttery in Lewes for lunch on Monday. We sat outside – my wife had an awesome chicken special and I had the soup and sarnie (that's British for sandwich) combination. Downtown Lewes was in full bloom and it was a delightful experience. I had a $25 voucher which I paid $12.50 for and the bill after the coupon came to next to nothing even though my wife had a glass of wine! Ha, she'll kill me for saying that. She says after 9 months of not having alcohol she's on payback. After looking at my daughter's face I don't argue. Smart guy I know.
Then yesterday I purchased a super deal at Cake Break, in Rehoboth, which sells amazing cupcakes amongst other things. I'm afraid you'll have to put diets aside but it's a great gift or excuse to buy lunch or pressies (more British, this time for presents) for your favorite salesman… hint hint.
Well, I hope this is good information for all our fans, home owners and locals in the area. Please do let us know if you've your own comments about positive experiences with this website or any other companies that offer great deals in the area.
Good luck and happy eating, spending and gifting.