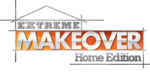 As soon as it was announced that Extreme Makeover: Home Edition was coming to Delaware this past August, there has been a buzz around town that hasn't stopped.  It started when we asked for volunteers and sponsors to help with the build and, by the time the actual work started, the energy had reached a level beyond all expectations.
Building Happiness
Building a home in one week would be amazing in and of itself.  But building a home, a barn, a micro-home, a pavilion and a soup kitchen in one week in the midst of a hurricane?  That required an effort that came straight from the heart.  Our community came together, not only to build structures, but to build happiness for a family that has devoted their lives to serving others.
A Labor of Love
This Friday, November 18th from 8pm to 10pm ET, Extreme Makeover: Home Edition will air as ABC's Thanksgiving special about the Dunning family and, from what we've heard, a lot of you plan to tune in.  Perhaps you were one of the thousands of volunteers who shared in a labor of love that was more meaningful than any of us ever imagined, or maybe you supported the build through your kind words and donations.
Share Your Stories and Photos
Do you have special plans for watching the show?  If so, we'd love to hear about them.  Take a fun picture of your party and share your "Extreme" story with us and we'll post all the festivities on our website.  We'll send a special gift – signed by Ty and the designers – to the person who submits our favorite photo.
Here's how to do it. Visit our Facebook page and Like us, then share your "Extreme" party photo or story right on our wall. You can also share your photo via Twitter, just follow us and use the hash tag #ExtremePartyDE.
We will announce the winner on Monday Nov 21st at 9am so make sure you share your photos and stories before then.
Thanks to all for helping us build happiness for the Dunning Family.  Enjoy the show!