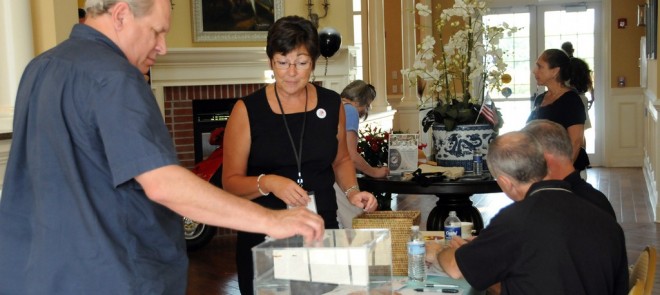 Two weeks ago I attended a seminar that focused on selling high performance homes. It was a 3 hour meeting and each topic that was discussed is exactly what Schell Brothers has incorporated in our Schellter™ Advanced Building Science that's now standard in all our homes.
Schell Brothers is in "rare air", among just 10% of builders nationwide who have moved their building process in this direction.  When I demonstrate our homes I can see that these high performance benefits continually wow our prospects. Our buyers realize immediately that Schell Brothers is including quality, energy efficiency, and huge savings for them in the future that cannot be found in other new home construction.
I have been in Sales and Real Estate for 20+ years and I've always found that I love to sell what I believe in.  I was very excited when Schell Brothers offered me a Community Sales Manager position because I knew that I would be immediately walking into a culture I could totally embrace. Schell Brothers was always known for the quality and high level of customer service they offer, and the company's focus on high performance features is the icing on the cake.
Here's a brief look at the features Schell Brothers introduced this year:
Enerwize™, which exemplifies the comfort, savings and peace of mind that you will find in your new Schell Brothers home. The standard features include Rinnai tankless hot water heaters, 16 Seer air conditioners, 95% efficient Amana gas furnaces and variable speed blowers which ensure you will be comfortable in your new Schell Brothers home.
SanctuAir™, that will insure that you and your family are living in a healthy environment. SanctuAir™ exceeds the requirements of the EPA Indoor AirPLUS program by including standard features such as; MERV 13 air filters, low VOC materials, and advanced moisture and humidity management.  This will ensure that you will find relief from allergies and respiratory problems that have been denying you or family members a healthier quality of life.
4TRESS™ technology, which has taken Schell Brothers quality to a new level. You will find that your new Schell Brothers home is more durable, and also offers additional strength, moisture & water protection, and sound reduction.
These are only a few of the items that make up Schellter™Advanced Building Science that guarantees energy efficient features, great air quality, and a home that is constructed with exceptional quality.  I hope you'll visit the Reserves at Lewes Landing and totally understand why I am so excited!
Did I mention that I love what I sell?  See you soon.