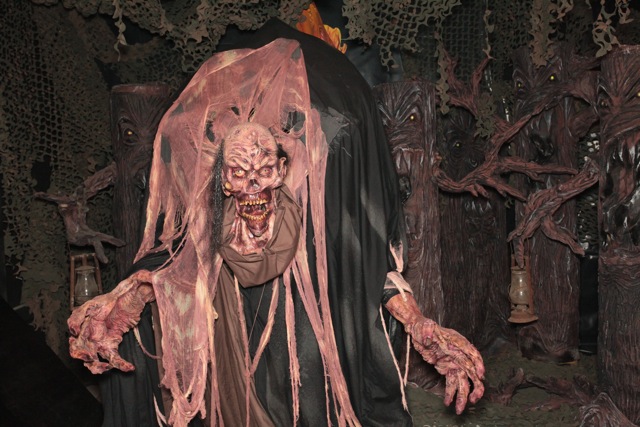 My days may be spent finding people their dream homes. However, my nights are a different story as I work late into the wee hours of the darkness creating nightmares and instilling fear in all who dare enter my secret world. Which Adam do you know?
It's my double life and I love it. Helping customers find the perfect home type and homesite to begin the rest of their lives is such a buzz. But come closing time, I also get a huge kick out of playing 'Fineas' at All Hallows Revenge, the new Haunted attraction out on Route 9. I guess it's part of our culture here at Schell Brothers rubbing off on me that made me think about going and having fun scaring folk, or it could just be the kid in me resurrecting itself in big, hairy monster form. Perhaps a touch of both. I love my job with Schell and am very passionate about creating happiness. My new homeowners here at the Villages at Herring Creek are more than homeowners; by the end of the home building process I call them friends. (Probably because they have never met Fineas.)
Halloween back across the pond isn't a big time of the year like it is in America. I love how everybody goes out and gets costumes and decorations for the homes and obviously the parties! I guess this year my costume for our annual Schell Brothers Halloween party will be a lot easier. (Don't worry… Fineas will not be making an appearance.) My family enjoys the fall season here at the beach and it's my wife's favorite (the local Dogfish Head Pumpkin Ale may have something to do with that!). Everything looks so pretty and it's the perfect time to enjoy the changing colors and cooler temperatures with Sea Witch, Film Festival, Punkin Chunkin and obviously All Hallows Revenge. Looking forward to reliving it all through my children's eyes and letting that spirit captivate others who are looking to call Sussex County home.
Whether creating dreams or nightmares, I can honestly say I love what I do and look forward to each new adventure that comes my way. Cheers!