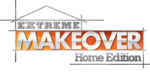 The Extreme Makeover: Home Edition 2-hour Thanksgiving Special featuring the Dunning family is set to air Friday Nov 18th at 8/7c on ABC. In preparation for the show, our local ABC affiliate WMDT plans to show a behind the scenes look at the build experience from 7pm – 8pm.
In the meantime, the Dunning family is settling into their new home at the Jusst Sooup Ranch. Their home is free from many bills thanks to the endowment that was established with funds raised during the Extreme Makeover: Home Edition build. Because the professionally managed endowment takes care of the majority of the home's operating costs through a board that handles all the funds, Ken Dunning will finally be able to retire from one of his many jobs next year so he can help his family more in the soup kitchen.
Check out the video update with the Dunning family.